North American Headquarters ( Clinton Griffiths )
The world's largest chemical producer, BASF, is starting its second year of transformation following a massive industry-wide reorganization and consolidation.
During its BASF Global Media Event in North Carolina, leadership spent the day stressing the company's dedication to the future as it seeks to integrate newly added tools to its portfolio.
"We want to increase our top line by 50%," says Vincent Gros, president of BASF's agricultural solutions division. "We want to grow faster than the market and we believe we have the tools in hand."
A 50% increase in sales by 2030 seems like a lofty goal but the global seed and chemical company now has recently acquired several new tools. In October of 2017 and April 2018, BASF agreed to buy the businesses and assets being divested by Bayer during its acquisition of Monsanto.
According to BASF the move included:
-Bayer's global glufosinate-ammonium business;
-Seeds including traits, research and breeding capabilities, and trademarks for key row crops in select markets
-Vegetable seeds business
-the R&D platform for hybrid wheat
-Seed treatment products
-Certain glyphosate-based herbicides in Europe used predominantly for industrial applications
-Complete digital farming platform XarvioTM
-Several non-selective herbicide and nematicide research projects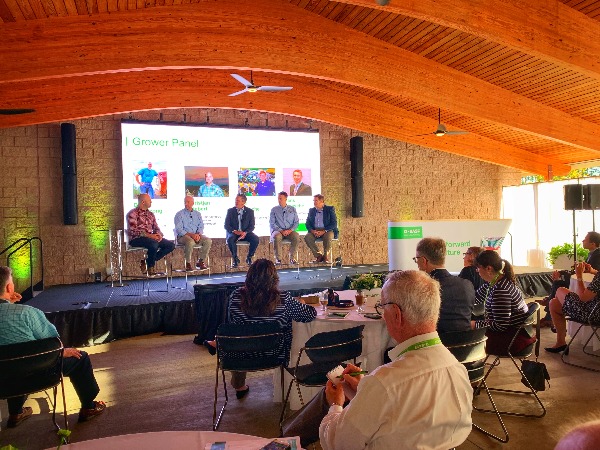 "Since the acquisition of the Bayer businesses, we are a different company," says Gros. "We are not anymore only a reliable, innovative crop protection company but now we are offering connected solutions, combining crop protection, seed treatments, seeds, traits and digital tools."
Those new assets are already paying off. In the first half of 2019, the agricultural solutions division increased sales compared with the prior-year period by 38% to $4.83 billion. The deal, however, wasn't without costs. It required BASF integrate 4,500 employees. The company now stretches across 200 sites in 60 countries.
As BASF steps into its role as one of the four major companies in the agricultural industry, its leaders remain dedicated to innovation.
"This makes a big difference in terms of portfolio, of course, but it's an enormous transformation in our way to do business," says Paul Rea, senior vice president, BASF Agricultural Solutions and head of North America. "We consider that as a fantastic opportunity to better serve our customers and distributors, of course, but primarily, the farmers."
In 2019, 39% of BASF's entire R&D budget (or more than $987 million) was being spent on its agriculture division.
"Even when the business is very challenging, like in 2019 we are the company that has the highest R&D intensity relative to status in the marketplace," says Gros.
BASF says it plans to launch more than 30 new products into the market by 2028 including new crop protection products, multiple new seed treatments, new seeds and traits, and building out its digital farming platform Xarvio.
"If we want to increase our market share, we need to be faster and better than our competitors," says Gros. "To be better than our competitors we need differentiators."
One of those differentiators, they believe is a new fungicide named Revysol®.
"To me, it's going to change how farmers have used fungicides over the last few years," says Scott Kay, vice president US crop for BASF. "It's stronger, it's going to be more consistent in disease control and it's going to deliver yield more consistently."
Kay says this new type of fungicide works longer, opening the window for application and making it more user-friendly for both farmers and retail applicators.
"If you could double your window of application and that doubling could include the farmer's equipment or extending the window for your applicator to be able to spray longer, those sorts of things are real game-changers," says Kay.
Revysol® has already received EPA registration for a broad range of crops and is expected to launch for the 2020 planting season.
On the traits side, BASF is rolling out a soybean variety that reduces soybean pod shatter and a new hybrid wheat platform they say stands to transform the wheat industry.
"We'll see the first wave of varieties come to marketplace mid next decade," says Rea. "It'll take a little bit of time to get all the breadth of varieties that we need but I think there will be mainstream varieties come to market [sooner] that will suit certain geographies of the country both in winter and spring wheat varieties."  
That wheat system is already in field trials and growing across the country.
"I think we're seeing consistency and increasing yields," says Rea.  "Right now we're waiting for this year's harvest results, which are going to be interesting, given the season we just had. But we know from previous years, we can consistently see a yield increase that makes the system investment worthwhile for growers."
They're targeting 2025 or 2026 for a broad geographical rollout.
"No one tool is the answer and because of that commitment to innovation, we have more products in the portfolio," says Rea. "[We can help farmers] to really choose the right one based on their situation."
Overall, the leadership at the traditionally chemistry focused company are optimistic about the future.
"I've been working in the ag industry for 30 years and I've never seen such an exciting promising business prospect," says Gros. "We are we are extremely well equipped because of our new portfolio of technologies."