Thanksgiving ( Getty Images )
While the turkey makes the greatest sacrifice on Thanksgiving Day, the cooks hard at work in the kitchen for hours aren't far behind. Take time in the days ahead of the turkey's big debut to prepare items like pies and desserts.
As home cooks prepare for the big day, they're turning to Google to find recipes for their favorite desserts. Unsurprisingly, pumpkin pie takes the crown in most states. However, a few unexpected winners snuck into the mix in the form of brownies and apple fritters.
Take a look at the map below from House Method to see what ranked No. 1 in your state. They found these results with the help of Google Trends.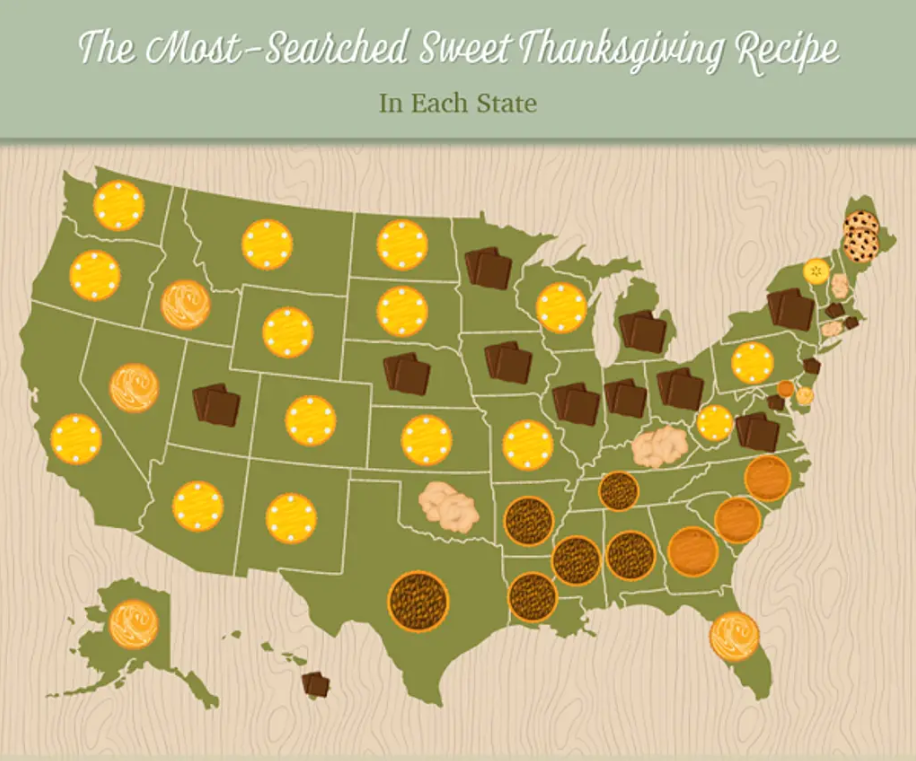 C: House Method
Maybe pumpkin pie is getting old, or pecan pie is too much of a hassle? Are you looking for something that's easy to throw together? Do you need breakfast for the day of Thanksgiving that won't take too much effort away from the big bird?
We dove into our Farm Journal archives and found just the ticket—a Quick Crumb Coffee Cake from a 1974 Farm Journal Baking Book. Here's a video to show you how to make it and the recipe is below, too.
Quick Crumb Coffee Cake
2 c. sifted flour
1 c. sugar
¾ c. butter or margarine
2 tsp. baking powder
½ tsp. salt
2 eggs
¾ c. milk
2 tbs. sugar
1 tsp. ground cinnamon
Preheat oven to 375 degrees F. Sift together flour and 1 c. sugar, cut in butter with a pastry blender until crumbs form. Remove 1 c. of that dry mixture and set aside. Add baking powder, salt, eggs and milk to remaining mixture and stir until just moistened. Pour batter into a greased 8" square baking pan.
Combine the reserved 1 c. crumb mixture, 2 tbs. sugar and 1 tsp. ground cinnamon and sprinkle the mix over the top of the batter. Bake for 40 minutes or until golden brown, cool in pan on a rack.