A muddy field in Missouri. ( Farm Journal )
While millions of corn acres lay unplanted, those farmers who did get in before major rain delays need to keep a close eye on those acres. Damage could occur if kernels are under water for several days or if a cold snap hit your county.
"When a few days of sun and 65-degree weather are followed by rain and highs in the 50s, and then back to sun and higher temperatures, germination and development of corn and soybean seeds can be greatly affected," said Mark Beamer, EdgeUp agronomist in a recent blog post. He says it's especially important to look for the cold saturation germ test on your seed bag.
While the typical germination test examines seed growth at 68 to 70 degrees or greater, the cold saturation germ test keeps seed in a germination chamber for seven days at 50 degrees and then four days at 73 degrees, he explained. After this, researchers count the number of abnormal and dead seedlings to determine the percent of seedlings that will grow under stressful conditions.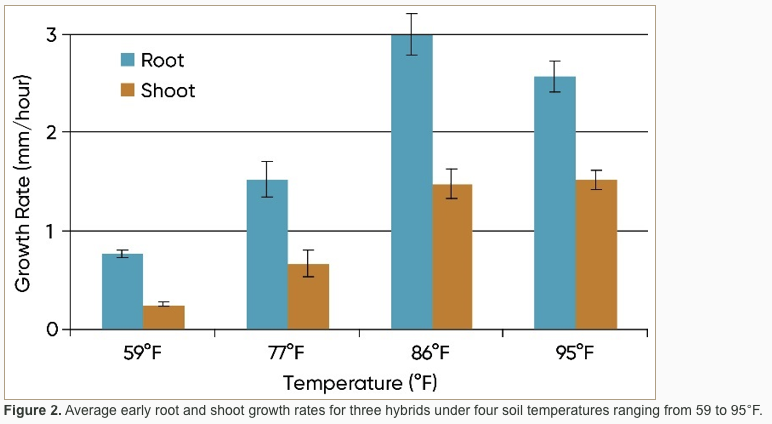 C: Pioneer
Hybrid or variety genetics impact how well or poorly the seed or seedling will grow in less-than-optimal conditions.
"Hybrid genetics provide the basis for tolerance to cold stress," according to Pioneer research. "High seed quality helps ensure that the seed will perform up to its genetic ability."
Both what's within the seed's DNA, and how it's treated after harvest impacts it ability to overcome challenging planting conditions. Mechanical damage, inappropriate storage conditions and conditions from the season it was grown can all impact your seed's success. Check out soybean growing and seed conditions here and corn conditions here.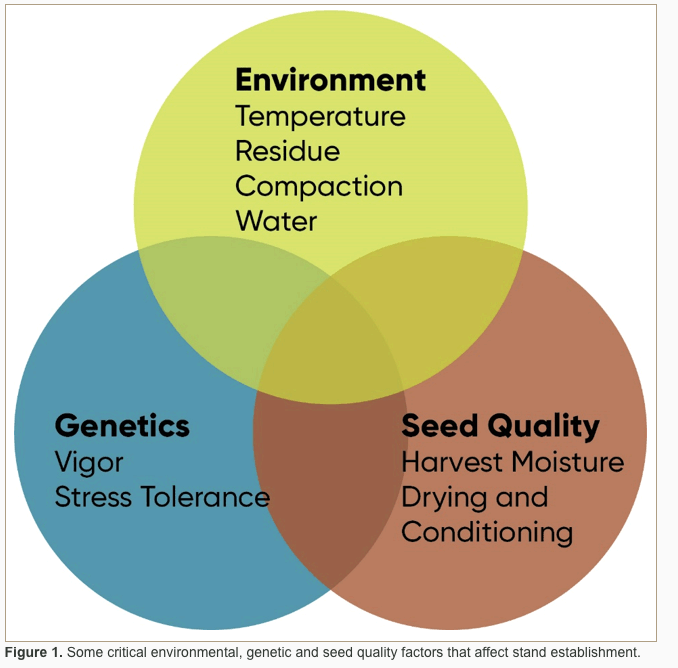 C: Pioneer
Here's what Pioneer research says you need to know about corn emergence:
Germination and emergence are optimal when soil temperature is 85 to 90 degrees Fahrenheit
Corn is particularly susceptible to cold stress during imbibition and warm, moist soils during the first 48 hours after planting can mitigate that stress
Lighter soils put corn at a greater risk of stress from cool temperatures
High levels of residue can slow soil warming and GDU accumulation needed for emergence
What you need to scout for during cold snaps.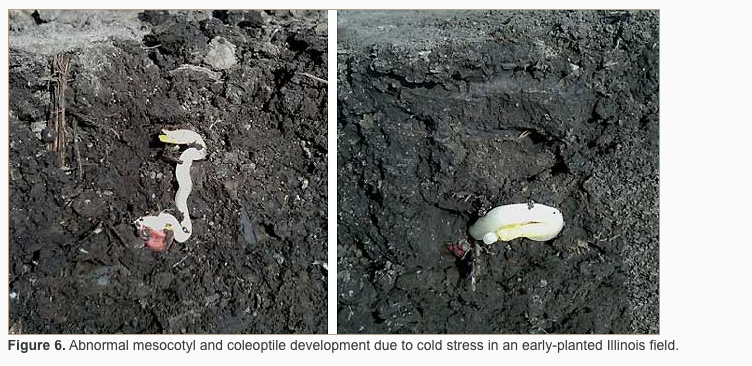 C: Pioneer
Cold water, just like cold temperatures can impact seedlings. Pioneer advises farmers to dig and scout for abnormalities such as corkscrews or fused coleoptiles in corn.