Seed salesman delivering seed to farmer. ( Lindsey Benne )
Key points to consider:
Seed discounts can reach into the high teens based on volume, timing and financing options.
Early cash purchases are beneficial to seed companies, but work with customers to understand their options first.
Above all, match the right seed to the right acre.
As farmers consider seed options for 2020, they're inundated with offers from seed companies, including volume discounts, early cash discounts and financing options. How can you help them navigate these waters to find the best option for their operation?
The University of Illinois and Cornell University recently examined seed company discount and financing programs to help farmers have a clearer view of what they all mean, and how they stack up. Researchers evaluated early cash payment and volume discounts, discounts under seed financing options and the cost-of-seed company financing compared to traditional financing.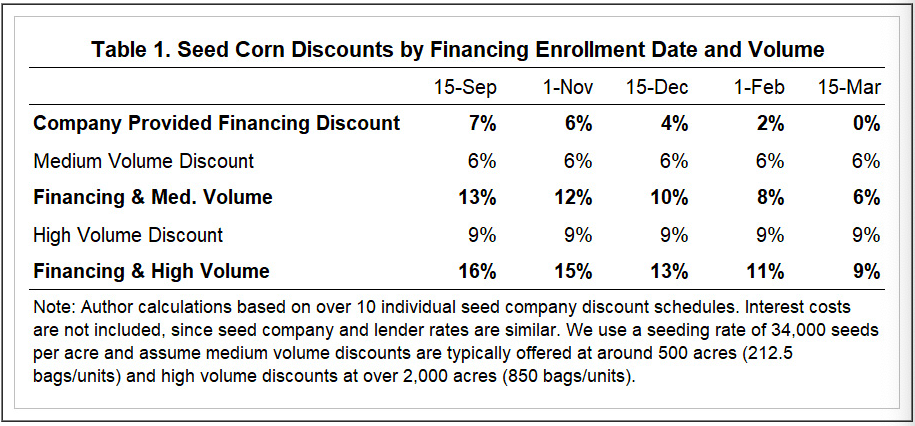 Source: Farmdoc
While this doesn't include interest rates, Cornell and Illinois researchers found seed company financing interest is comparable to that offered by commercial banks and traditional lenders. However, farmers who finance outside of seed companies tend to receive lower discounts.
It's beneficial for seed companies, and retailers, to get seed orders locked-in early, which is likely a driver for early cash discounts. It helps seed companies work through logistics and physically get seed varieties and hybrids moved to regions, states, retailers, and, finally, farm shops.
There are a variety of factors that are involved in seed prices and timing of the buying decision:
Order timing: The earlier the order, the better price you'll receive.
Cash: Paying in cash ahead of delivery can trigger discounts.
Partnerships: Some firms have internal financing or financing partners that give discounts for using them.
Think bulk: The bigger the volume, the better the price could be.
Seed treatment: Especially in soybeans, seed treatment can add to overall seed cost and should be recognized when comparing prices.
Zone pricing: Many companies charge farmers in certain areas relatively more for products they perceive to be more valuable in those areas.
Examine your balance sheet and cash availability to determine what your best seed discount and purchase options are.
Agronomics and location drive decisions.
Remind farmers it's important to prioritize the right seed on the right acre—cheaper price tags could lead to painfully low yields. Comparing to regional or county averages might be a starting point, but that doesn't necessarily reflect a product's performance on an individual acre, the companies warn.
Start with this checklist to focus seed choices on the options that best fit the agronomic needs of grower fields:
Narrow down maturity. Corn needs to reach black layer a minimum of two weeks before a killing frost.
Establish a yield goal. Use historical yield data to determine what each field can produce and select seed with that potential.
Plan your defense. Don't neglect to consider disease and insect history for each field and select defensive traits accordingly.
Diversify your lineup. Compare seed information to make sure characteristics don't match too closely across hybrids, and check hybrid and variety numbers to ensure you don't unknowingly plant the same thing twice. 
Work with customers to make sure they're prioritizing genetics that match to their fields above a quick decision based on a discount.
Related Article: Seed Supplies on Track, Quality Still Somewhat Unknown