USDA 2020 Net Farm Income Forecast AgDay 09/03/20
Despite COVID-19 lower commodity prices and trade issues, USDA researchers are calling for farm sector profits to rise this year in its latest 2020 Farm Sector Income Forecast.
According to USDA, net cash-farm income is forecast to increase $4.9 billion (4.5 percent) to $115.2 billion in 2020. Inflation-adjusted net cash farm income is forecast to increase $4.0 billion (3.6 percent) from 2019, which would be 5.7 percent above its 2000-19 average ($109.0 billion). 
According to the department, net farm income, a broad measure of profits, is forecast to increase $19.0 billion (22.7 percent) to $102.7 billion in 2020, after increasing in both 2018 and 2019.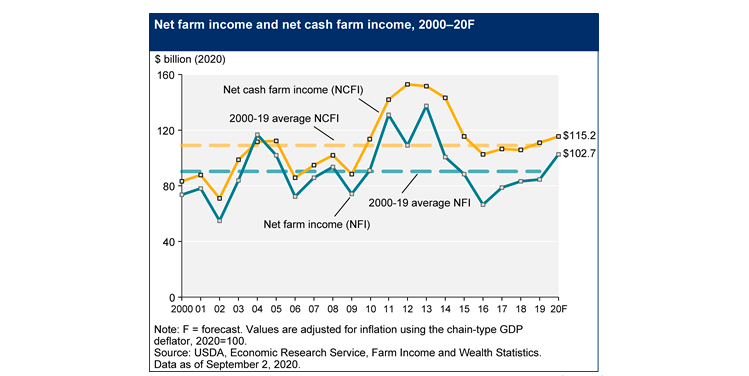 courtesy: USDA, ERS
Farmers are seeing a rise in their income thanks in part to the government aid given to them.
Dave Kestel, a farmer in Manhattan, Ill., says the increase isn't reflective of prices in his area.  
"When they are saying our income is increasing, I don't know where they are coming up with that," says Kestel. "Right now, cash corn around here is $3.20 per bushel. There's a 20-cent basis on corn right now."  
Part of the hike may be because of government payments, which USDA says are at a record.  
The forecast of $37.2 billion for 2020 is a $14.7 billion increase in government payments. The full Coronavirus Food Assistance Program (CFAP) amount of $16 billion and nearly $6 billion in the Paycheck Protection Program (PPP) loans are included as well.  
"It's really demonstrated how dependent farm income has become on government payments," says Jim Mintert, a professor of agricultural economics at Purdue University. "The rise that's taking place over the last several years is very striking. In percentage of income, this is huge."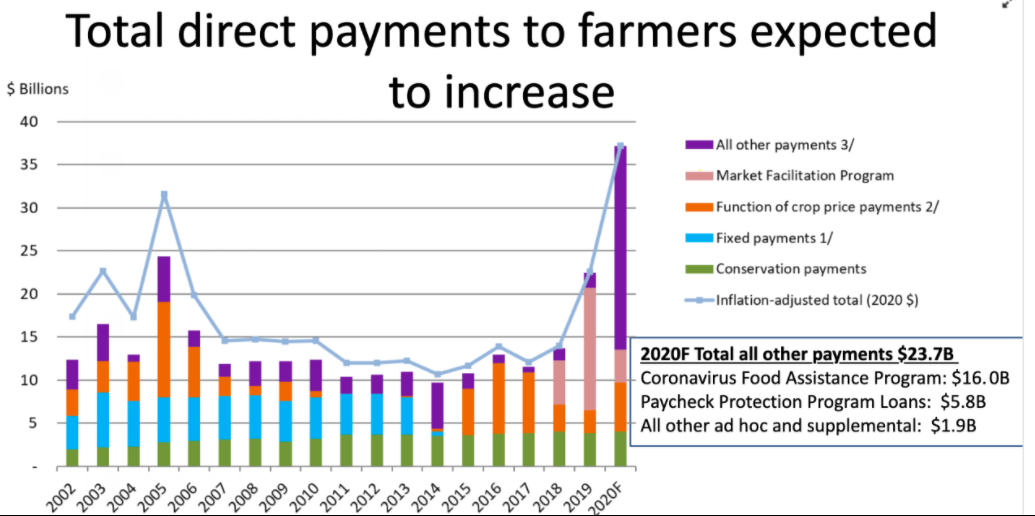 Courtesy: USDA, ERS
Mintert says it varies whether losses are offset by government payments depending on the sector and operation.  
"On the surface, the good news is net-farm income is rising," says Mintert. "It's been rising now consistently since 2016. The challenge is the tremendous amount of that rise that's really coming from government program payments as opposed to the marketplace."  
Some farmers like Kestel replanted corn this year, as he hopes his crops will finish well. 
"I think we are going to have areas in the field that are going to be really good and then areas in the field which are not so good," says Kestel.  
Kestel says the government payments will continue to keep "some [farmers'] heads above water" and working into another harvest season.