While a crop insurance claim is something most farmers don't wish to make, sometimes they're inevitable. ( Lindsey Benne, Jeanne Bernick, Sara Brown )
The House has given final approval to the $19.1 billion disaster aid bill. It's aimed at helping communities around the country recover from hurricanes, floods, tornadoes, and fires.
The chamber approved the legislation 354-58. The Senate passed the bill in May. The measure would provide $4.6 billion to help farms and rural communities rebuild. $3 billion of that would go toward direct reimbursements for lost crops and livestock. There is also $3.25 billion set aside for Army Corps of Engineers disaster mitigation projects.
The bill languished for months over disputes including additional aid for Puerto Rico, which President Trump opposed. He also wanted $4 billion to deal with migrants at the Southwest border, which could be included in a future bill.
UPDATE: President Trump signed the $19.1 billion disaster aid bill last week. The President tweeted a photo of himself holding the signed bill in what appeared to be his office aboard Air Force One.  The President said the aid is "so important for our great American farmers and ranchers."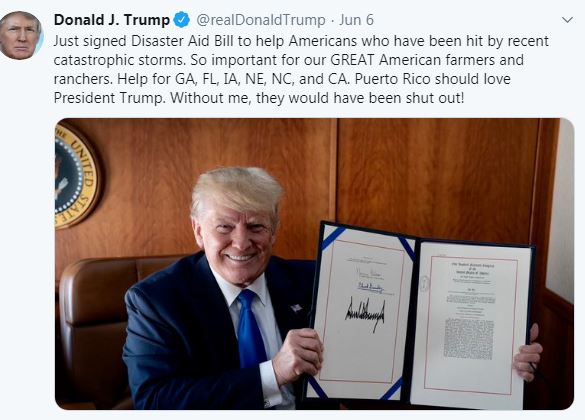 The American Farm Bureau Federation released a statement, "The disaster relief measure signed by President Trump is an important lifeline for farmers and ranchers".