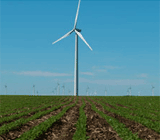 Jim Nichols calls himself a corn and wind farmer.
"I grow two crops: fuel for your car—ethanol—and electricity for your home. I believe the future for farming is energy," he says.
A former Minnesota agriculture commissioner, Nichols farms 630 acres near Lake Benton, Minn., on the Buffalo Ridge in the southwestern part of the state. This is where 300 or so wind turbines turn the steady breeze into electricity and send it on to Minneapolis/St. Paul and other more populated areas. Nichols and his brother built a family-owned $11⁄2 million 1.5-megawatt wind turbine five years ago and have enjoyed its steady income.
"It's my best crop. You don't have to plant it, you don't worry about weather or weeds or bugs, and it harvests itself," Nichols says.
Owning wind turbines allows farmers, ranchers and community investors to reap the wind's full rewards. However, most turbines now are owned by large corporations that lease locations from landowners. In the Lake Benton area, only eight wind turbines are locally owned, Nichols says.
Nichols hopes a group of 150 local investors (mostly farmers) called Community Wind North gets to build 12 2.5-megawatt wind turbines on Buffalo Ridge. So far, they've found themselves in a bureaucratic tangle instead. High-voltage electrical transmission lines out of the area are full. Dealing with the Midwest Independent Transmission System Operator, a government agency controlling access to the transmission lines, is expensive. Just getting a new turbine these days requires a long wait.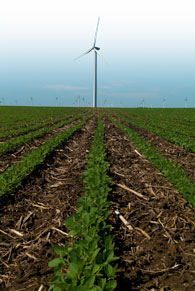 Turbines are manufactured by European companies, and the high-value Euro versus the dollar makes turbines costly. Subsidiaries of foreign corporations own many of the wind turbines in the U.S., thanks to a production tax credit law that makes it difficult for small independent wind producers to compete, Nichols says. Community Wind North opted to partner with California-based Edison Mission Energy, which can take advantage of the production tax credit.
Nichols' frustration is just one example of how tough it is for landowners to get new wind projects going. Even as the Barack Obama administration touts renewables as a long-term answer to the nation's energy needs, it is increasingly apparent that the wind industry has to leap tall hurdles before many farmers and ranchers see significant income from it.
The U.S. Department of Energy (DOE) set a goal of 20% of the nation's electricity coming from wind energy by 2030. Right now, wind meets only 1.9% of the nation's electricity needs. Growth potential is huge, but huge change must come along with it.
A report by DOE's National Renewable Energy Laboratory says it is critical for the nation to invest in trans-mission lines to carry the electricity to urban centers, along with improvements in turbine performance and the manufacturing supply chain, reduction in wind capital costs and successfully dealing with siting issues.
"The 20% wind scenario is not likely to be realized in a business-as-usual future," the report says.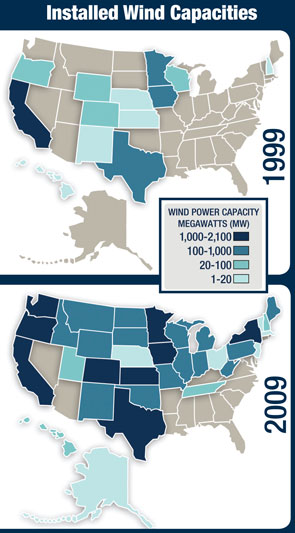 Business winds.
Unfortunately for the future of wind, the business-as-usual scenario remains all too common. For just one example, concerns about sage grouse this year stopped wind projects in Wyoming. Sage grouse is not on the endangered species list. Eleven Western states have sage grouse habitat, largely on Bureau of Land Management land. Yet, in light of this development, it is now critical to site wind projects away from sage grouse.
"Landowners are not going to be able to do what they want if sage grouse are on their property. People can use sage grouse to stop projects they want to stop," says Rick Krause, American Farm Bureau Federation senior director of congressional relations.
"Interestingly, some people want to develop wind energy but at the same time throw up impediments to it. The problems with wind turbine siting, along with the fact that there's no infrastructure to get wind energy to cities where people can use it, makes wind energy a few years away from where it could meet that 20% DOE goal," Krause says.
Siting wind farms likely will become a bigger issue as the industry attempts to expand. The potential roadblock is more than concern over collisions of birds and bats with wind turbines, and more than the NIMBY (not-in-my-backyard) syndrome.
A big wind turbine expansion would take up too much land, some of it in scenic areas, says Sen. Lamar Alexander (R-Tenn.). He says he is not opposed to wind energy, but is opposed to energy sprawl. Citing a Nature Conservancy paper released in August, "Energy Sprawl or Energy Efficiency," Alexander says meeting DOE's 20% renewable electricity goal by 2030 with wind alone would require an additional 186,000 1.5-megawatt wind turbines on 25,000 square miles of land. The turbines would need as much as 19,000 miles of new transmission lines, according to a National Academy of Sciences study, he says.
Alexander prefers building 100 new nuclear plants during the next 20 years to meet the nation's electricity demand. In the Southeast, the only consistent wind is on the ridge tops of the scenic Appalachian Mountains, where tourism is important. Alexander is determined to keep wind turbines off those ridge tops.
"Italy may have its art, India its Taj Mahal, but we have the Great American Outdoors," Alexander says.
The Nature Conservancy paper does not endorse nuclear power expansion. Rob McDonald, one of the report's authors, says Alexander quoted it for "rhetorical uses." McDonald wrote in a blog that "the energy sprawl paper does not mean that the Nature Conservancy is somehow against renewable energy generation. [It] simply shows that renewable energy production has the potential to take a significant amount of space, particularly biofuel production."
Local effort.
Facing a complicated road to expansion, is it still possible that local landowners will be able to reap the benefits of wind energy? A lot rides on the answer, which may come with smaller community-based projects.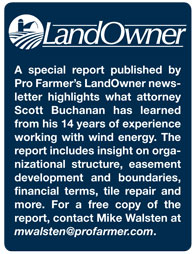 "Smaller projects can quite often find the sweet spot in the transmission system," says Roger Johnson, National Farmers Union (NFU) president and former North Dakota agriculture commissioner. NFU is particularly interested in OwnEnergy, a company
that is developing midsized 10-megawatt to 80-megawatt wind energy projects with local investors.
Partnering is important in these types of projects, Johnson says. "The regulatory system is confusing and very, very complicated. Getting all the pieces together is the tough part of the job. But there's a lot of interest among our members in renewable energy projects," he says.
Nichols' neighbor, Conrad Schardin, who has several leased wind turbines on his farm and is involved with Community Wind North's effort to put up 12 locally owned ones, says there's still hope groups, such as his, can succeed. In their model, the corporate partner owns 99% of the turbines until earning its return on investment, likely in 12 to 15 years, while the corporation receives the production tax credit. Then the arrangement flips, and local investors own 80%. It's been a frustrating five years to get the project running.
"The big wind power companies are foreign-owned, and there's not a lot of control of how landowners get treated. We would like to see more local control, with local people getting the benefit. The wind industry started a lot like the old oil industry did. At first, people signed easements they probably shouldn't have, for long terms. Now we're seeing a lot of guys wanting to get diversified," Schardin says.
"It seems everybody wants to support wind energy, but it's tough to actually get a system online. There are a lot of challenges. But there is hope, and we think our project is going to move forward. It should be a positive story for agriculture," he says.
---
You can e-mail Charles Johnson at
[email protected]
.