"No one should believe a soil health transformation takes place over a few years—it's a story with no end," says Anthony Thilmony. ( (Photo courtesy of NDSU Extension )
Anthony Thilmony always bets on the tortoise—never the hare. In the rolling topography of Barnes County, N.D., Thilmony's farmland is testament to the rewards of a patient, consistent approach to soil health.  
Hidden beneath Thilmony's ground, along with ample moisture, microbial activity galore, and an army of earthworms, is a 35-year-old tale of change. Bolstered by a heavy dose of precision technology, and boosted by indirect savings through delivery of inputs on a dime, Thilmony attributes success to an escape from temptation: "I've always had a goal when making changes on my farm, and I move from one little step to the next, avoiding the bait of big leaps. No one should believe a soil health transformation takes place over a few years—it's a story with no end."
All Sides of Ag
Describing Thilmony's topography as "steep" is too strong, but depicting it as "rolling" might be a tad weak. He farms in southeast North Dakota, on land with 100' elevation drops from high to low within a single quarter section. The soil is predominantly a sandy loam, with a portion of clay, and significant presence of heavy sand ground.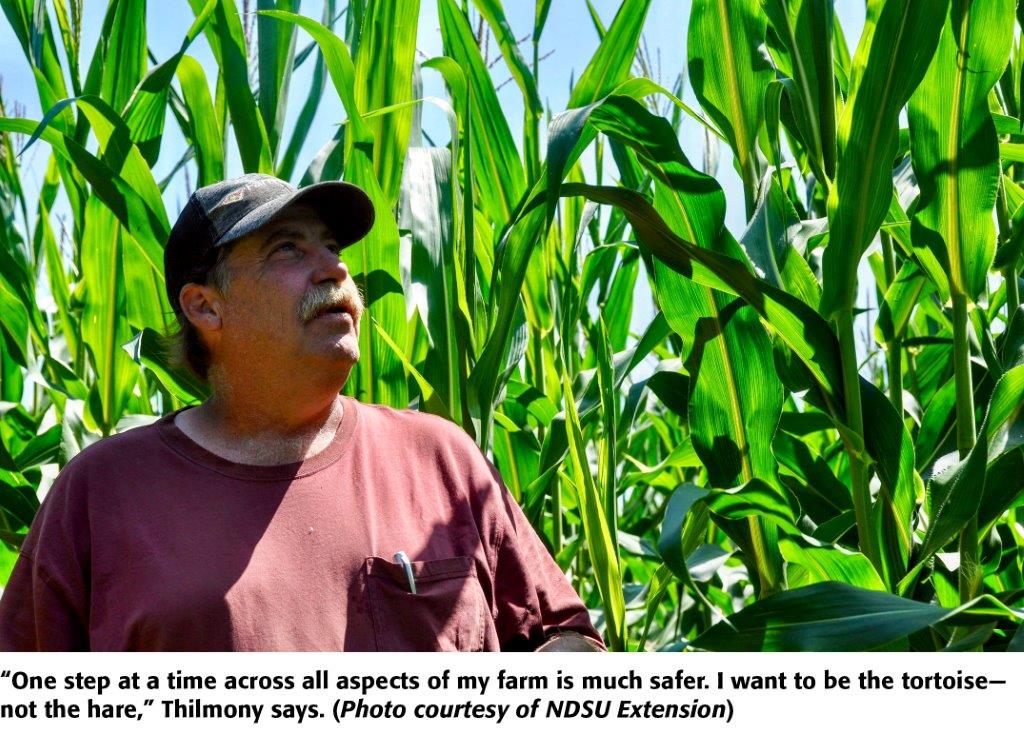 Just 30 years in the past, Barnes County was a bastion of barley, wheat and sunflowers—crops capable of withstanding minimal moisture. Today, wheat is minor (in some years nearly non-existent), and the area is predominantly corn and soybean territory. Thilmony, 54, farms 2,000 acres, still planting an average of 1,000 acres of wheat, 600 acres of soybeans, and the rest split between corn and sunflowers.
Raised on the family operation at the heels of his father, Lloyd, Thilmony left the farm after college, and served four years as an agronomist at the North Dakota Agricultural Experiment Station in Minot, followed by work as a sales representative at American Cyanamid for an additional four years. In 1997, as Lloyd prepared for retirement, Thilmony returned home to farm, and by 1998, he held the reins. "Research, sales, farming…It's accurate to say I've seen all sides of agriculture," he says.
No Suicide Pact
Solely as a response to persistent drought, Lloyd began no till in the mid-80s, and pulled the farm through a pain period of early planting battles. "My dad was willing to go through short-term troubles for long-term gain," Thilmony describes. "The no till technology back then didn't match what is around today, and dad started with Haybuster 107 drills, and switched to a Flexi-Coil 5000 to avoid hairpinning."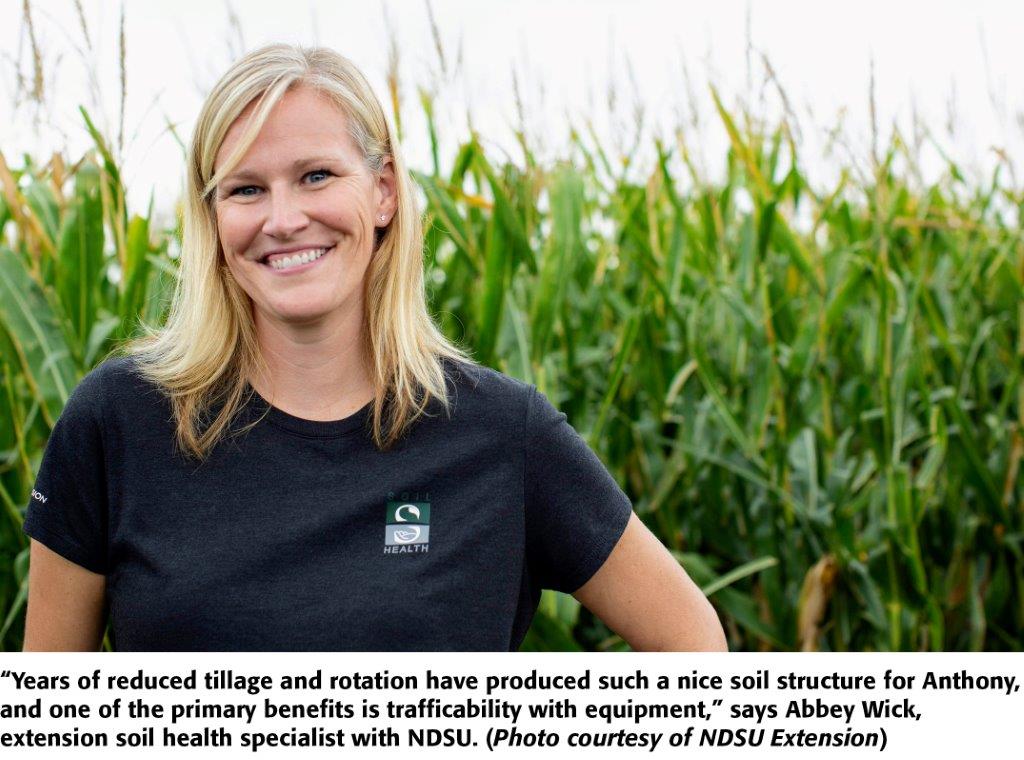 By the early 90s, transformation was evident on Thilmony land. Change was a slow, but steady process: beneficial bacteria, fungi, abundant earth worms, increased organic content and much more. What began as an attempt to preserve moisture became an effort to build soil health. A minimum of four to five years of no till was required to note marked differences, Thilmony explains: "Nothing happens in a year because building biology takes time. I've watched guys plant no till beans into wheat stubble, and then work the ground. That's not no till; that's just direct seeding with no benefits and all the headaches."
Thilmony adheres to farming reality, rather than dogma, calling no till a "concept," and not a golden rule. His only consistent tillage occurs through anhydrous application—15" spacing with a knife, but when fields are torn up for reasons beyond his control, Thilmony hauls out tillage equipment. "If I could find a way to buy a disk-opener to put anhydrous down, I'd do it, but it's not cost effective on my place. There is no suicide pact with me and no till. You bet I'll do tillage when I get ruts, but I don't unless I have to."
After taking the helm from Lloyd, Thilmony initially no tilled hills and worked low, flat ground, but identical yields changed his perspective: "The tilled ground looked good, but the no till yielded the same, and sometimes better. That was it…I abandoned tillage for good, except for necessity."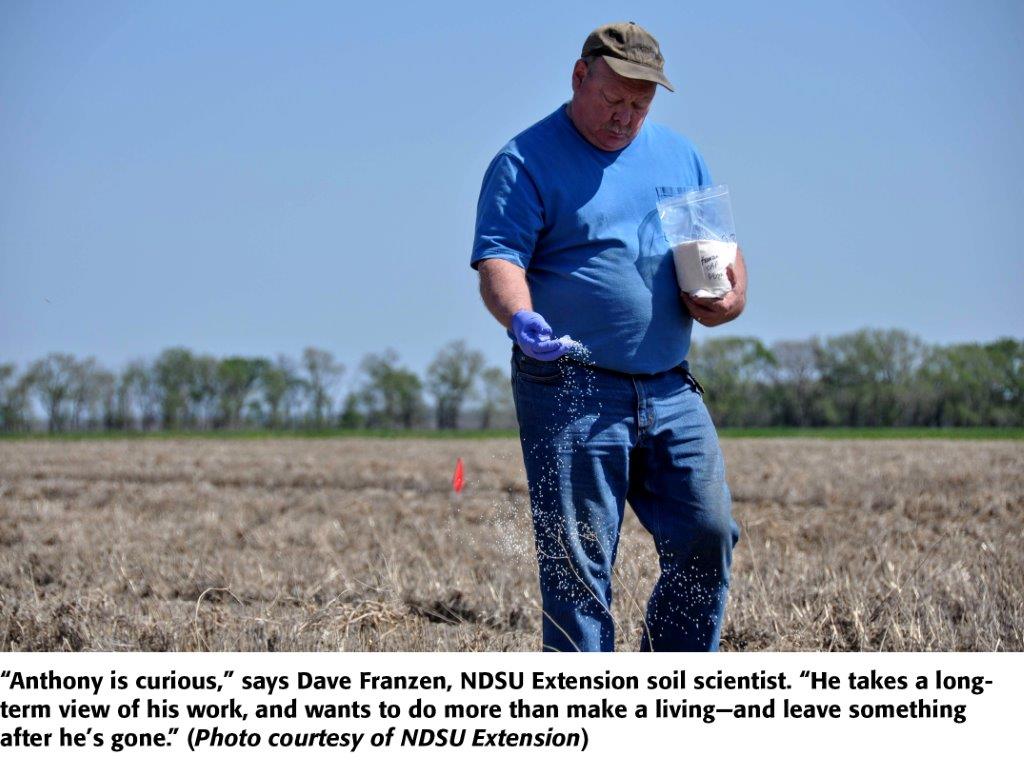 "I'll admit that nothing looks as impressive as a black field lined with corn or soybeans in the spring," he continues. "It looks so good and the stand looks so uniform—it's beautiful. Then go to a no till field and you can't find a clean row because of the residue. I think that often plays into some guy's minds."
"Plant into Pavement"
Thilmony's transition to increased no till acreage was necessarily slow, due to finances and technology. Case in point: Lloyd used tillage on sunflowers to incorporate soil-applied herbicides, but Thilmony benefitted from Prowl H2O, negating the necessity of tillage. Further, as his soil changed, Thilmony moved away from a hoe-opener to a John Deere 1890 disk-opener in order to move less residue. "Dad never had access to some of the things I've got today. He pretty much battled without almost any no till equipment."
A recent benchmark provided direct evidence of the value gained by Lloyd's tough years, Thilmony says. He often shares equipment with a neighbor in full tillage, and while Thilmony planted into corn stalks with the 1890, the neighbor arrived and noted the air seeder operating through residue. "He wanted to seed some soybeans with the 1890 and I told him, 'I just up my population because of residue and bouncing units, but it works great."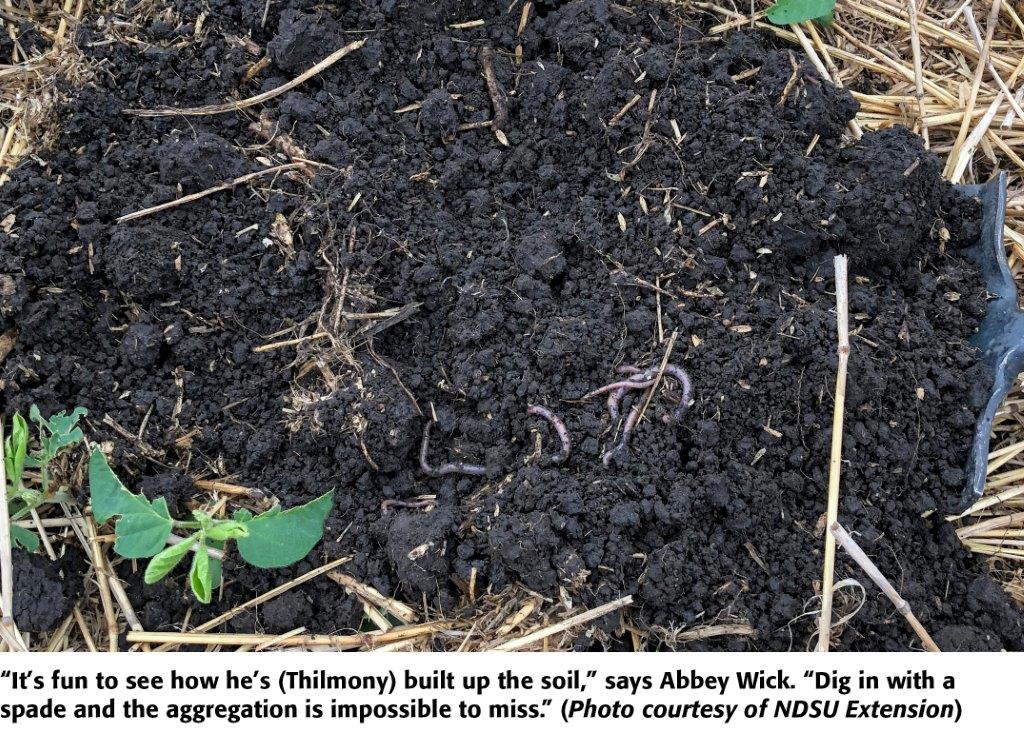 After attempting to plant with the 1890, the neighbor called Thilmony, describing how the soybean seed was going in too shallow. "Too shallow? That machine will plant into pavement. I went over and looked and the beans were laying on top; that's how hard his ground was despite only being two miles from me. I consider the 1890 with its down pressure as a premier way to seed and it'll cut into anything, but not his ground. He had to do tillage first."
How does Thilmony address a frequent criticism of no till related to delayed planting dates and wet ground? He is emphatic: "I'm out as early or earlier than anyone in my area and my soil infiltration is incredible. Over the last two seasons, we've installed tile because we've got seeps showing up, and it's because water is soaking in, instead of running off."
The progression of continuous no till over three decades has created a "mellow" soil, Thilmony details, firm enough for equipment, yet soft for penetration. "The balance is right and that balance is called soil health."
Thilmony admits to a perpetual learning process, and while listening to Abbey Wick, an Extension soil health specialist with North Dakota State University, describe the mechanics of soil structure on a recent field tour, alarm bells rang in his head. "I have seeded into way too wet of soils," Thilmony says, "just because I could drive across a field. The surface was dry and I'm out there planting, but it's so wet underneath, almost enough that when I drive by, a gopher hole turns into a geyser."
A decade in the past, Thilmony discovered field access and planting are not necessarily a wedded pair, after he seeded soybeans followed by several days of hot, dry winds. "Basically, the slot opened because it never closed properly. It was one of the worst soybean production years of my life, because I seeded in too wet of ground, but the no till carried the equipment across the field. That's a battle I still fight and I have to be patient on some soil types. When to go? That's part of the art of farming," he laughs.
Wick describes Thilmony as a producer with "appreciation for science and precise recommendations. He's got an ability to sift between what is science-based and what is observation to make a decision on how he's going to apply that information on his farm. As a cooperator on research projects, Anthony is great because he already knows exactly what is needed for field studies."
"Years of reduced tillage and rotation have produced such a nice soil structure for Anthony, and one of the primary benefits is trafficability with equipment," Wick continues. "It's fun to see how he's built up the soil. Dig in with a spade and the aggregation is impossible to miss."
Precision to the Bank
When NDSU Extension soil scientist Dave Franzen arrived in North Dakota during the early 1990s, farm fields were divided into multiple areas based almost entirely on general characteristics, and precision management often was viewed as a hopeful zero—fantastic idea, but too expensive. However, the arrival of zone sampling in the Peace Garden State partially began on Thilmony's ground.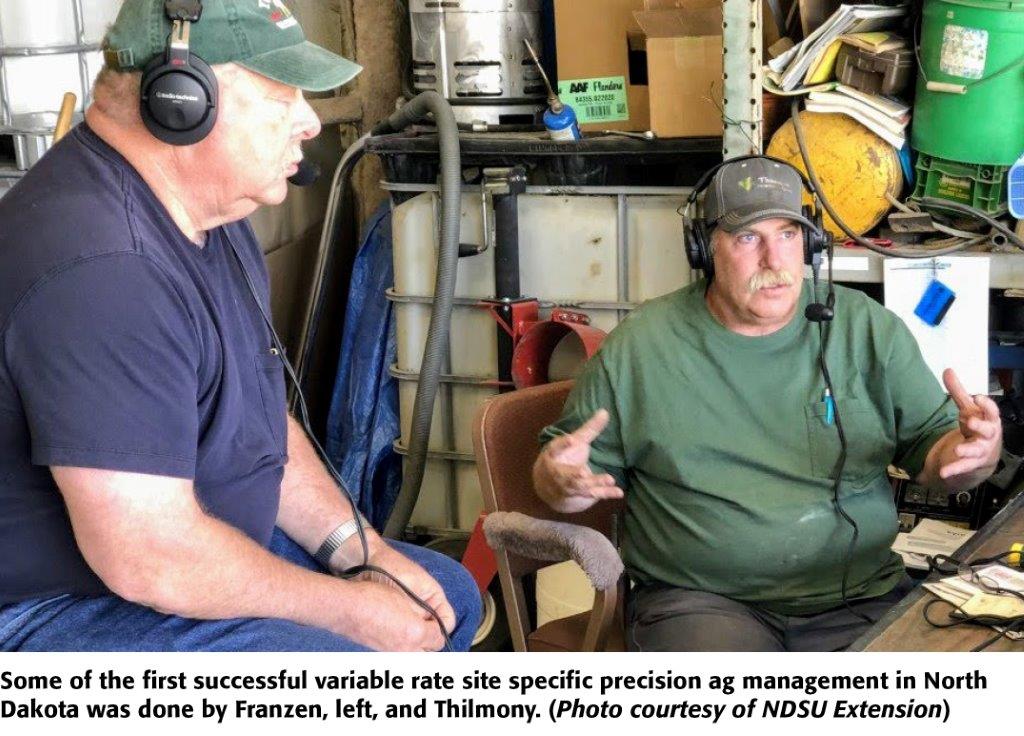 The first site-specific fertilizer application in North Dakota was initiated around 1988-1989, Franzen estimates, but with equipment playing catch-up, and no database to draw from, the effort failed. Several years later, in the fall of 1994, while Franzen collected his first soil samples as an NDSU employee, he was approached by two fertilizer dealers from a retailer near Grand Forks, seeking guidance on what grid size was the best fit. Franzen recommended one soil sample per acre, but his advice went over like a lead balloon. "They almost had a heart attack and said they could afford one sample every five acres. I told them they'd get a general idea about field variability, but there's no way I'd use it to do variable rate application."
Neglecting Franzen's direction, the dealers began sampling on a five-acre gird. "It didn't work well, and I had tried to tell them," Franzen says. "A few years later, the first successful variable rate site specific precision ag management was done using research work from the Thilmonys' place, and several other fields. People began to adopt zone management strategies and adoption continues to this day."
Thilmony says Franzen's research was "radical" and "way ahead" of the curve in North Dakota. Prior to Franzen's zone management implementation, Thilmony planned to make the "bad areas yield as good as the better areas," with blanket rates of fertilizer. "It didn't take long to realize some spots aren't fixable. Because of Dr. Franzen's work, I slowly worked toward variable rate fertilizer, which led to variable rate seeding and spraying. Now, I feed the good ground properly, and put a base rate on the bad ground."
The results? Dramatic yield increases. Thilmony's wheat yield doubled, largely through precise fertilizer placement. "My management perspective changed. When I started with precision application, I thought I'd save money by using less nitrogen. Turns out, I use the same, but my better soils are yielding more, and I'm not wasting fertilizer on my ground where it's not used."
Soil Texture?
Ever curious, Thilmony tried variable-rate herbicide application based on soil texture, a practice he's never heard of on another operation at field scale. He sprayed sulfentrazone on 300 acres of soybeans in 2019: "Sulfentrazone's efficacy is based on soil type. On sandy soils, it's a lot more active and you can get crop injury, but to get weed control on heavier soils, you need a heavier rate."
Thilmony's general region is composed of highly variable soils, and many of his neighboring producers pick a mid-range rate and accept a low rate of damage on sandy ground as part of the price to spray. "My concept was to spray appropriate rates based on soil types, and I think it worked very well. Our old soil survey maps weren't accurate enough to do this, so we based it on topography and history of knowing where the sandy and heavy grounds were located. My goal is to try this in sunflowers, even though they have a lower tolerance."
Building a Better Machine
Managing equipment costs is a hazard on many operations, but Thilmony relies on the familiarity of old machinery, and drops in a persistent flow of technological updates, always progressing piecemeal. The newest tractor on Thilmony's operation is a John Deere 8650 from the 1980s, with all the harnesses wired in by the Barnes County producer. One step at a time—no jumps or skips.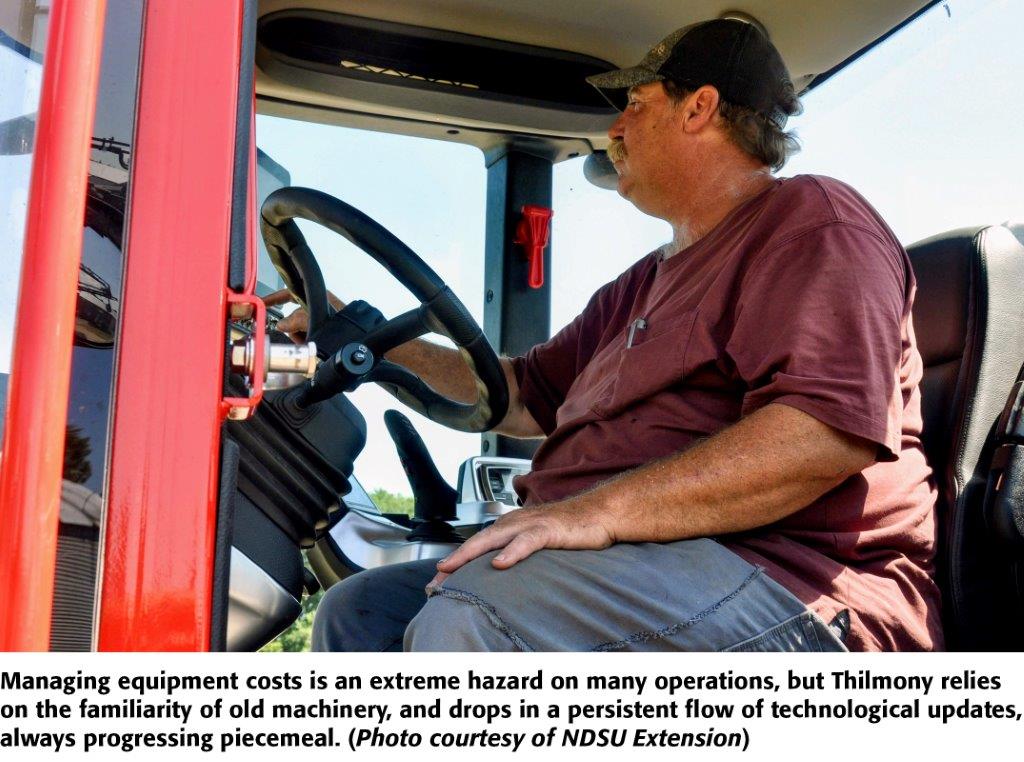 Wick describes Thilmony's attitude toward machinery: "Anthony takes existing equipment and updates it for new things. His planter is not new, but modified with sensors and precision, and it works perfectly for his system. Everything is done incrementally and with purpose, and each adoption has been intentional and methodical."
Thilmony places great value on a peer group organized by Wick: "We meet and I hear how other guys are trying to deal with equipment needs. I really listen because I'm trying to project on how I could modify their innovations on my fields. Other people have just as good of ideas as I do, sometimes much better, and I've already learned the hard way over the years about equipment: Cookie cutter never works in farming."
Whatever the add-on or update, Thilmony tries to stay below a $15,000 ceiling. "My first precision farming fertilizer technology was with a manually controlled Raven. I spread my equipment purchases over a 20-year period and I prepare for inevitable purchases, like a variable rate $50,000 Hawkeye sprayer that made financial sense on my operation. If I can change something without major equipment purchases, I'll try any new technology very fast. It's crucial because technology is what makes me money. Equipment doesn't make me money, but the tech inside sure does."
"I'm looking forward to a spring where I don't have a new computer or new control system to learn. But that is the nature of farming right now, and that's what has to be done step by step. I've done it for the past 15 years, and it's frustrating, but that's what we do."
Crop diversity is Thilmony's biggest soil health challenge, associated with the difficulties of local marketing. He's considered field peas, barley, canola, dry beans, and more, but the lack of logistics is a constant thorn. Adding in crops with high transport distances is a tricky proposition: "I can't spread myself too thin. I don't even have a local elevator for sunflowers. Agronomically, I can raise lots of crops well, but I can't get past marketing and shipping. You can only be spread so thin, and so I'm stuck in what could be a much more diverse rotation."
Cover crops are on Thilmony's "to do list," and he typically substitutes covers with volunteer wheat to hold moisture. Workload, he says, keeps cover crops at a minimum: "I'd really like to use covers, but time runs out fast every year. Cover crops are a work in progress, and not a high enough priority for me, but I admit they'd fit in my topography."
A Most Curious Grower
Thirty-five years later, where would Thilmony's operation be without the pursuit of soil health practices? As always, Thilmony doesn't hesitate to address a tough question: "My savings have always been indirect, and I've never pretended to have all the answers. It's difficult to give an exact answer, but I know the response in my soil wouldn't be there. It's accurate to say that without soil health I'd still be in farming, but there's no way I'd be nearly as profitable."
Franzen offers a pointed summation of Thilmony's soil changes: "The neighboring lands blow, and Anthony's doesn't. Organic matter is up, asymbiotic nitrogen organisms are four to five times higher than on neighboring land, and he does fieldwork when others can't. Put a probe in the ground and you'll find earthworms and biology all over the place."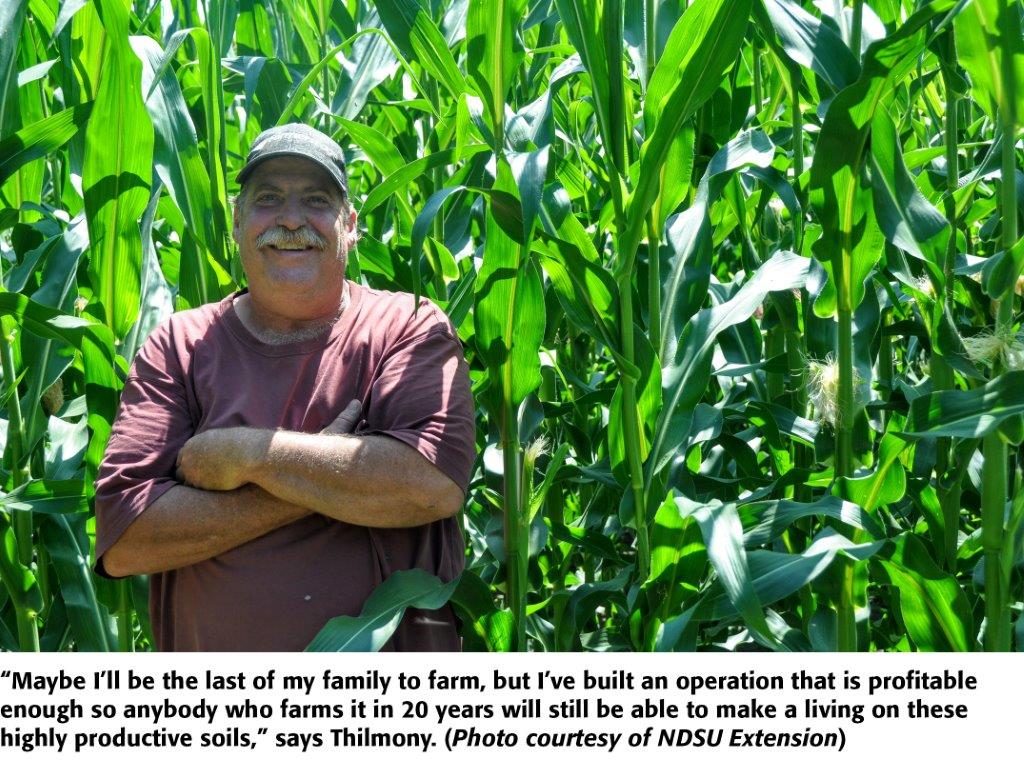 "Anthony is curious," Franzen concludes. "He takes a long-term view of his work, and wants to do more than make a living—and leave something after he's gone."
Thilmony, as with many growers, is driven by dual desires related to finances and future. The lines of separation often blur, but Thilmony has proven to be a worthy steward. Reality dictates that cover crops, no till and any form of soil health must equate with profit, he insists: "I have to make money. My dad gave me better land than what he started with, and although I'm a bachelor, I'm doing the same. Maybe I'll be the last of my family to farm, but I've built an operation that is profitable enough so anybody who farms it in 20 years will still be able to make a living on these highly productive soils."
Soil is always in a state of change, marching toward a richer form, or breaking down in loss, but never staying the same. Likewise, Thilmony keeps his operation is constant movement, slowly pushing for improvements: "I've never gone fast with change on anything so it wouldn't financially drain me. Toys can be so expensive and making big decisions too fast can be even more expensive. One step at a time across all aspects of my farm is much safer. I want to be the tortoise—not the hare."
For more, see:
Corn Maverick: Cracking the Mystery of 60-Inch Rows
Descent Into Hell: Farmer Escapes Corn Tomb Death
Killing Hogzilla: Hunting a Monster Wild Pig
Breaking Bad: Chasing the Wildest Con Artist in Farming History
Blood And Dirt: A Farmer's 30-Year Fight With The Feds
American Farmer Snuffed Out Saddam Hussein
Against All Odds: Farmer Survives Epic Ordeal
Future Shock: Farmers Exposed By US-China Long Game
Wild Pig Wars: Controversy Over Hunting, Trapping in Missouri
Agriculture's Darkest Fraud Hidden Under Dirt and Lies
In the Blood: Hunting Deer Antlers with a Legendary Shed Whisperer