---
Rick Pedro posted his picture in 2015 to a social media group
It was taken by someone, reposted and they fabricated a story around it
Attorneys say it's important to protect the pictures you love
---
In the October issue of Farm Journal we shared this fantastic picture of extra tall silage standing ready for harvest. It's a great picture and the picture is real. What isn't real is the story we were told about it.
"Of course, I've had my Facebook hacked before and you change the password," says Rick Pedro, actual owner of the photograph. "But, I've never had anybody steal one of my pictures and claim it to be his own."
Rick Pedro is a farmer and former dairyman in Visalia, California. He's had the photo hanging on the wall of his office for a long time.
"That's my dad and I in 1995," says Pedro. "You know, that would put me right about 38 years old in that picture."
When a friend saw it in the back of Farm Journal with another person claiming the picture as their own he immediately contacted Rick.
"He says, 'Rick did you happen to read the Farm Journal,'" recounts Pedro. "He said, 'there is the picture of you and your dad standing out there by that tall corn in front of your pickup and a guy is claiming it's his family!'"
Through Twitter and then multiple days of correspondence, the picture-poser lied, misled and claimed to be the true source of the original photo. Rick says he doesn't know that guy but he and his father, Joe Pedro, remember that day well.
"It's so funny because that corn was actually crap," says Pedro. "I called it eucalyptus corn because it would have made good firewood."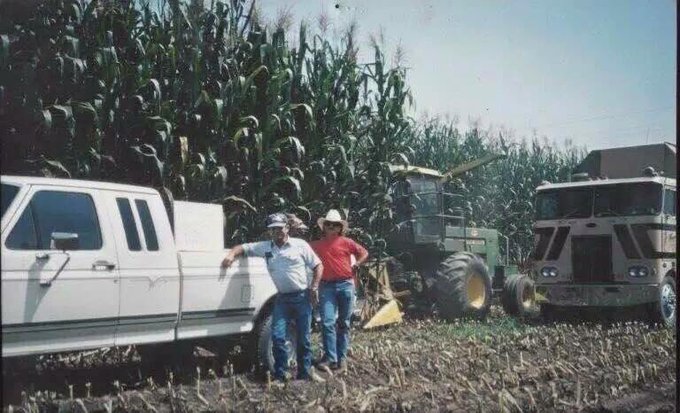 That 20' crop was an experimental variety that Rick says just took off in their California soils.
"It was all stalk and the ear was about as big as your thumb," says Pedro. "I had to stand on the toolbox of that Ford F-250 just to reach the ears on that corn because they were 11 feet off the ground."
The variety was spindly and falling down even as they chopped it. Rick and his father eventually mixed it in with good silage and fed it to their cows.
"We're on a pretty popular road between two towns and a lot of people use this road," says Pedro. "It's a good visible place and a lot of companies want to do test plots right here."
Today, that picture and several others of that wild experimental hybrid hang in his office. It's a moment, from his family's history, that he's shared with others via social media. Rick believes that's how the picture was stolen and reposted by someone else.
"I posted the picture to a Facebook group in 2015," says Pedro. "I shared that picture and it was shared over 1000 times so that picture has made the rounds."
As journalists, it's not uncommon to utilize user-generated content as a starting point or source for interesting content.
"20 years ago you had a limited number of publishers, whether it was a newspaper or media company or movies," says Ethan Wall a social media attorney and founder of a law firm dedicated exclusively to social media legal issues. "We've all become publishers and we're creating content at such a record fast rate that it's almost difficult for people to keep up with it."
Today nearly everyone has a camera, video recorder, internet and access to the world right in their pocket. From YouTube to Twitter, Facebook and Instagram, it's a great way to keep up on the consciousness of the season or find something unique.  
What reporters don't always anticipate—and maybe they should – is for someone to post an image or video, call it their own, create a fictitious story around it and then follow it through to print. From a journalistic standpoint there's a difference in the velocity of research and background work required for a multi-page spread, using multiple sources, and compiling raw data as compared to printing a nice photo offered to us from Twitter.
Farm Journal was tagged in a post on Twitter by someone using Rick's picture. Finding the image unique, we responded via direct message. As you can see by the exchange we asked multiple questions and received a completely fabricated story. We also asked for a better image of higher quality to which the party agreed and sent it via email. Additional details were requested and again the faux-owners asked for time to get those details from their grandfather. All of these interactions are normal in the reporting process including requesting multiple original details not found in the public post, following up via a secondary form of contact and asking for a higher resolution version of the picture. At any point in the process the pretenders could have come clean rather than dig in deeper.
 Unfortunately, it happens and, like Rick, it can happen to you.
"In the past, you might be an artist and that's the type of person who would worry about somebody stealing their stuff," says Wall. "Now, whether you are the next Pablo Picasso, or you are a farmer out in Idaho, who took a photograph of your wheat fields, and post it on Instagram, anybody can steal this stuff these days."
 Wall says if someone taking your photo as their own bothers you, then take steps to protect it.
"We now have to be more proactive, rather than reactive," says Wall. "It's incredibly difficult for us to track these people down and do something about it where it might be a little bit easier if we took some proactive steps in the first place."
He recommends adding a personal watermark to pictures or batch filing your images with the U.S. Copyright Office.
"Before you get a copyright registration, you have to prove your actual damages but once your copyright registration is registered with the U.S. Copyright Office, then you can get what's called statutory damages," says Wall.  "Under the law there's a specific amount of damages that you are entitled to and it ranges from about $750 per piece of copyright infringement, up to $35,000 if it was done maliciously."
As for Farm Journal, our editors are learning from Rick's picture, too. Our team is improving its vetting of images and utilizing a signed release form for the folks who provide them.  
The digital community opens a window into experiences and lives we otherwise would never know. Unfortunately, not every citizen is an honest participant. Thankfully, we have an opportunity to set the record straight for Rick and his father who have put plenty of memories behind them this year including the dairy.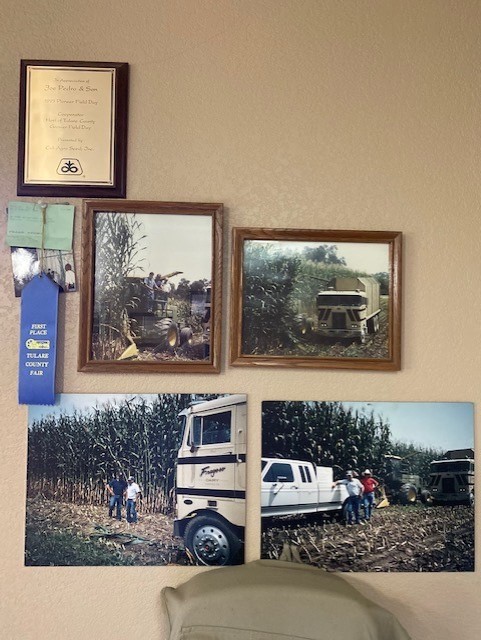 "We just decided, hey, it's time to sell these cows," says Pedro. "So we sold our quota in May and our cows in June."
The family is now cow-free for the first time since 1956. They still farm about 140 acres of walnuts and 300 acres of corn double cropped to wheat.
"We just got to where we were dependent on the walnuts to do good because the dairy hasn't done well for 10 years," says Pedro. "In 2017, we got about half of the normal walnut crop and so the money wasn't there and then last year's crop we only got $.72 a pound where normally we were getting $1.50 per pound."
Regardless of the challenges, he's still focused on the future, harvesting silage and cutting this year's test plots. No word on whether he'll post a picture.