Next year, corn prices could settle in the $3.50 to $3.60 median range, according to recent Food and Agricultural Policy Institute (FAPRI) projections. ( Lori Hays )
More corn, fewer soybeans. More soybeans, fewer corn acres … or no change at all. The annual crop mix decision isn't getting any easier. Does another year of the same market challenges and talk of more corn acres impact your decisions?
 "The general expectation is unplanted acres from 2019 will get planted in 2020 and 5 million will go to corn and the other 10 million to soybeans," says Arlan Suderman, chief commodities economist for INTL FCStone. "That puts corn at around 95 million acres—a range I think is far more likely than the 100 million we've heard."
Corn's stocks-to-use ratio makes the crop seem more favorable than soybeans, but that doesn't necessarily mean the market is creating real demand incentive to grow the golden grain.
Bill Biedermann, partner at AgMarket.Net, sets up this profit comparison between corn and soybeans:
200 bu. per acre corn sold for $3.93 with a negative 15¢ basis equals $756 per acre. With costs at $700 per acre that puts profit at $56 per acre.
70 bu. per acre soybeans sold for $9.49 at negative 30¢ basis equals $643 per acre. With costs at $530 per acre that equals $113 per acre in profit.
Even with significant soybean demand loss from the trade war, corn still isn't the more profitable crop, according to Biedermann's example.
Next year, corn prices could settle in the $3.50 to $3.60 median range, according to recent Food and Agricultural Policy Institute (FAPRI) projections.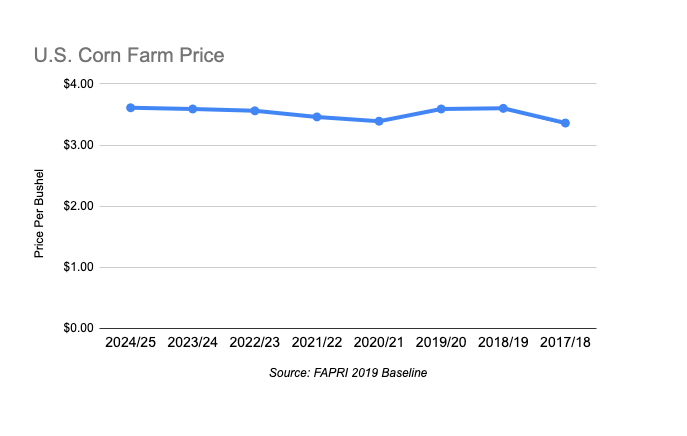 Adding insult to injury, corn is the more expensive row crop to grow, and securing financing for the crop could be a struggle next year.
"We're seeing a notable increase in farmers feeling pressure from lenders for 2020," Suderman says. "We're not at 1980s crisis levels, but it does appear finance options will influence and possibly discourage farmers from expanding corn acres."
Fertilizer is the biggest added expense for corn versus soybeans, and some farmers just won't be able to secure sufficient operating loans to expand corn acres.
Corn stocks need adjustments.
The grand total for the 2019 crop is still a mystery. Right now, traders are buying and selling based on 2019's 1.9-billion-bushel carryover estimate by USDA swelling to a 2.7-billion-bushel carryover estimate for 2020. However, some question the accuracy of the 2019 carryover number, which ultimately means they doubt the 2020 carryover number, too.
"We're not seeing the piles and bags we'd normally see if we had the stocks they're talking about. If USDA doesn't make revisions, then 2020 stocks could hit levels not seen since the 1980s," Biedermann says. "If USDA makes the revisions we expect, 2020 carryover would be much more manageable at 2.1 billion bushels, about what we had in 2017 and 2018."
Late harvest, bare spots in fields that didn't grow a crop but are technically considered planted acres and low test weights could dramatically change USDA's estimate for the 2019 crop. Future reports will likely only continue to improve in accuracy, but they carry a heavy burden on the market.
"The [Jan. 10] grain stocks report could move the market in a major way," says Pat Westhoff, director of University of Missouri's FAPRI.
Everything could change with a trade deal.
Uncertainty is nothing new for farmers, but the trade situation makes crop mix that much harder to predict, Westhoff says. Whether it's at the national level or an individual operation, the trade situation is weighing heavy on the corn versus soybeans crop mix decision.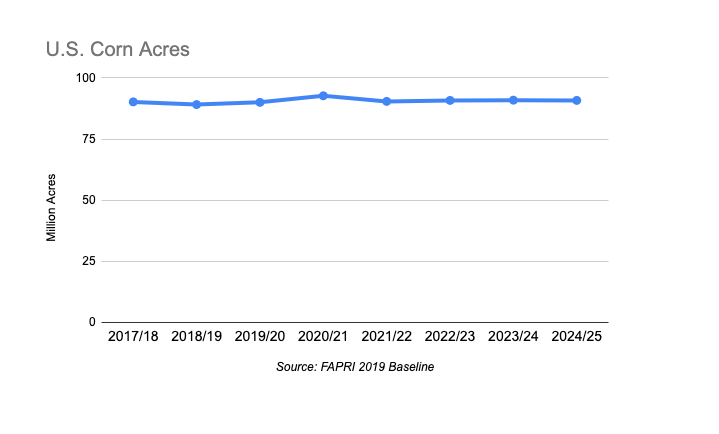 "A deal with China is pivotal," Suderman says.
Even with a successful trade deal, African Swine Fever will continue to depress soybean demand far more than corn. For that reason, Suderman thinks a successful trade deal will actually provide more positive momentum for corn than soybeans.