USFR-RT2 The Ohio State 2020 College Roadshow
oybeans prices seemed unstoppable this week, and Chinese buying just keeps coming. U.S. Farm Report talks to Ben Brown of The Ohio State University about soybean prices in the months ahead. ( AgWeb )
Soybeans prices seemed unstoppable this week, with prices rallying most of the week. The November soybean contract is up $1.76 since August 10th, a sharp turnaround for soybean farmers facing a large crop.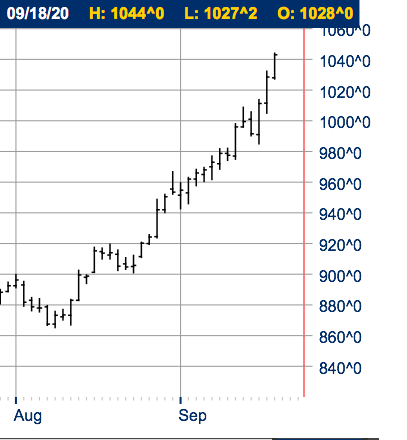 Driving some of the price momentum is China. The country is making soybean purchases almost daily, and according to one ag economist, those sales are starting to add up.
"We've certainly seen impressive sales," says Ben Brown, a clinical professor with The Ohio State University. "When we look at what they've got on the books committed for the year, it's almost exactly what they ended up importing from us through all of last year, so we're starting out the year almost exactly where we ended last year."
Brown says if those sales turn into exports and actually get shipped, the story for soybeans becomes even better.
"We're on pace to set record breaking numbers within the Chinese market, and we're starting off really, really well," says Brown. "Our exports and new sales are 200% more than what we were a year ago at this time. So impressive demand worldwide, but especially in China."
 The impressive demand is helping drive prices as soybean farmers head into harvest. According to USDA, soybean farmers could still produce a bountiful crop this year.
"You look at the WASDE report from last week, and it was pretty benign; nothing overly bullish, but nothing overly bearish, either," explains Brown. "The difference being traders are now looking at these reports through the lens of inflation. We have more money supply from the Federal Reserve now than we have had in a long time, up 38%, since the beginning of the year, while the U.S. dollar is down. Our buying power for the dollar, with it down 10%, also creates this inflation story. "
Brown says based on that scenario, he thinks if the results of the September USDA report would have been released a couple months ago, it would have triggered a negative reaction from the market.
"I think both corn and soybeans, especially on the soybeans, are overbought at the moment," says Brown. "Now whether those come down, I like to remind people, we're not looking at a great crop, but we're looking at a good crop. The yield estimates right now are pretty close to trendline for the year. So we have enough soybeans, not enough to start rationing demand with higher prices, but certainly opportunities that are available to producers as we look forward to the next couple of months, because that carry is not incentivizing storage at the moment."
As farmers in the eastern Corn Belt look at options with delayed price, Brown says the situation has changed for farmers this harvest.
"I look at these prices we've got right now, and I'm looking at the sales that farmers are making in the cash market, and I think a lot of the soybeans that planned to go on DP are probably going to get sold across the elevator scales here in a couple of weeks," he adds. "So I'm not expecting as much DP, certainly not as much as what we had last year."
Listen to the full marketing discussion from Ohio State University below.