Hands shelling corn ( Darrell Smith )
After a tumultuous 2019 planting, growing and now harvest season, all eyes are on seed companies to learn what to expect for next year. The 2019 seed supply was weak for soybeans as a result of a challenging harvest in 2018, and farmers hope 2020 isn't a repeat.
Late planting will undoubtedly play a role in seed yields and quality—especially for extremely late planted soybeans. And corn also had its challenges.
"Performance of the seed at pollination was pretty good, we had cooler than normal conditions and usually nice pollination and yields translates to quality," says Jim Herr, Beck's production manager. "Given our expectations and what we saw at the end of June, we're pretty pleased with the quality of seed corn on all levels."
Overall, seed companies are indicating that corn yields are average and well within their budgets for seed needs in 2020.
"As part of our normal course of business, we did make some seed production adjustments," says Mark Deterding, Corteva Agriscience Global Seed Production & Supply Chain Leader. "Those adjustments ensure we will remain a reliable supplier and allow us to provide our customers products that help them be successful."
Wyffels Hybrids reports their corn supplies are actually above estimates this year.
Major seed companies are reporting at least adequate corn seed supplies.
"Bayer produces seed in a wide range of growing conditions and environments to help minimize the impact of tough production seasons for growers who plant our brands. Particular products can be planted in multiple areas to spread risk, and part of that plan is to expect the unexpected, and manage for weather, supply or demand variation," Bayer said in a statement to Farm Journal.
Seed companies plan for a certain amount of excess seed to offset any weather challenges in a given year. Given this year's yields, those plans help steady the risk of more limited options for farmers.
"The story for soybeans is somewhat different and we have several variables that are unknown," says Ryan White, Syngenta Head of North America Seed Production and Supply Chain. "With the delayed harvest, there are only a few seed soybeans that have quality results in so far to give us a picture of the quality. The first soybeans into our soybean production plants are showing smaller seed size and overall quality is good."
Compared to 2018 soybean seed harvest, seed companies say they're seeing improved soybean quality. While size might mean farmers need to adjust planter disks, it shouldn't impact germination and other quality concerns like the 2019 planting supply had.
With soybeans left to harvest, the question on farmer and seed company minds is: will the quality continue to hold, or will it deteriorate?
Secure Seed Orders Early
Because seed is the bedrock of crop production each year, getting the right seed for the acre is essential. Seed supplies aren't more limited than a 'normal' year, but every year certain hybrids and varieties always run out faster.
"I would encourage growers to carefully evaluate variety performance and placement," Marc Hoobler, BASF U.S. Soybean Agronomy Lead. "We are entering a very competitive stage with traits and the days of a single platform are over. Growers have many choices and all platforms are controlling weeds effectively. Variety selection should be a primary consideration and trait platform should be secondary."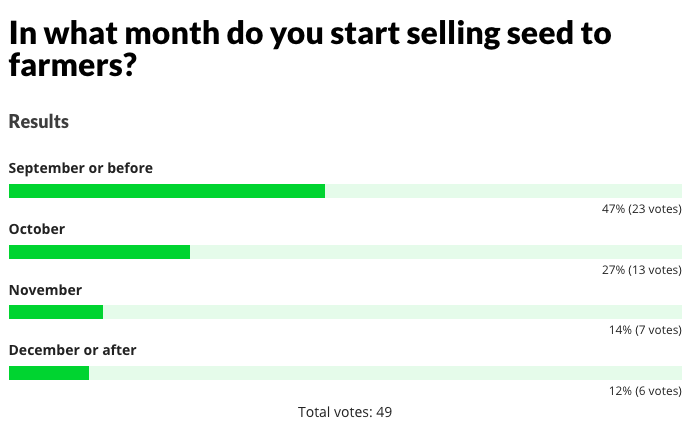 ---
Read more about 2019 harvest:
Wet Grain Problem? Solution: Sell It to Livestock Owners For A Win-Win
Tools to Help with High Moisture Harvest