Drought Bigger Impact than derecho 8 24 20 Betsy
The Pro Farmer Crop Tour measures the average potential yield from the samples collected at that time. Yet, there are weeks to go until harvest and some areas are in need of rain to finish the crop.    
"The drought was more severe and a bigger scope and a larger area than I expected," says Kurt Line, a farmer and scout on the tour.    
That statement sums up what scouts found on The Pro Farmer Crop Tour this month as drought and dryness weighed on fields.  
"The beans here were the worst check we've had in the last three days," says Matt Chambers, an Iowa farmer and scout as he samples a field in Sac County, Iowa.  
Portions of the Midwest are in drought, especially in Iowa. The latest U.S. Drought Monitor shows expansion of abnormally dry, moderate drought and severe drought conditions for the state. Those dry areas don't stop at the state line.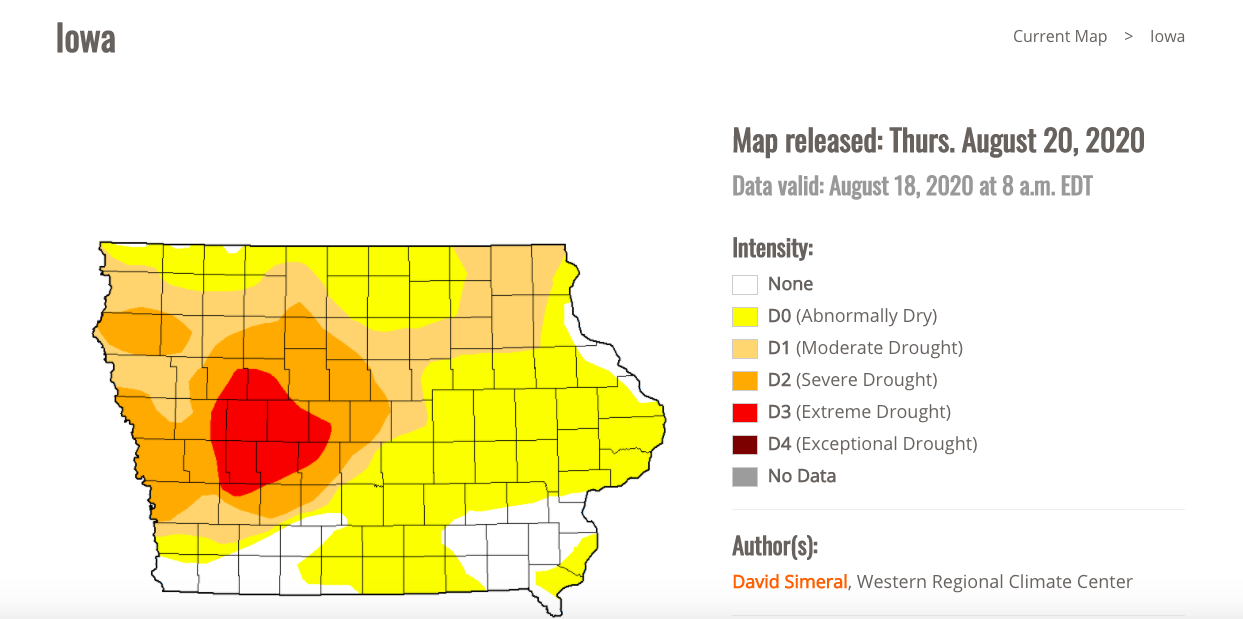 courtesy: U.S. Drought Monitor
"A severe percentage of the U.S. corn crop is at risk of going backwards," says Jarod Creed with JC Marketing Services. "It's not just in Iowa. It expands in Minnesota, parts of South Dakota and the eastern half of Nebraska."  
How the crop finishes will depend on weather conditions. 
 
"It doesn't look like that heat is going anywhere anytime soon," says AgDay meteorologist Matt Yarosewick during the AgDay weather segment.  
Many thought the derecho would be the story this year on tour, but that's not the case. 
"The biggest shock of this trip actually is the drought," says Creed. "It's not the damages from the derecho in eastern Iowa that we experienced here a couple of weeks ago." 
 
This is as farmers try to figure out exactly how many bushels could be lost due to the drought, while also factoring in the derecho.  
"That's going to be an ongoing thing for the market to figure out," says Peter Meyer, S&P Global Platt. "In my opinion, the drought is a bigger story than the derecho."  
Dry conditions are even present in those wind-damaged areas.   
"We ran north of Cedar Falls [last week]," says Mark Bernard, an agronomist for the Eastern leg of the tour. "I could not believe the size of some of the cracks in the ground. There were people out chopping silage today." 
Scouts who traveled throughout eastern Iowa say the yield samples were all over the place, due to wind damage. Some fields or areas of a field may not be harvested – even if scouts found higher samples. It depended on the area.  
"It seemed like the corn that's a little bit more drought stressed actually snapped off where they have no chance of getting it (combined)," says Guse.  
Guse traveled through Tama, Iowa, as well.   
"We had one sample [where] maybe 2% of the stalks were standing, the rest was leaning over and our sample came up on that as 235 bushels per acre (bpa)," says Guse. "Just to show we didn't count every ear, we had samples down in that 140 bpa and 150 bpa range because we just didn't feel that they'd be able to get more than that to combine when they'd go out there to harvest it."  
Guse says the problem is that area is still three to four weeks away from harvesting, and it's unknown what the weather is going to do to this crop. He says the crop is already stressed, even though it's not as far "west."   
"When we came into Iowa [last week], we crossed the river at Burlington," says Guse. "We took five samples in Iowa. Every sample had pods that had just died off and were going to abort."  
Now, farmers wait for rains to help protect the yields currently in the field. Without them, pod fill and kernel depth are at risk in the next two weeks.