Nebraska Update Crop Tour Betsy 8/19/20
Is Nebraska living up to its name as "The Corn Husker" state? That's the question scouts along the Western leg of the Pro Farmer Crop Tour want to discover as they make their way from Grand Island to Nebraska City Tuesday.
For many farmers in the state, 2020 is a much different year than last. Many areas in Nebraska flooded multiple times since the "bomb cyclone" and ongoing flooding started during March 2019.
Scouts may not see flooding this year, but instead areas of dryness. The U.S. Drought Monitor shows half of the state is considered abnormally dry. Right around 38% is considered a moderate drought.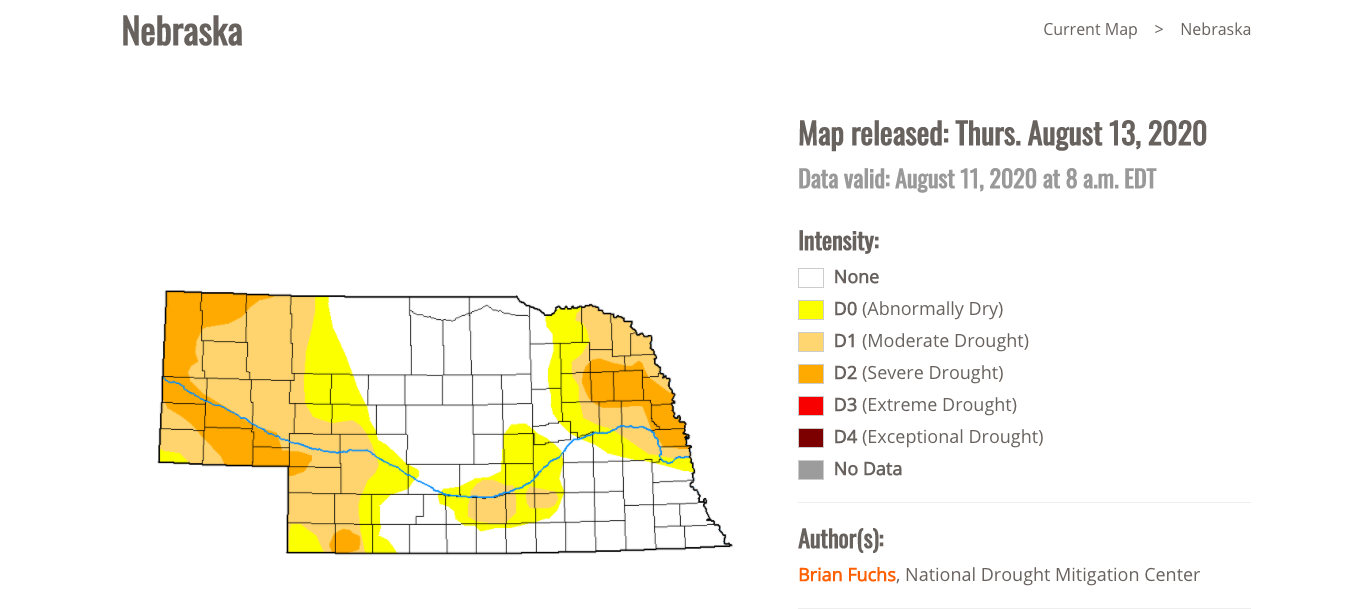 courtesy: U.S. Drought Monitor
Kenny Reinke farms in Neligh, Nebraska. It's on the edge of the drought monitor.
"We need a rain," says Reinke. "I've had a half of an inch in the last 30 days. We just need a rain to carry it through."
Yet, Reinke says the irrigated crops in his area look pretty good.
"Both [corn and soybeans] look good," says Reinke. "We are at least average, if not above average. The kicker may be the dryland."

Scouts looking at dryland crops south in Butler, Saunders and Seward counties are saying the samples are just par.
"It's about as par has it has been the last few years," says Marty Tegtmeier, one of the scouts on the tour. He talked with us after only gathering dryland samples in those counties. "I think someone shortened up my rope because the population hasn't been what I thought it would be."
Tim Gregerson farms in Herman, Nebraska, along the Missouri River Bottoms. His area is colored on the drought monitor.
"We finally had a dry spring after three wet springs," says Gregerson. "We thought, 'Wow! [If] it's a dry spring this year, this is the year it will rain in July. Half of our farms since July 2nd are sitting on about 85 to 90 hundredths of an inch. The rest is an 1.35 to 1.45 inches."
Gregerson says the irrigated crop may be average to above average in some places but dryland crops could be below average in his area.
"We are falling off a cliff," says Gregerson. "We could probably have the worst finish since 1988, if the forecast holds true for the next 3 weeks. We are kind of dropping off the cliff in our area."
The U.S. Department of Agriculture (USDA) says the average expected corn yield for Nebraska may be 191 bushels per acre. The department says the average expected yield for soybeans is 62 bushels per acre. The department expects a potential record for soybean yields in the state this year.
Scouts Brent Judisch and Gregerson collected samples from all irrigated fields in Hamilton and York counties when we talked with them. They say the corn looks pretty typical.
"It's a very consistent crop, which it usually is," says Judisch. "No surprises [here]. This part of Nebraska is usually pretty strong [with] pretty good soil."
However, they have seen green snap and disease pressure in the corn. They believe the green snap may take some bushels off the yield.
"[The disease pressure] could be a little factor on the finish here. We are sitting on below average hail damage in Nebraska this year, but green snap is kind of sneaky. It's not bad but it's here and there."
Judisch says the soybeans are the biggest surprise as they sampled above average for their route, and above their expectations.
"The soybeans have been really consistent," says Judisch. "They are all on 30-inch rows. They are running pretty good pod numbers. That's to be expected in Nebraska."
Farmers have relief since the flooding is not in 2020 but they hope a rain will arrive for some areas.
Here are Pro Farmer results from Nebraska:
Average corn yield from samples = 175.15 BPA
Pod count 3x3 square = 1297.93
#pftour20