Joseph Sparacio, 33, will plant no seed and tend no crops in 2020. Instead, the farmer-patriot has left behind everything he loves to answer the call of duty. ( Photo courtesy of Anthony Sparacio )
Joseph Sparacio drew a deep breath and took a last look across his farmland. He then wiped away his wife's tears, scooped up two tiny children—a toddler and a newborn—and stared into the faces of his past, present, and future. One more kiss, one extra hug, and one final glance over his shoulder before he steeled his emotions and left behind everything he loved—family, land and country—in order to pay the costs of other men's freedom.
Sparacio, 33, will plant no seed, tend no crops and work no ground in 2020. Instead, the farmer-patriot has traded the rich loams of his New Jersey farmland for the desert sands of Iraq—his second Middle East deployment in six years as a member of the Air National Guard. What happens when a young grower steps into harm's way and leaves behind an entire farming operation to serve his country? Top to bottom, young to old, Sparacio's farming family pulls together and answers the call in faith—all while bearing a heavy load of pride and pain.
Counting the Costs
Sparacio's Garden State farming heritage tracks a century back to Ellis Island and further to Italy, where his forefathers originally grew tomatoes and asparagus in Sicily, and brought their agricultural expertise to Cumberland County in 1909. Sparacio grew up on the family operation along with two brothers and one sister outside Rosenhayn, approximately 35 miles south of Philadelphia. In 2005, at 18, he signed up with the Air National Guard—the first in his century-long family chain to enlist in the military. "He did it because he loves this country," describes Joseph's father, Anthony. "My wife, Mandy, and I raised our children to have the deepest respect for this nation and give back in every way you can, and that's why my son serves."
Anthony and Mandy raised four children (Anthony III, Mary Anne, Joseph and Michael) with a focus on civic responsibility, hauling their crew each Sunday to St. Mary's Holy Catholic Church (Parish of the Holy Cross) to fill up an entire pew. Church involvement, school boards, community organizations, and farming committees were part and parcel of life in the Sparacio household. "That's what we do," Anthony continues. "Patriotism is what we were taught and what we believe. My own dad always told me stories about how great our country is, and I passed the same to my children."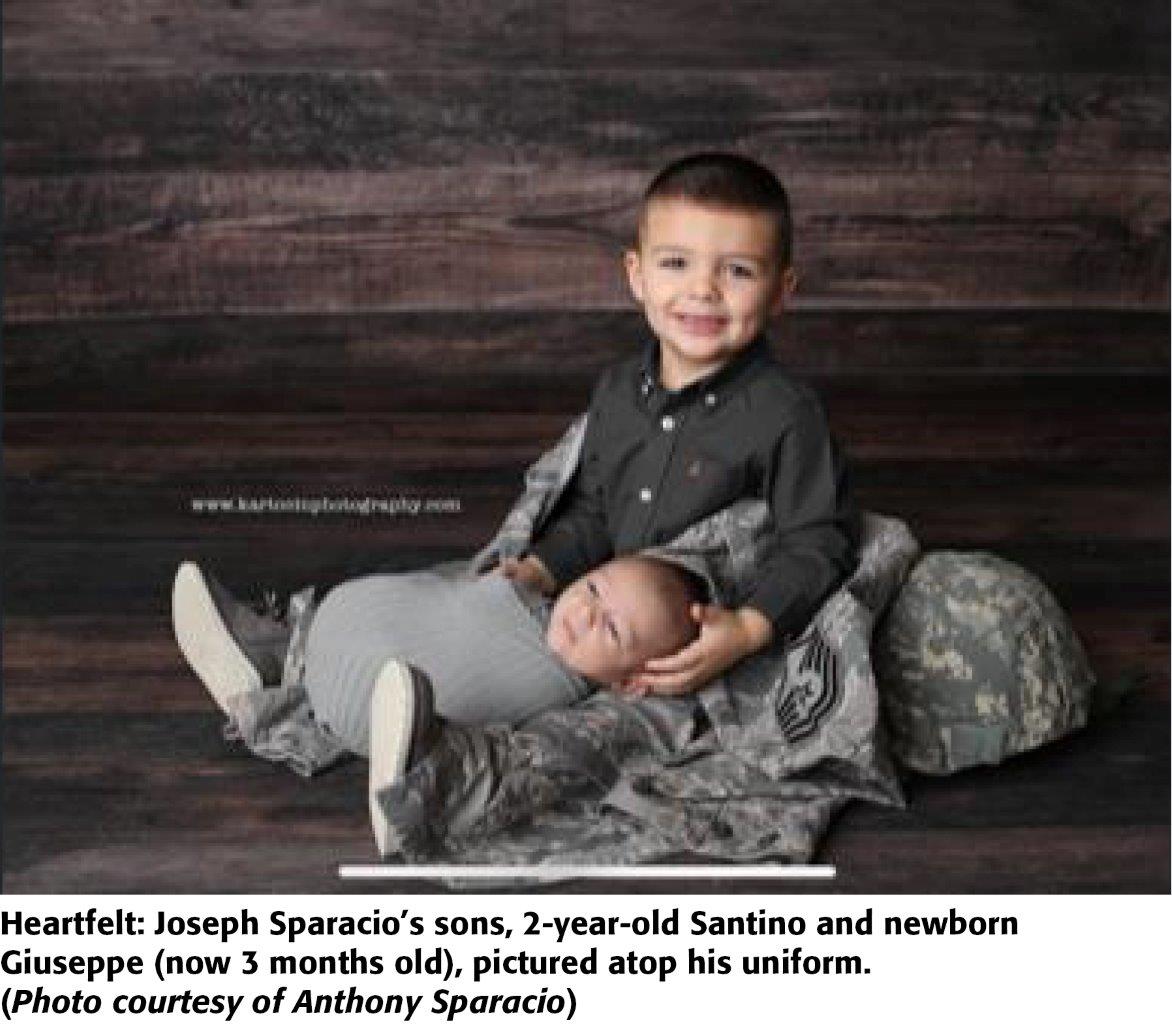 Trained as an aircraft firefighter, Sparacio deployed for the first time in 2014, leaving behind the family farm for a tour in Kuwait. "Joe came home with more appreciation than ever for our country," Anthony explains. "After he got home he'd come downstairs every morning, and the first thing he'd tell me: 'Pop, you don't know how lucky we are to live in America.'"
A year after returning from Kuwait, Sparacio stepped beyond Anthony's grain and nursery operation, and took the reins of opportunity by going solo, purchasing a 150-acre vegetable farm from his uncle, Butch Sparacio, in lock, stock and barrel fashion—packing house, machinery, land, and processing equipment. In tandem, Sparacio married Micole, his high school sweetheart, intent on raising his children on farmland.
Sparacio's belief in service extended far beyond the military, and even prior to deployment in Kuwait, he ran for political office, with approval from the Judge Advocate General's (JAG) Corps, later winning a committeeman position with Deerfield Township while in Kuwait. In 2016, he ran for Cumberland County freeholder (county commissioner), won the seat, and concluded his tenure in December 2019, declining to run again. Why? Sparacio's Air Guard unit was put on alert. On Jan. 2, 2020, Sparacio deployed to Iraq, leaving behind Micole and two sons—2-year-old Santino and 1-week-old Giuseppe. Five days later, the New Jersey farmer was 6,000 miles away from his cropland at a base just west of Baghdad, under a barrage of ballistic missiles shot by Iran (Jan. 7). "It's not just something on the news or a headline when it's your own son taking fire," Anthony emphasizes, "and serving our country has real-life costs. Somebody pays a cost for every freedom we have."
From the Heart
Beyond corn, soybeans and wheat grown strictly as rotation crops, Sparacio's fields host a remarkable variety of produce, including asparagus, strawberries, beans, sweet peas, cabbage, cucumbers, eggplant, fava beans, peppers, tomatoes, yellow squash, and zucchini, daily marketed 6 miles away at Vineland Cooperative Produce Auction, as well as an on-farm, roadside stand.
How does an absentee farmer get his crops planted, managed and harvested from a world away? Enter Butch, Anthony, Micole, and every branch of the Sparacio family tree. "Butch is keeping the place running with all cultivating and spraying, and Micole is covering the packing and books," Anthony explains. "Mandy, my sons and daughter—they're all pitching in wherever needed. They all have full-time careers outside farming, but they're helping in every way possible. Butch and all of us are keeping the farm tight for Joe."
"Plus, all our labor is from Puerto Rico, and it's the same family we've had for 60 years that date back to working for my Uncle Nate. Sons, grandsons, cousins are all in the family. They're the best people and highly trained. Seriously, they know everything about picking and packing."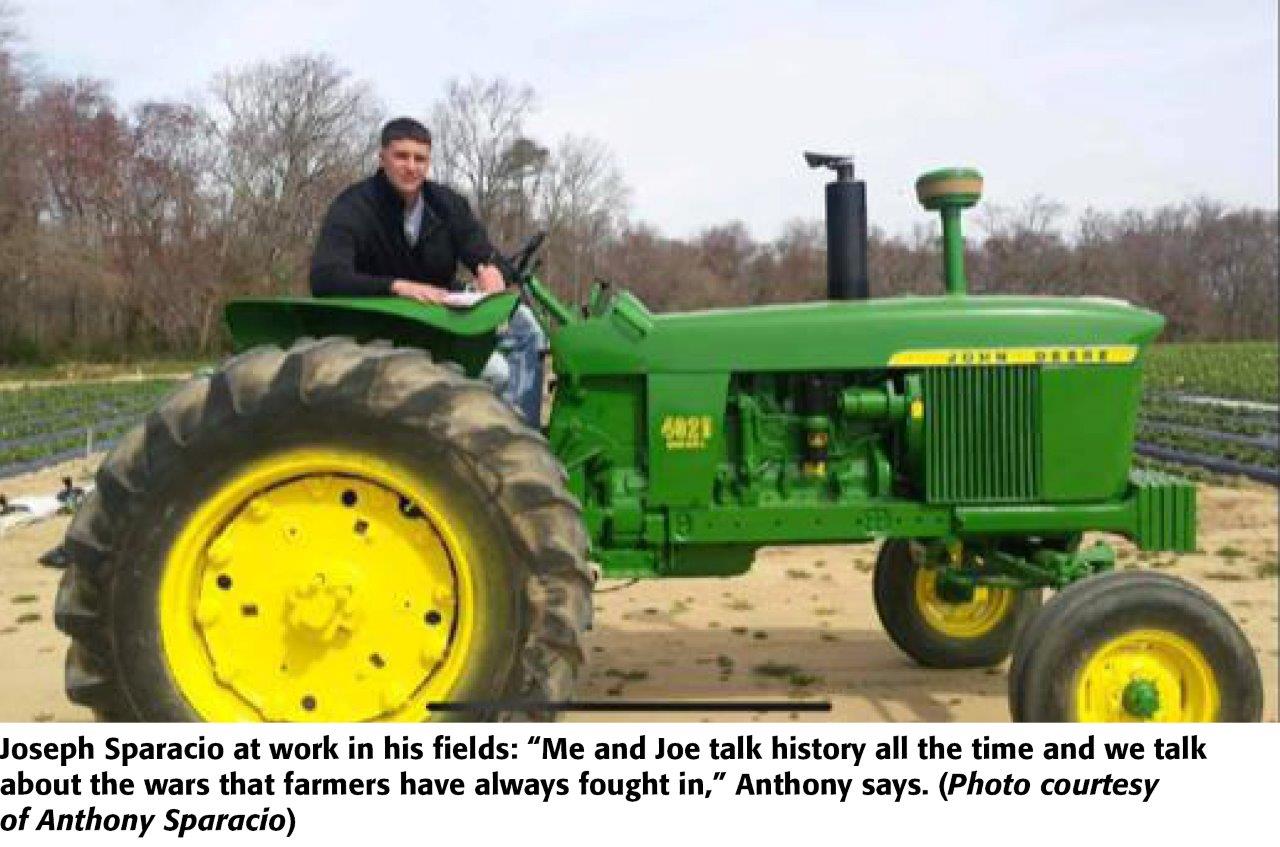 On the surface, the direct consequences of Sparacio's service are extremely heavy: life-threating danger and absence from family. However, Anthony says the financial risks are a cost recognized by few outside the farming community. "Farmers know the situation we're all in right now with operating and equipment loans. Just imagine if you had to disappear from your farm for up to a year. After Joe bought the farm, the first two years were OK. The third year was fair, but 2018 and 2019 were terrible. As farmers, we can't control the market or the weather, and both have been awful the last couple of years, and now we're all locked into virus troubles. Those are not complaints, but just the reality of what must be dealt with."
"In this societal anxiety and financial difficulty, Joe had to leave two tiny kids and a farm for someone else to run," Anthony continues. "That's hard for most people to relate to, but at least other farmers can better understand what I'm saying. We're strongly involved with the Fellowship of Christian Farmers and they always remember and pray for Joe. The farming community is very aware of what has taken place, and several of my farming neighbors have spoken from the heart to tell us they'll come running if we need anything at all."
Tell-tale Praise
One of Sparacio's farming neighbors is Abby Perlstein O'Brien, and at seven years his senior, she was raised alongside Sparacio on the same stomping grounds, and watched his character develop throughout his childhood. "I couldn't be prouder of him. He's a born leader. Just watch him walk in a room and you'll see a smile that makes you feel like everything will be OK. Joe has an incredible personality that makes you believe in things."
O'Brien served alongside Sparacio on the Deerfield Township: "He is a man of his word and he approached local politics with the utmost sincerity," she says. "Some people think local government is not so important, but not Joe—to him it meant the most because that's where he grew up."
And from O'Brien's vantage point, what does she believe fuels Sparacio? "It's difficult to measure because Joe doesn't talk about himself and is very modest. He will give you the shirt off his back, but not want you to tell anyone. So I can only speculate, but I think his drive and joy come from his wife and greater family. They just don't make people like Joe Sparacio anymore."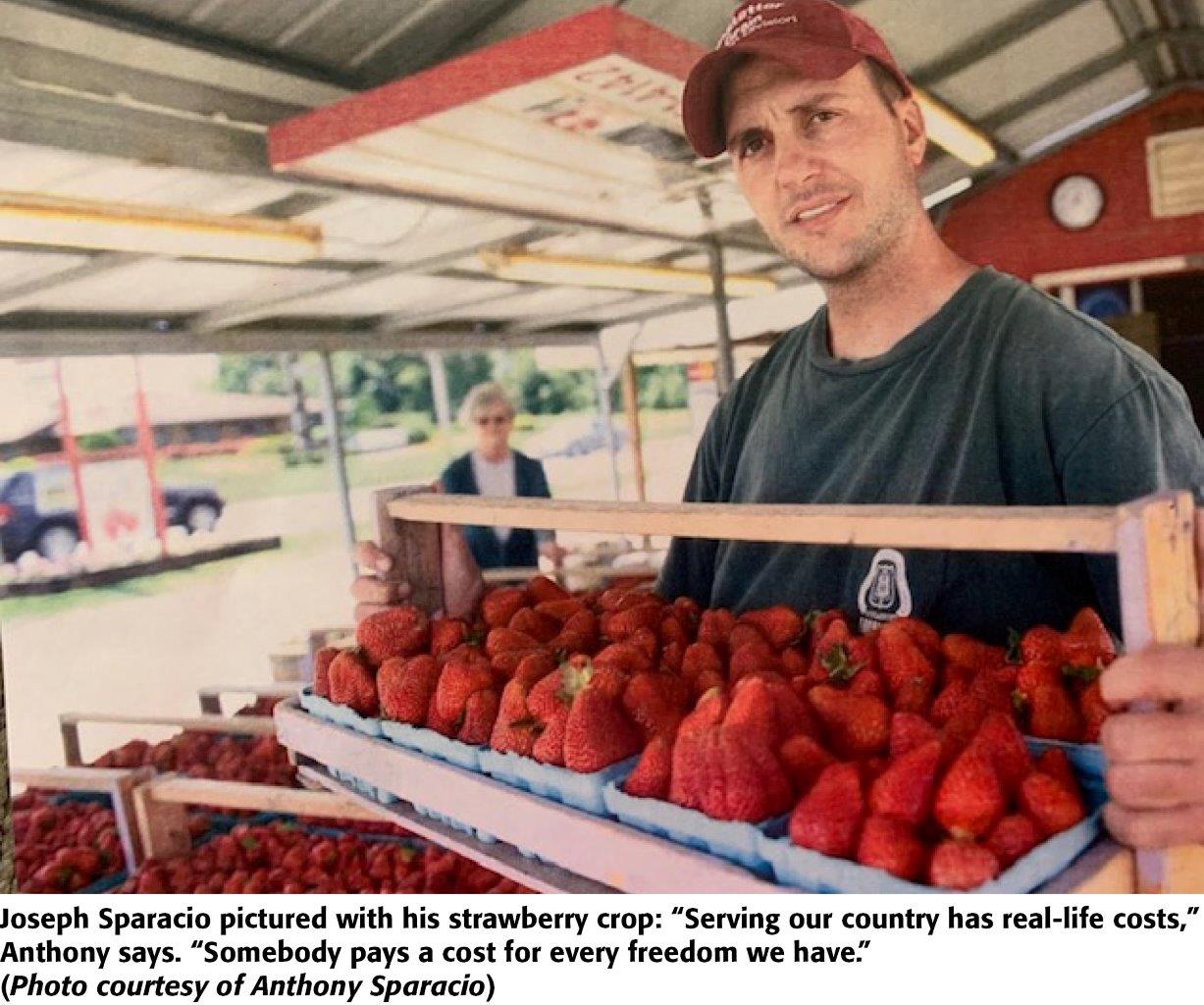 Sparacio's impact on his community is further revealed in tell-tale praise from friend and colleague Jim Quinn, a highly respected fellow freeholder in Cumberland County. Quinn and Sparacio served together for three years: "Joe is one of the finest gentlemen I've ever dealt with. I'm a Democrat and he's a Republican, and I'm as close to him as anyone I've ever worked with. Across 32 years, I've never worked with anyone I thought more of than Joe Sparacio."
"I've always admired my farming friends, and Joe has a work ethic second to none," Quinn continues. "Then again, his father and brothers are just like him. The Sparacios exemplify all the good things in farming, and they're one of the finest families in the whole of south New Jersey."
Talking History
Sparacio's military duty in Kuwait and Iraq mirrors a once common, but increasingly rare, figure in U.S. history: the farmer-soldier. During the era of the Revolutionary War, over 90% of the U.S. population was engaged in agriculture—the Continental Army was stocked with growers. During the Civil War, according to the American Battlefield Trust, almost half of all soldiers in the Union Army were farmers. Bottom line, farmers have long been soldier stock, Anthony notes: "Back when our country first started, so many of those guys took their squirrel guns and went to fight. Me and Joe talk history all the time, and we talk about the wars that farmers have always fought in."
According to the 2017 Census of Agriculture, 370,619 U.S. producers qualify as military veterans, but their average age is 67.9—over a decade older than the average age of U.S. producers as a whole. Significantly, the 2017 Census notes young producers (35 and below) with military service number just 7,824 nationwide.
In Harm's Way
What fuels Sparacio? What pushes him to multiple levels of service? "It goes back to love of country, roots, and family," Quinn says. "Remember, Joe gave up elected office to go back. I pray for my friend in harm's way and I'll keep doing so until he returns."
On a unseasonably warm March evening, farm work finished for the day, Anthony enters his house with his lips moving in prayer—an appeal to Providence for a homecoming. Approaching his bedroom door, he can hear Mandy's soft cries, as she writes her son one more nightly letter in a growing chain of correspondence, hopeful for the safe return of her son. "Mandy hurts like only a mother can," Anthony says. "I keep a straight face for Mandy and my whole family, but it hides pride and pain."
"Joe will be back soon on the farm he loves, back to Micole and his two little ones," Anthony adds, "but nothing comes free, and that's why he's overseas serving. I'm waiting for the day my boy comes home."
For more, see:
Descent Into Hell: Farmer Escapes Corn Tomb Death
Farmer Refuses to Roll, Rips Lid Off IRS Behavior
Rat Hunting with the Dogs of War, Farming's Greatest Show on Legs
Killing Hogzilla: Hunting a Monster Wild Pig       
Frozen Dinosaur: Farmer Finds Huge Alligator Snapping Turtle Under Ice
Breaking Bad: Chasing the Wildest Con Artist in Farming History
The Great Shame: Mississippi Delta 2019 Flood of Hell and High Water
In the Blood: Hunting Deer Antlers with a Legendary Shed Whisperer
Farmer Builds DIY Solution to Stop Grain Bin Deaths
Corn Maverick: Cracking the Mystery of 60-Inch Rows
Blood And Dirt: A Farmer's 30-Year Fight With The Feds
Against All Odds: Farmer Survives Epic Ordeal