Small incremental investments in ag technology can increase profit potential. ( Lindsey Benne )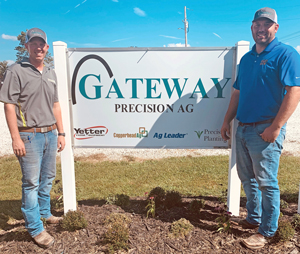 Since the advent of GPS-guided tractors in the late 1980s and early 1990s, precision ag tools have continued to stack up. This layered approach is giving way to data-driven farming that is feeding decisions and planning on the farm.  
"As margins get tighter, we can't just 'cowboy' everything or continue to work the same ways," says Kyle Allen, co-owner of Gateway Precision Ag.
Allen and his business partner, Shane Myers, say farmers need to carefully weigh all the exciting technology available to determine return on investment.
The starting point is auto-steer, as that investment opens the door to zone management, prescriptive farming and variable rates.
Planter Investments
To achieve a picket fence stand, regardless of the weather, planter attachments are effective.  "A lot of guys in our area can't afford a new $200,000 planter but they can invest $30,000 to $40,000 to make a planter almost brand new," Allen says.
Consider How Effective
your planter is at handling downforce and seed singulation. If either need improvement, then make the investment.
For Allen, one of best bang-per-buck options is vacuum or electric seed meters.
"If you're 95% accurate on singulation, then you're still off 5%, and 5% across the entire stand is huge," he says.
Vacuum and electric seed meters can run closer to 99% singulation. "It's a night-and-day difference for singulation, seed spacing and ear height," Myers says. "Everything is better because it's singulated perfectly compared to the old finger meters."
Multi-Hybrid Risk Versus Reward
In the future, Myers says, the multi-hybrid planter could offer a big payoff, even though setup can cost $3,000 to $4,000 per row.
"I have seen a 20-bu. upswing in yields, and I think guys could pay it off in the first two years if they hit everything perfectly," he says.
Row Clutch Returns
The next no-brainer investment is row clutches. According to Allen, spending $12,000 on a 12-row planter will see a payback in two to three years.
"Every farmer knows there's nothing to harvest in point rows," Allen says.
Clutches can save six to eight bags of seed corn per 500 acres, Allen estimates. If you're planting 2,000 acres, at $250 a bag, that's $6,000 to $8,000 in savings the first year.
Firm Up Profits
Seed firmer technology might not pay off right away but the data they provide could be invaluable later in the season.
They can capture everything from soil temperature to soil moisture and even organic matter. That information then helps create a digital map that can be overlaid with other data sets, yield maps or satellite imagery for a better picture of the impact over the entire season.
This year, Myers worked with one farmer who used the organic matter information from high-tech seed firmers to variable rate his plant populations rather than rely on soil tests.
"If you're paying somebody $3 an acre to write the scripts you just divide by how many firmers you bought and they can pay off pretty fast," Myers says.
Monitor for Success
The magic of field data is layering information from planting to harvest, so yield monitors are a necessity, Allen says.
"If there's a problem in part of the field that carries over into harvest, we can use the yield map to help determine what really happened," Allen explains. "The data is also useful when spreading fertilizer or to overlap maps to vary lime application rates."
Next generation monitors are now capable of moving between implements and layering data such as weather, fertility applications and other inputs to better help define zones within the field.
Make Fertility Count
New technology is constantly rolling out and Allen and Myers are excited about advancements in fertility placement. Planter attachments that place starter in furrow and″on each side of the seed or target nitrogen bands underneath the gauge wheels are the future.
All these options work together to help farmers make smart decisions and spend money in the places that will pay them back, Allen and Myers say. 
---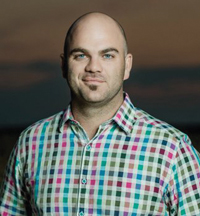 Moisture Sensors Drip with Potential
Even with all the technology available today, Canadian farmer Kristjan Hebert says the basis of precision farming is still a soil test. "Then you have to narrow it down to smaller zones or grids," he says.
As sensory technology improves, he says, the grid will tighten into sub-acre zones. Those zones help him decide how to invest in the soil's potential. One such way is with soil probes, which help him use soil moisture.
"We learned what's going on in the top 2" of soil doesn't mean anything to what's going on in the 4' below," Hebert says. "Also, what's available in that 4' can be highly affected by the prior year or the speed at which rain comes down."
---
Interested in Learning More?
To learn how to maximize ROI in every hardware decision, register to attend at FarmJournalAgTechExpo.com
Farm Journal AgTech Expo
December 16-17, 2019
JW Marriott, Indianapolis, Ind.