The Haugen crew makes up a highly unique family farming operation. From left: Mike, Erin, Jody, Abby, Dennis and Andy. ( Photo by General Grain )
Blood on the tracks. Commodity blood. Dennis Haugen stared in disbelief at a wealth of frozen vegetables, seafood, butter, flour, lead ingots, lumber, and a motley array of odds-and-ends scattered across his land. As he walked the wreckage of a derailment with 50 cars crushed accordion-style or tossed like tin cans, the fibers of a farmer's entrepreneurial bent went rigid. Opportunity was pounding and Haugen was ready to find out who was behind the door.
Hannaford, N.D., 90 miles northwest of Fargo, houses a remarkably unique agriculture setup helmed by Haugen. His family operation comprises 10,000 acres of row crops, cereal grains and radish seed, as well as General Grain, a business including seed processing, commercial processing, certified seed, Jackhammer radish seed, fertilizer, and a long arm of grain salvage that reaches across the continental U.S. and Canada. After 22 years of crossing the country with a nose for damaged crops, Haugen trades grain across the world and keeps a finger on the flow of U.S. ag commodities.
Looking for a Parachute
The present success of General Grain is hooked to the coattails of yesterday's hard-scrabble work and preparation. After college, Haugen farmed in the bleached-bones ag environment of the 1980s, walking the gauntlet of anemic commodity prices and soaring interest rates alongside his father, Curtis, and brother, Brian. Griggs County chewed through farming operations in the 1980s, and survival meant old money or diversity, with few exceptions in between. Extra revenue was a golden parachute, and the Haugens stepped beyond the rows to invest in a portable grain cleaner and gain a window into the seed business. "We were just trying to find a way to survive. Diversification was the only avenue for us to go down and we decided to grow a seed cleaning business alongside crop production," Haugen recalls.
However, the trials of the 1980s were followed by extreme weather in the mid-1990s, and Griggs County growers took another severe beating. "We went five consecutive years as a declared disaster area due to excessive rain and it basically took the life out of the county. Twenty-six percent of the county went in CRP. Guys went broke left and right, and we lost three elevators, plus some hardware stores and machinery dealers. The bottom fell out of the neighborhood."
Separating Skittles
Twisted metal. After harvest in 1997, Haugen awoke to 50 rail cars on his land—essentially dumped in his front yard. He gassed his equipment and went to work for the railroad as a subcontractor, cleaning up a gargantuan cargo mess from late October through the last hours of Christmas Eve. As Haugen worked, he watched how lumber was salvaged and how flour was moved, soaking in a daily lesson on the logistics of flipping distressed commodities. "The railroad paid us well, but what I really took away was how to recognize opportunity. That crash was my wake-up call: There was money in agricultural salvage. It got me going and now we trade distressed grain all over the country."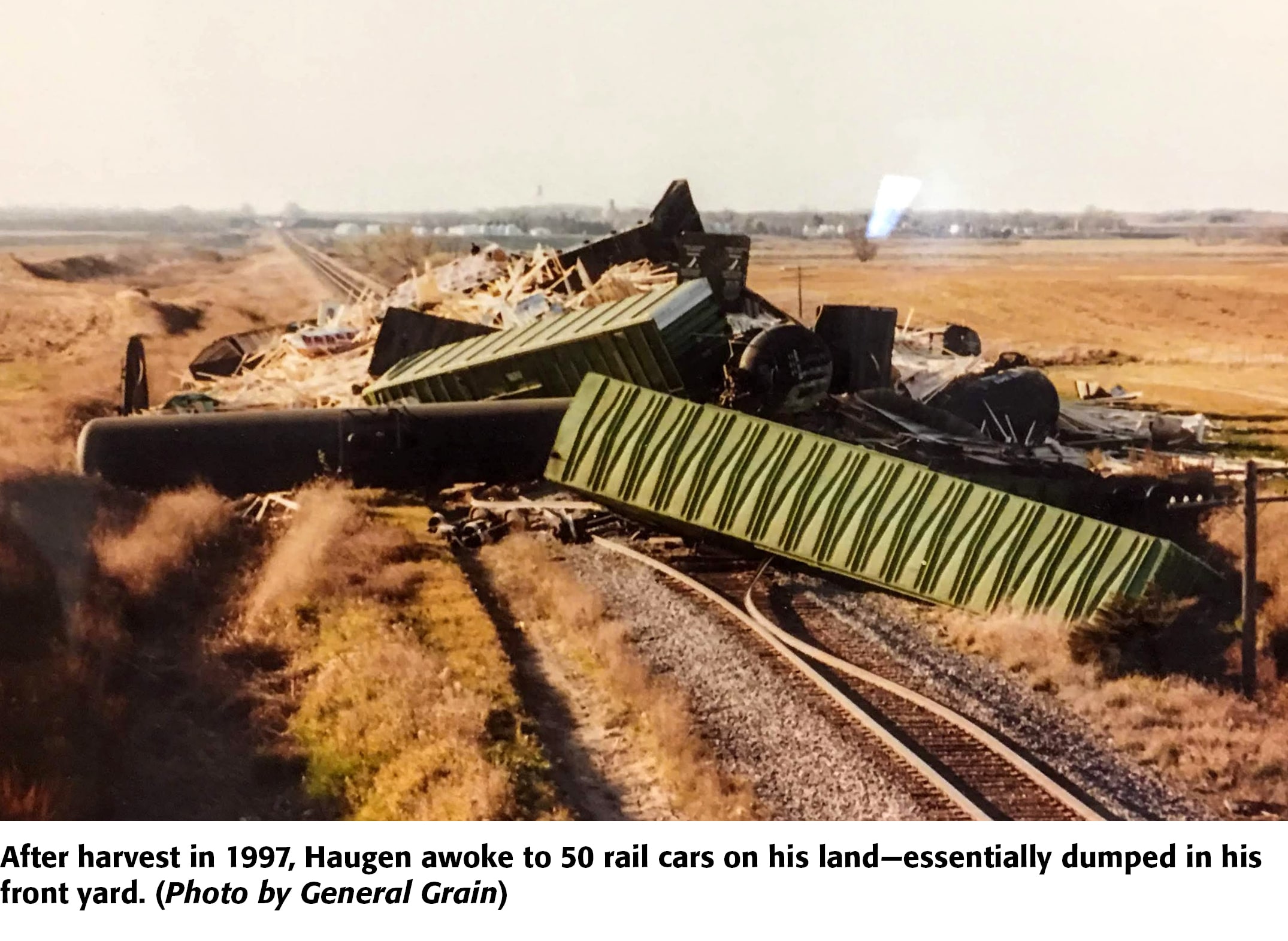 Haugen built two more seed cleaners, bought a defunct elevator with rail access, and set out in search of damaged grain equipped with screens, magnets, sieves, indent drum separators as well as gravity separators, and put a shoulder to the door of ADM, Anheuser-Busch, Cargill and the major grain companies. The realities of agriculture provided steady business—different circumstances each time, but common patterns.
A flipped hatch on a carload of wheat during rain means a rejected shipment at the flour mill; Haugen buys the wheat at discount, ships it home, and makes it whole for the livestock market. Or, human error at a grain facility punches the wrong button at 10,000 bu. per hour and turns corn and soybeans into a mess of Skittles; Haugen hauls equipment on-site and separates the grain. (With two machines, Haugen can separate 10,000 bu. of corn and soybeans in approximately eight to nine hours.)
Fraud and Beer
Reflecting over 22 years in search of salvage grain, Haugen churns out endless accounts of maverick hunts.
Bogus Organic: At the height of a steaming summer in 2017, a Ukrainian shipload of organic corn and soybeans bound for the Port of Baltimore and a big premium was deemed as fraudulent. The payday disappeared, deals crashed and the buyers bounced. In order to dodge exorbitant holding fees, the shipping company unloaded the grain on concrete slabs and placed tarps over the heaping piles. One windstorm and a big rain later, 300,000 bu. of moldy, poor-conditioned grain was cooking on the docks.
What to do? Call Dennis Haugen. "We gave it a new home and moved it into the feed market for blending," Haugen describes. "Hogs don't care whether it's organic or not."
Houston: One of Haugen's biggest salvage jobs arrived at the Port of Houston in 2003, via a shipment of French barley integral to the malt recipe of a major U.S. beer manufacturer. Once in port, APHIS ran a biosecurity inspection, threw a flag, and placed the ship in quarantine after a non-native wild oat species was detected in a single hold. The beer company dialed Haugen on a Saturday morning and asked a direct question: "Can you clean this...now?"
Roughly 1,400 miles later, on Monday morning, Haugen spilled out of his pickup truck and into the hold: "I could plainly see the wild oats in the barley, but I knew I could get'em out and told them so: 'Yup. I can do it.'"
Haugen signed a contract, sent for his rigs and filled 53 rail cars with clean barley—as APHIS officials peered over his shoulder for the duration. "We nailed it. Out of the 53 cars, we only had one car to reclean—great job. APHIS released the barley and the wild oats (7% of the total shipment) were loaded into dumpsters and burned."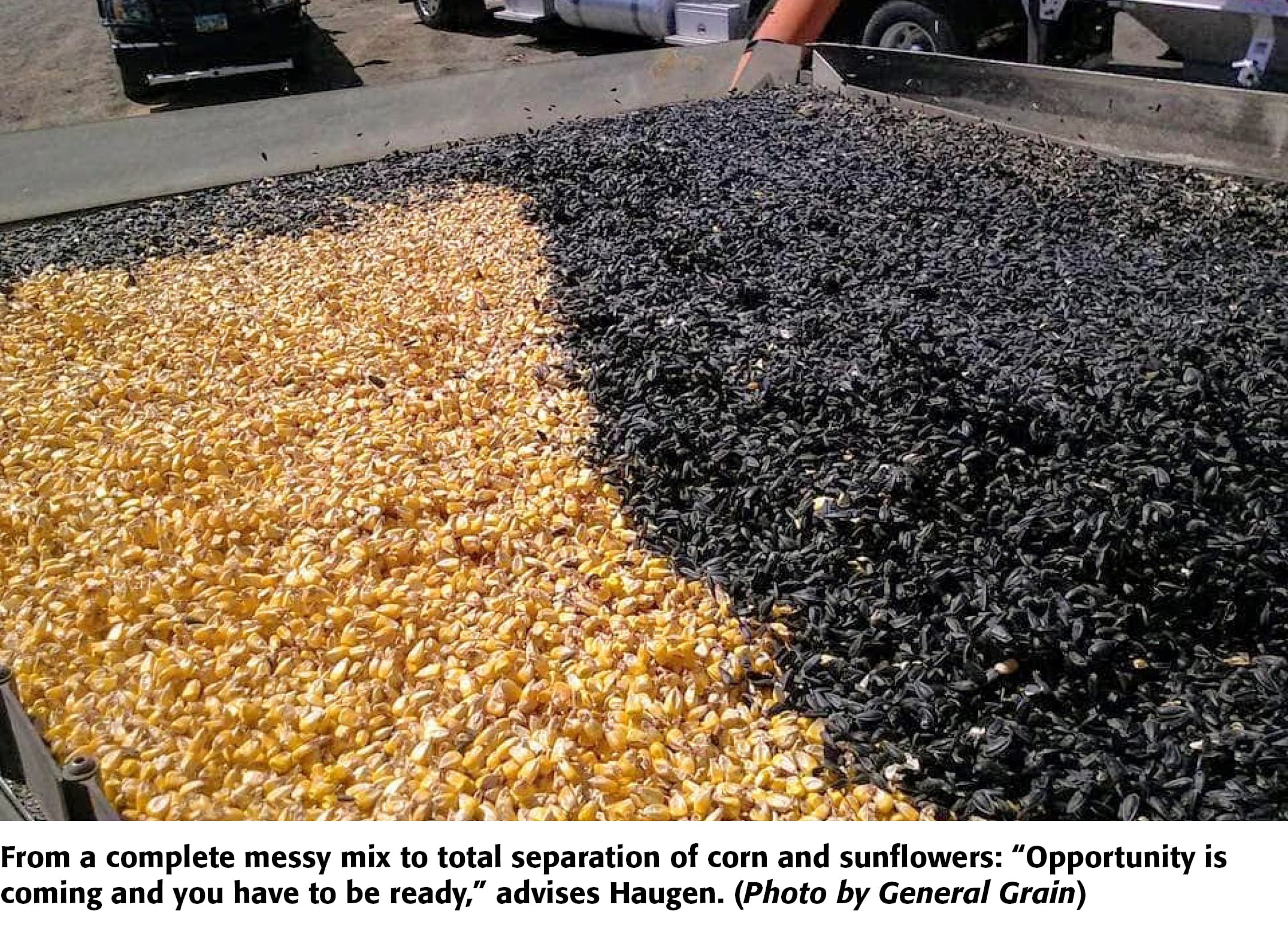 The Big Easy: Dried distiller's grains (DDGs) are a frequent source of business for Haugen. Ethanol plants churn out DDGs at a high rate, often resulting in improper cooling of product as barges travel down river, ultimately headed for New Orleans. Spontaneous combustion and fire damage is a consistent hazard, and Haugen flips the heat-damaged loads. "There's a whole lot of energy there and it sometimes catches fire, but we can still find alternative markets."
"I never know where the next call will come from or what it'll be about. It might be an explosion or a grain elevator fire. We'll process with magnets and make certain all the metal comes out. We'll process anything else we can fix for livestock feed and make whole again. Any kind of grain that gets moved or distressed is what we work with."
Haugen also cleans damaged fertilizer, screening for lumps or trash. "One time we got in a huge batch of fertilizer filled with wood splinters after a shed wall blew out. We went in with special screens and removed the splinters so the fertilizer could still be used."
Behind the Scenes
The core of General Grain's business is centered on processing seed for farmers (500,000 bu. of certified seed each year) and Haugen cleans seed year round. Diversification remains Haugen's mantra, and spurred him toward cover crop opportunity over the past decade. As a no till grower for 33 years, Haugen is a soil health advocate and believes cover crop acreage is bound for continued growth.
Haugen grows the Jackhammer Radish brand for seed and sells into the cover crop market. "As no till guys, we were one of the first to adapt to covers. We found that a daikon radish worked great in cover crop recipes, but most of the strains had small roots—undesirable. By dumb luck, we got hold of big root radishes and saw the chance to identity preserve (IP) and patent the trademark name on Jackhammer, and that's the brand we now sell into the market."
Haugen's row crop and cereal grain operation is spread across 10,000 acres of rolling prairie pothole country, roughly 45 miles west of the Red River Valley. His two sons, Mike and Andy, grow corn, malting barley, soybeans and spring wheat, as well as radish for seed and cereal rye for seed. Sandy loam to heavy clays, the Haugen ground has it all, and 10 soil types in a single field is not unusual. With Mike and Andy steering the farming sector, Haugen focuses on General Grain (and also serves as a director for the North Dakota Grain Grower's Association)—processing, salvaging and marketing cover crop seed. "I'm so thankful to have my sons helping me and it allows me to focus elsewhere. I never know when I may have to get on a plane to one of the coasts to check out damaged grain."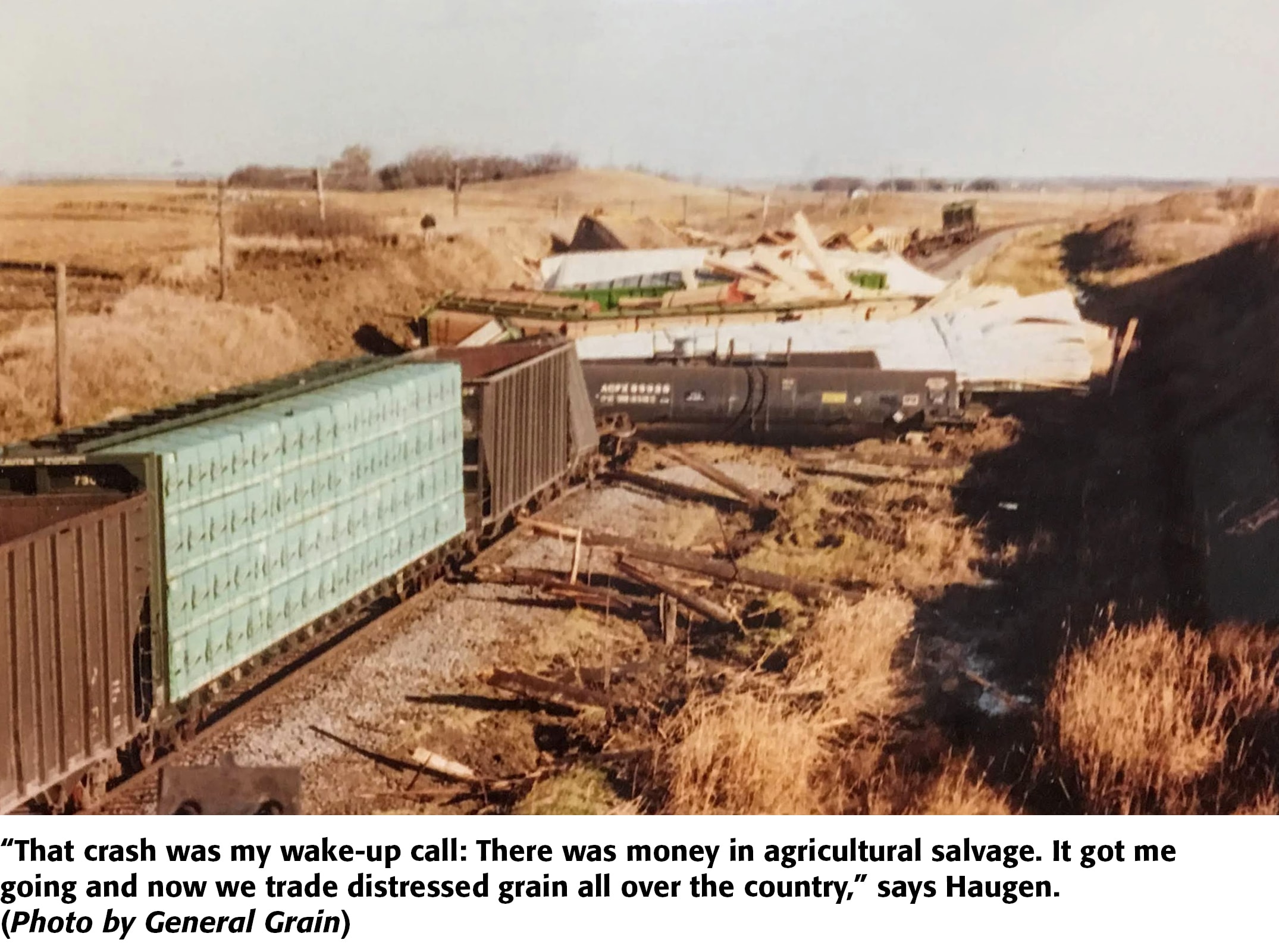 Despite Haugen's gains, he is quick to point toward a key source of success—his wife, Jody. A registered nurse off the farm, and a multi-hat partner on the farm, Jody's contribution is a "critical part of our operation, and it's sometimes forgotten," Haugen says.
"Especially during the hardest times when we were just getting our footing, Jody worked full-time as a nurse, took care of the kids, filled in everywhere on the farm, tracked family expenses, and covered our health insurance. Farm wives play such a huge role in agriculture, and that's exactly what Jody's done on our operation."
Jody, in modest fashion, plays down her vital role: "My job has flexible hours and that has always given me room to help on the farm, especially when the kids were little. They don't need me to drive a grain cart anymore, but I still help whenever I'm needed."
"My biggest role, and probably the same role played by a lot of farm wives, was making sure everything else gets taken care of: kids, shopping, bills, details of life, and all the rest. Dennis was so busy and diverse, and it all has to get done."
Brian Bickford, a long-time friend and business associate of Haugen, is the president of AgriLogistics, a leading company in the containerized export business, headquartered in Gardner, Kan. Bickford says Haugen's personal reputation and drive are major factors in General Grain's prosperity. "Dennis has cultivated curiosity and harnessed a powerful work ethic to careful observation and analysis. Sheer friendliness has garnered him a far flung network across North America that few individuals or organizations could rival. It's an honor to know and be known by a man of his stature."
"Look at History"
What does tomorrow hold for Haugen's entrepreneurial efforts? "Opportunity—nothing stays the same in farming," he says.
Finger in the wind, Haugen tries to keep pace with change, or even one step ahead, according to Jody: "He never stops looking for the next improvement and he knows it's coming because he understands the nature of agriculture. Dennis is never complacent and always looking for opportunity. Some people look only at the weather forecast, but he also looks at the change forecast, and that's the entrepreneurial part of his makeup as a farmer."
Present and future are not necessarily a matched pair, Haugen describes. "I'll tell anybody to keep their eyes open and ears to the ground because everything is changing around you right now. What we farm with today is not necessarily going to be around tomorrow. Look at history and the moldboard plow."
"Farming technology and techniques are changing by the year and if you don't believe it, look at no till. Just 35 years ago, everybody said no till would never work. It worked and suddenly there was a market and opportunity for no till drills. Opportunity is coming and you have to be ready."
"Whether it's railroad cars on your property line or something else, constant changes in farming mean opportunity is never far away," Haugen concludes. "You just have to be able to recognize it when it gets here."
For more, see:
Descent Into Hell: Farmer Escapes Corn Tomb Death
Against All Odds: Farmer Survives Epic Ordeal
Killing Hogzilla: Hunting a Monster Wild Pig
Breaking Bad: Chasing the Wildest Con Artist in Farming History
Blood And Dirt: A Farmer's 30-Year Fight With The Feds
Future Shock: Farmers Exposed By US-China Long Game
Wild Pig Wars: Controversy Over Hunting, Trapping in Missouri
Agriculture's Darkest Fraud Hidden Under Dirt and Lies
In the Blood: Hunting Deer Antlers with a Legendary Shed Whisperer