North Dakota's Chase Dewitz is the winner of the 2020 award, which recognizes an outstanding farmer 35 and under and is sponsored by Pioneer. ( Ben Gumeringer Photography for Top Producer )
After major expansion, Chase Dewitz is focused on inner growth
The world rewards risk takers. Yet, the line between calculated risks and reckless deeds is sometimes difficult to define. That's where hard work, good timing and passion make all the difference.
Meet Chase Dewitz. At 14 years old, he forged his path — buying 20 cows with his hard-earned money. The hungry and focused young man from Steele, N.D., honed his skills under the tutelage of his dad on their family farm, which consisted of 250 cows and 800 acres of crops. 
Dewitz graduated high school in 2002 and started renting farmland. In 2005 he threw down the dice on a big gamble — building a 2,500-head cattle feedlot. With a $100,000 Environmental Quality Incentives Program (EQIP) grant, Dewitz laid the groundwork for a big-time expansion. 
"It basically doubled my equity in one year, and with custom feeding cattle I had the cash flow," he says. "Since then I've experienced year-over-year growth."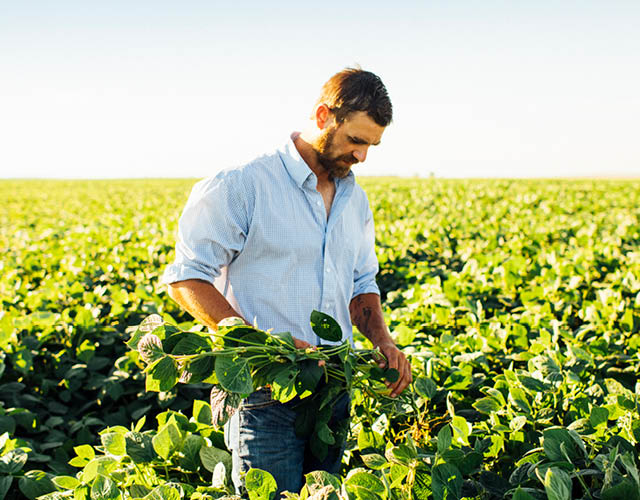 Today, his operation includes more than 34,000 acres of pasture, row crops, 1,500 head of beef cows and the feedlot. His business growth was driven by an ear to the ground and relentless passion, which is why he was honored as the 2020 Tomorrow's Top Producer Horizon Award winner. (Apply to be the 2021 winner.)
"I just took opportunities as they came," Dewitz says. "My growth was a combination of there not being other aggressive operations at the time, at least not at my age, and running extremely lean, especially on labor. I was literally working myself into the ground. But at that time, you could just work and work and make money."
From 2008 to 2012, Dewitz's operation saw rapid expansion. Large amounts of acres under the Conservation Reserve Program (CRP) expired, which allowed his crop and pasture acres to grow.
As Dewitz's operation grew, his focus shifted from survival mode to business sustainability. 
"My primary focus is inner growth," he says. "I have a cautious approach to expansion right now."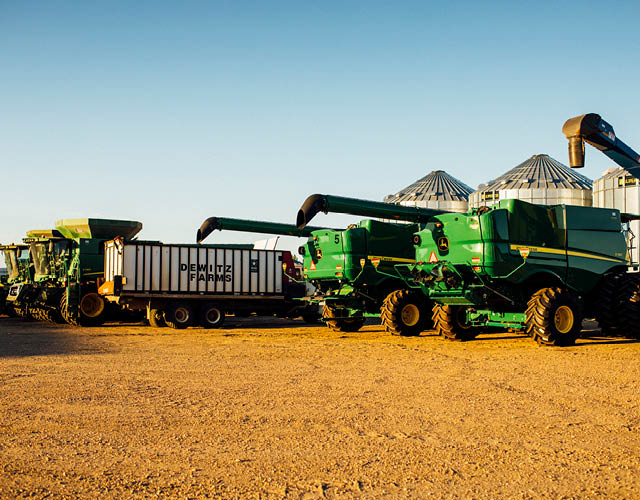 Innovation From Necessity 
Early in Dewitz's career, he used endless trial and error to increase profitability and sophistication on his operation. "I kind of learned as I went; in a sense innovation comes out of necessity."
Now he's in a place to make investments in processes and programs. For example, in 2015 he installed computer diagnostics and additional safety equipment for the farm's truck and equipment fleet. "This allowed us to complete virtually all repairs and maintenance in-house," he explains.
To reduce downtime, Dewitz has direct regular delivery of many of the products and maintenance parts needed for daily operations. He's added fertilizer and seed storage, as well as a shop for maintenance. 
For the past 10 years, Dewitz has grown cover crops for fall cattle grazing. This practice provides nutritional feed for the winter months and a boost in soil health.
Dewitz is also implementing a new feed tracking program to show the true cost of pound gained and break-even levels for each lot of cattle. 
"I know understanding my costs and break-even points up front are essential for profitability and marketing decisions," he says.
Erin, Dewitz's wife, is a nurse practitioner student at North Dakota State University. Her farm duties include payroll, bill payments and general office duties. She also wrangles the couple's 3-year-old twin sons, Clinch and Mcoy.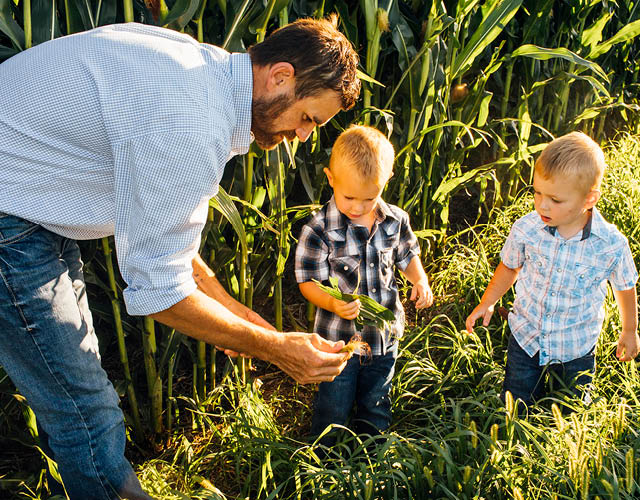 Hands-On Manager
To keep the farm's 12 employees moving in the right direction, Dewitz adopted an online-based clock-in system for accountability. The farm also offers health, dental and vision insurance to promote wellness. In professionalizing his farm's organizational structure, Dewitz wants to empower his team. 
"I am still extremely involved in daily activities," he says. "But I'm trying to get better with delegating responsibilities."
Dewitz is committed to continually improving all aspects of his operation, says Norman Kleppe, vice president business banker with Plains Commerce Bank.
"He works with his agronomist to manage inputs to maximize yields along with his broker to forward price for risk protection to achieve profitability even with depressed commodity prices," Kleppe says.
Because of his diverse operation, Dewitz keeps eyes on the grain and livestock markets. "I always have active orders working to avoid missing an opportunity," he says. "At least once a week, I analyze the charts, assess production and see what I have sold."
For the past 15 years, Dewitz has focused on learning more about the risks and rewards of using futures and options, hedge-to-arrive contracts and other marketing tools. He also uses his 1.4-million-bushel grain storage facility to capture seasonal basis strength. 
"With marketing, you have to take your own approach," he says. "I've been more guilty of overmarketing versus undermarketing. I just try not to overthink it."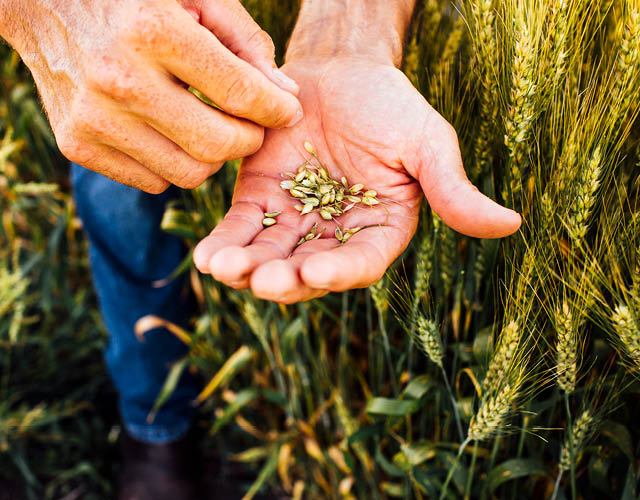 Sophistication Versus Size
As for the future, Dewitz is committed to growing in sophistication versus size. He's looking to shift from owning equipment to leasing. He's deepening his knowledge of accrual accounting and looking to add management-level employees.
"I'd like to bring someone in as a partner and give them the opportunity to take on some acres," he says. 
Dewitz is always quick to help his fellow farmers. "I have older clients who call him to ask questions," says Brett Peterson with Centrol Ag Consulting. "He has the ability to look forward to what's coming and not just farm in the now."
With one eye always on the horizon, Dewitz's passion continues to feed his future. He and Erin are focused on building an operation that will outlast them.  


Snapsot of CD Acres and Dewitz Feedlot
Crops: Chase Dewitz farms 34,000 acres of pasture, corn, soybeans, wheat, small grains and edible legumes in central North Dakota. Half of his soybean acres are non-GMO, and he adjusts his crop acres based on contract availability.  
Cattle: Dewitz built a feedlot in 2005. Today he owns 1,437 cow/calf pairs and feeds out 2,350 calves from primarily Angus cows bred to Simmental/Angus bulls. The feedlot's handling system uses a dual-acting crowding tub and dual alley with a hydraulic chute for low-stress cattle handling. 
Family and Team: Dewitz is CEO and the team includes 12 full-time and part-time employees. His father, Rob, provides labor and advice. Erin, Dewitz's wife, is a nurse practitioner student. They have twin boys, Clinch and Mcoy. A third child is due to arrive in November.
North Dakota's Chase Dewitz is the winner of the 2020 award, which recognizes an outstanding farmer 35 and under and is sponsored by Pioneer.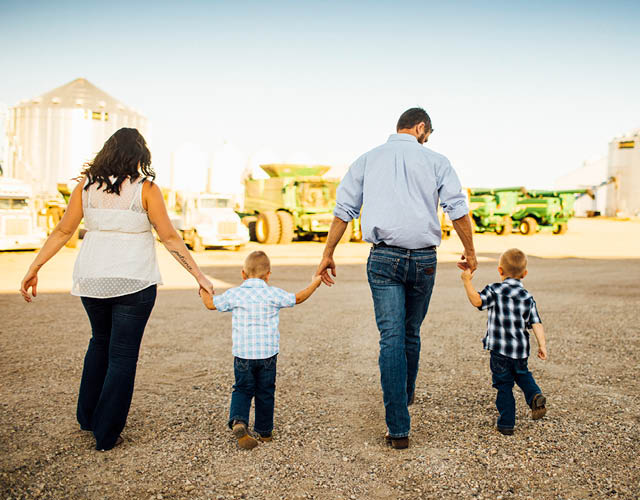 ---
Apply to be the 2021 Tomorrow's Top Producer Horizon Award winner!