You can find both good news and bad news in the latest report from the Federal Reserve Bank of Chicago. ( AgWeb )
You can find both good news and bad news in the latest report from the Federal Reserve Bank of Chicago.
Despite challenges to the farm sector related to COVID-19, farmland values are stable. Agricultural land values for the 7th Federal Reserve District, which includes the northern two-thirds of Illinois, Indiana, Iowa, the lower peninsula of Michigan and southeastern Wisconsin, edged up 1% in the first quarter of 2020 from a year ago.
Overall, there was no change in "good" farmland values from the fourth quarter of 2019 to the first quarter of 2020, according to the survey responses of 113 agricultural bankers. 
Illinois, Indiana, and Iowa saw year-over-year increases in farmland values, while Wisconsin saw a decrease. Moreover, Wisconsin experienced a quarterly decline in farmland values. 
After being adjusted for inflation, agricultural land values moved down on a year-over-year basis for the 23rd consecutive quarter in the first quarter of 2020; however, this decrease was the smallest one since 2017.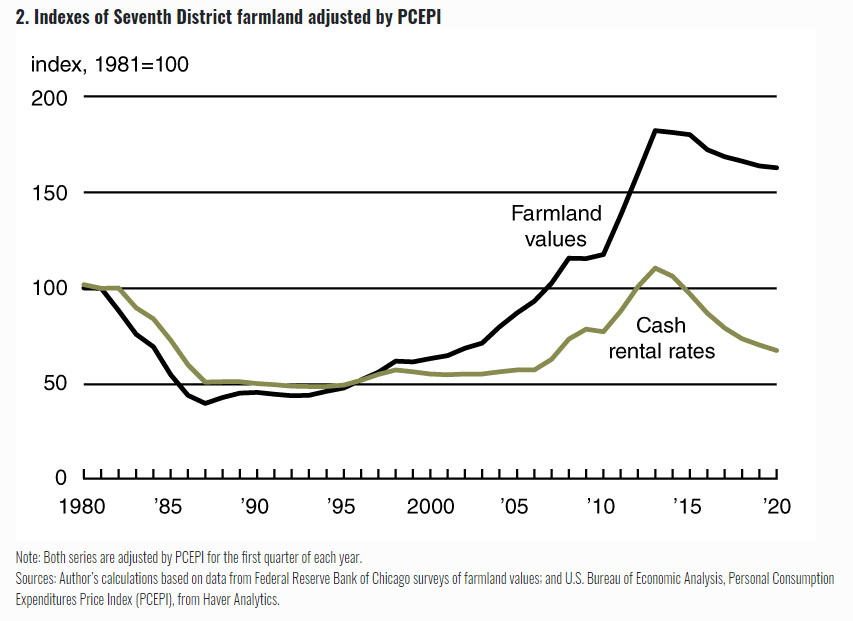 "Considering the survey results showed softer demand for agricultural ground, district farmland values were fairly steady," notes David Oppedahl, senior business economist for the region.
A banker from Wisconsin viewed "demand as still strong for farmland, despite all the external forces in play." 
An Illinois banker added: "Land values and demand remain strong, with little turnover." 
Around half of the bankers expected district farmland values to be stable during the second quarter of 2020, while the rest expected agricultural land values to decrease.
Cash Rental Rates Post Seventh Year of Decline
District cash rental rates dipped 4% from 2019. This was the seventh straight year of declining cash rents (in both nominal and real terms) — extending the longest such downturn since 1981 (when the survey started to track cash rents). 
For 2020, average annual cash rents for farmland were:
Down 3% in Illinois.
Down 3% in Iowa.
Down 4% in Wisconsin.
Unchanged in Indiana. 
Not enough survey responses were received from bankers in Michigan to report a numerical change for that state.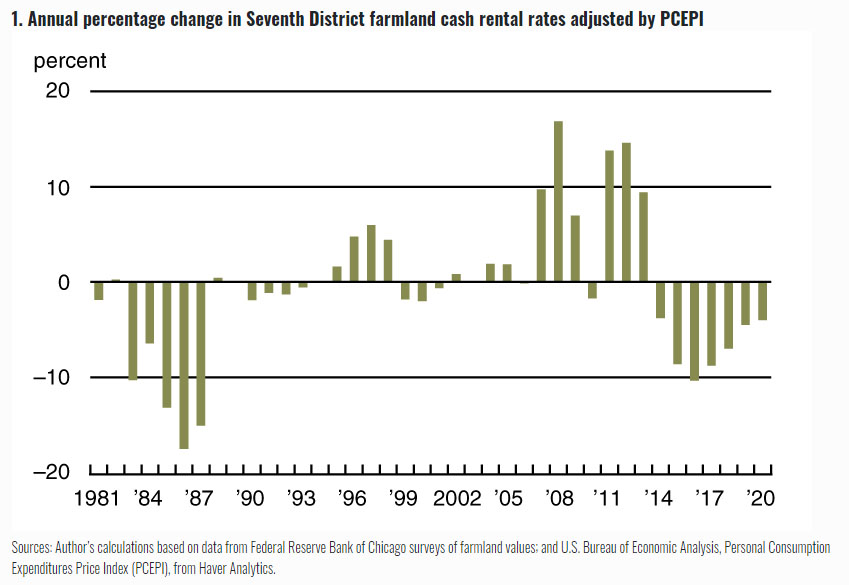 Now for the negative news. The impacts of the COVID-19 pandemic are surfacing in agricultural credit conditions:
Repayment rates for non-real-estate farm loans were lower than a year ago, plus renewals and extensions of these loans were higher. 
Demand for non-real-estate loans in the first quarter of 2020 grew from a year ago. 
Both the amount of collateral required and the availability of funds to lend were also higher than a year earlier. 
An Indiana banker noted, "The impact of COVID-19 has created significant price deterioration for all commodities, and at this point we do not know what the recovery time frame will be." 
The generally low commodity prices and extreme weather events of 2019 were challenging enough for the farm sector, but 2020 has been shaping up to be even more difficult, given the severe impacts of the COVID-19 pandemic and its unknown duration, Oppedahl notes.
See the full report: AgLetter: May 2020
Read More
Nine of 10 Rural Bank CEOs Expect Recession
Farmland Shines in Uncertain Times
David Kohl: The Black Swan Has Landed