Building trust in food begins with empowering farmers through one of the largest and most diverse conservation- and sustainability-focused public-private partnerships in our nation's history: America's Conservation Ag Movement. To find the latest news and resources related to the Movement, visit AgWeb.com/ACAM.
---
When wallets are stretched it can be difficult to try something new, such as cover crops. However, in the long term, soil health benefits can turn into yield and profit advantages, too.
"This study shows a subset of participants in a corn-soybean rotation area able to offset those costs [for cover crops] by finding a yield advantage, reducing inputs or both to improve overall profitability," said Heath Ellison, Iowa Soybean Association senior conservation agronomist in a recent press release.
The study included 20 Iowa farmers in 2019, reviewing no-till and reduced tillage, nutrient management and cover crop use.
"One of the more interesting find in this study was that participants who were utilizing cover crops on all of their corn acres in 2018 in a corn/soy rotation saw a reduction in crop input costs," Ellison said.  Here's a quick look at some of their findings:
Cover crops ahead of corn reduced inputs an average of $16.93 per acre (at $3.50 corn).
After figuring in cover crop costs, cover crop cost share and an average yield benefit of 5.1 bu. per acre, the group saw a $21.83 positive net impact over not using cover crops.
Cover crops in corn-on-corn saved farmers an average of $88.02 per acre compared to not using cover crops (at $3.50 corn and not including the cost of planting cover crops).
However, including cover crop costs, cost share and a larger yield reduction in corn-on-corn acres, farmers actually lost an average of $18.70 per acre, Ellison said.
Benefits to cover crops such as reduced erosion, weed suppression, better water quality and nutrient management help offset the loss. Soil health improvements might take more time to measure, but many of these benefits can be quickly realized.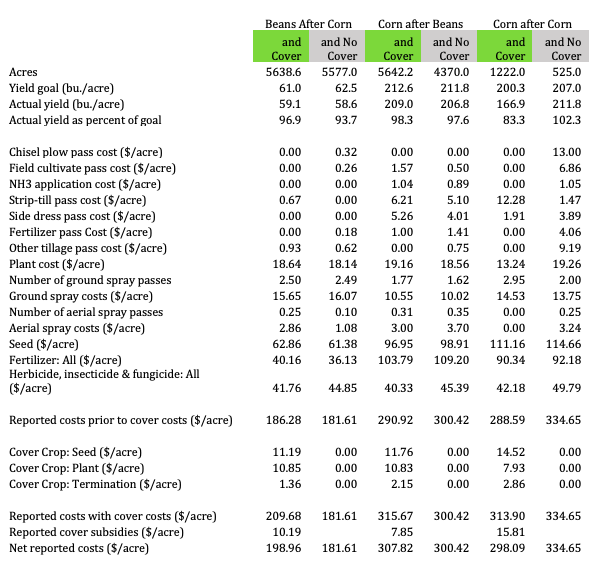 Iowa Soybean Association cost data.
"It's kind of a wash some years," said Iowa farmer Allen Kadolph, referring to what you make or lose on cover crops. "The more growth you get on covers, the better return you get because of nutrients returned to the soil."
Farmers who used cover crops ahead of soybeans saw a return of $53.73 per acre, including cover crop costs and an average cost-share subsidy of $6.57 per acre.
"I would plant cover crops even if it cost me," says Tim Smith, an Iowa farmer who participated in the study. "I've been looking at it more from a perspective of the water quality and preventing nutrient loss. [What is] more important to me than the economic benefits are the soil conservation aspects of cover crops and strip-till and no-till."
Read more ACAM here: