Jerry Gulke talks market movement, the long tail of COVID-19, 2020 acreage and more. ( AgWeb )
Whether you produce corn, cows, wheat or hogs, you are facing dropping markets. Here's a rundown of the weekly price movement for the week ending April 3: 
July corn was down 15¢
July beans down 26¢
Kansas City wheat down 14.5¢
Minneapolis wheat down nearly 13¢ 
Chicago wheat down nearly 22¢
April Feeder Cattle: $13 a hundred weight
April Hogs are down $18 a hundred weight
The only thing positive market this week was energy. Crude oil was up $6 a barrel and unleaded gas was up slightly. Check the latest market prices in AgWeb's Commodity Markets Center.
"There are big challenges out there," says Jerry Gulke, president of the Gulke Group. "When there's too much of everything or the demand isn't sufficient, the market will take prices to market-clearing levels, where you find a home for the excess supply or you don't produce any more." 
USDA released its Prospective Plantings report this week. The highlights for 2020 acres include: 
Corn: 97 million acres, up 7.29 million acres or 8% from 2019
Soybeans: 83.5 million acres, up 10% over last year
Wheat: 44.7 million acres, down 1% from 2019
Cotton: 13.7 million acres, down less than 1% compared to last year
"The corn number didn't surprise us," Gulke says. "Our survey showed corn acreage could be as high as 96 million or 97 million acres. I really didn't think that was possible. But back in early March when farmers took the survey, corn seemed to be king. That has probably changed now with corn being down at the lows for the year and soybeans a little bit better."
Gulke expects the corn acreage total to come down a bit, with those acres going to soybeans. "But I don't know if you drop corn acres by more than 1.5 million acres, as our surveys showed farmers already bought their inputs for corn and some are already in the field."
Additionally, Gulke says, he believes farmers are hoping to receive government payments again, similar to the Market Facilitation Program. "Payments could make the low-priced corn look a little better again," he says.
Overall, a reduction in corn acres would help the markets. 
"We really need to cut those corn acres significantly to keep from having a big carryover now that ethanol is in the dumps and probably will continue to be," he says. 
What could turn grain prices around? Gulke says:
Government intervention
Massive buying by China
Or some backdoor agreement by major exporters to mutually cut acres, like what is being touted by the U.S., Russia and Saudi Arabia to save the oil industry.  
On Friday, USDA confirmed a sale of 567,000 metric tons of corn to delivery to China. 
"This is a second week in a row they've bought corn, but they need to buy a whole lot more," Gulke says. "It didn't faze the corn market much; it was down quite a bit during the day but rallied up towards the end of Friday."
Gulke is watching for signs of support coming from the government to farmers and ranchers.
"I think the government will continue to send more money through the mailbox to farmers," he says. "I hope we don't come in with a set-aside program to cut production or an increase the CRP acres. If we support the American farmer to reduce acres, you just support our competition."
The Long Tail of COVID-19
As of April 3, the CDC reports the U.S. has 240,000 cases of coronavirus (COVID-19), with around 5,400 deaths. Across the globe, nearly 1 million cases have been reported.
The pandemic continues to cause uncertainty and disrupt day-to-day lives – and that doesn't look to stop any time soon. 
"We may not get a vaccine until January, but we may mitigate the problems in the meantime to where we go back to work," Gulke says. "People are starting to look ahead until 2021 as being when we get back to normal. That's a long way away – a whole crop harvest away. So, we have our risk management cut out for us."
Gulke's advice? "Wait for time to pass; stay hedged and plant the crop. It's a long time until harvest and opportunities will come, but our sights may have to be lowered a bit." 
...................................................................................
Technically Speaking by Jerry Gulke
Price charts in this column have led the way for the past three months to what price risk was before us in all commodities. Here is a favorite of mine that looks ahead and follows July to July, as July futures goes off the board, the year-out July takes over.  
This shows you an awesome picture of what first drought did to prices and what that $5-$6 corn did for competition (anyone anywhere could grow $6 corn) and the ultimate collapse to where we are today – retesting the $3.30 area for July corn.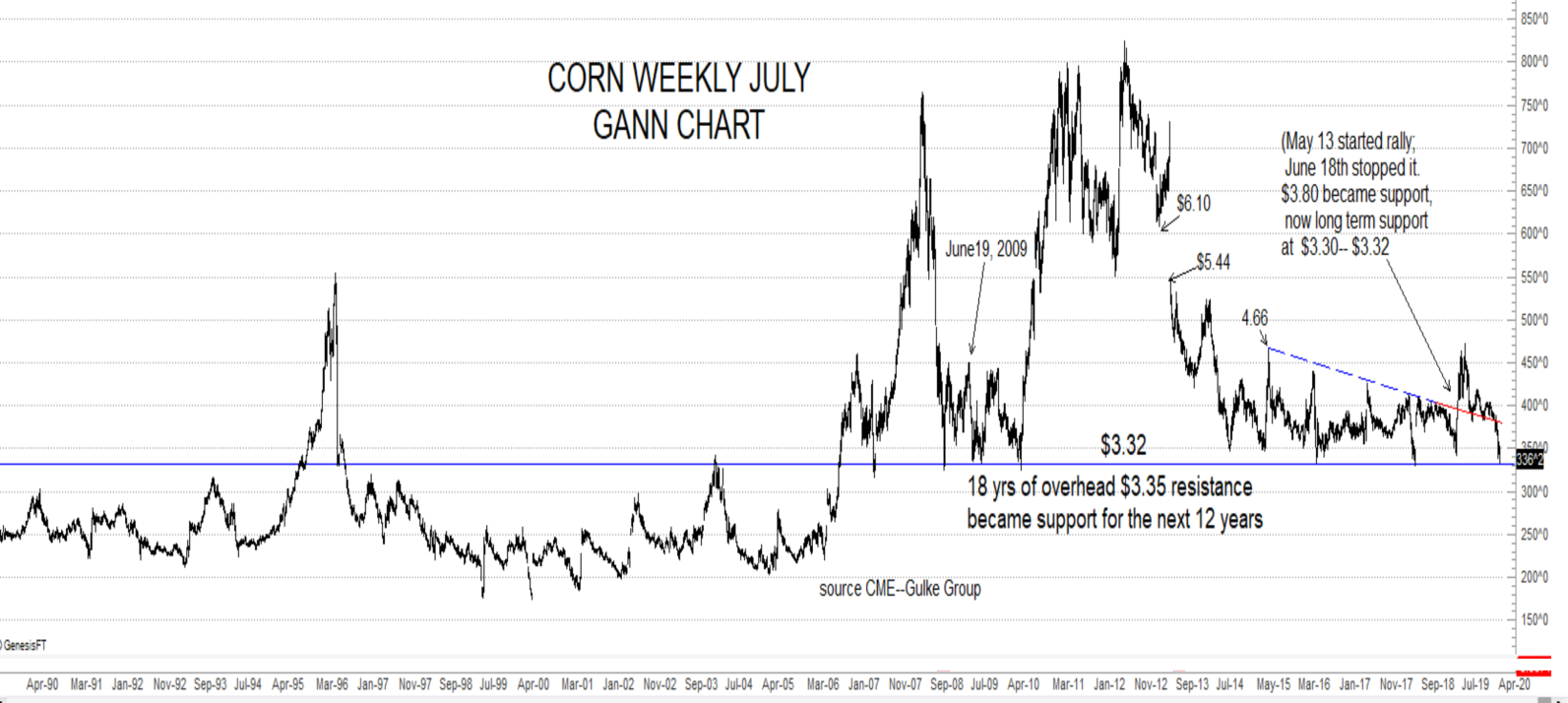 Support is only a number that is based on what the fundamental conditions were when the $3.30 area was first overhead resistance for years, then became support as prices exploded, followed by machinery and land prices and mega farming. 
July soybeans are already below its $9 pivot point. 
The question you have to ask yourself is: If $3.30 becomes overhead resistance will Econ 101 take over? Or, will the "too big to fail" mentality take over? In that case, the government bails out seed, chemical and machinery companies, not to mention banks, while we produce more of the stuff we don't now need? 
Throwing money at the problem merely forestalls the tenants of Econ 101, which dictate in a "free market" only the fittest and most economic producer survives.  
I mentioned this tenant to my father a few decades back under similar circumstances (back in 1983). His response was, "Talk is cheap. You nail the foreclosure on your neighbor's front door while he and his family watch years of effort disappear. We'll see how well you respect Econ 101 then!"
I never forgot that wisdom and thus realized how difficult the decision would be if I were faced with such a dilemma. God help the politicians!   
Good Marketing,
Jerry Gulke    
 
---
Find more written and audio commentary from Gulke at AgWeb.com/Gulke
Follow comprehensive COVID-19 and agriculture coverage at AgWeb.com/coronavirus.
Check the latest market prices in AgWeb's Commodity Markets Center.
Jerry Gulke farms in Illinois and North Dakota. He is president of Gulke Group. Disclaimer: There is substantial risk of loss in trading futures or options, and each investor and trader must consider whether this is a suitable investment. There is no guarantee the advice we give will result in profitable trades. Past performance is not indicative of future results.