3D printing, planter monitors, variable rate technology, soil moisture probes, electronic flow meters, RTK correction and more are all part of Jim Poyzer's self-made farm kit. ( Photo Courtesy of Jim Poyzer )
Building trust in food begins with empowering farmers through one of the largest and most diverse conservation- and sustainability-focused public-private partnerships in our nation's history: America's Conservation Ag Movement. To find the latest news and resources related to the Movement, visit AgWeb.com/ACAM.
---
If agricultural innovation based on the latest computer technology is the realm of the millennial generation—someone forgot to tell Jim Poyzer. At 68, the Iowa farmer is a digital ace, improving his operation with garage-solution equipment updates, all while keeping an eye on soil health returns.
In his corn and soybeans fields, Poyzer isn't afraid to change horses in midstream and is guided by a simple bottom line: "If it gains me profit and improves my farm, I'll learn how to use it." 3D printing, planter monitors, variable rate technology, soil moisture probes, electronic flow meters, RTK correction and more are all part of Poyzer's self-made farm kit, but the Boone County, Iowa, producer is laser-focused on soil health, and insists his DIY activity is a means to boost soil fertility:  "Microbial activity is where I've been focused the last couple of years because that's the key to high yields over the next decade."
"All Over the Board"
In relative isolation, and relying on a background in physics and electrical engineering, Poyzer spent $300 in 2012, to build a monitor for a 1969 John Deere 7000 planter with adjustable corn meters. "I'd seen Precision Planting's 20/20 SeedSense and Ag Leader's SeedCommand in the field. I knew the electronics on the planter; just a LED light with a receiver on the end sending a signal. I said, 'I can do that myself.'"
In 2015, he began experimenting with variable rate technology to compensate for sandy areas of lower production in his fields, and wrote a GPS-responsive program to plant according to prescription. Currently, Poyzer is building a mesh network (eight monitors) of temperature sensors and moisture probes that report data to his smartphone and website (outfarming.com). Each monitor, including a case made by Poyzer on a 3D printer, costs less than $50. "For such a low cost, I will be able to know the condition of my fields before planting. As I continue to learn about mesh networks and sensors, I plan to post and basically give away the code I'm using and how to hook it up."
Initially, Poyzer, 68, delved into 3D printing to connect electronic flow meters together. "I have liquid fertilizer on my planter, both in-furrow and 2x2x2. I'm migrating it all to electronic monitoring. The flow meters hook on my planter and talk to a tablet with an app showing the flow so I can monitor exactly what is happening."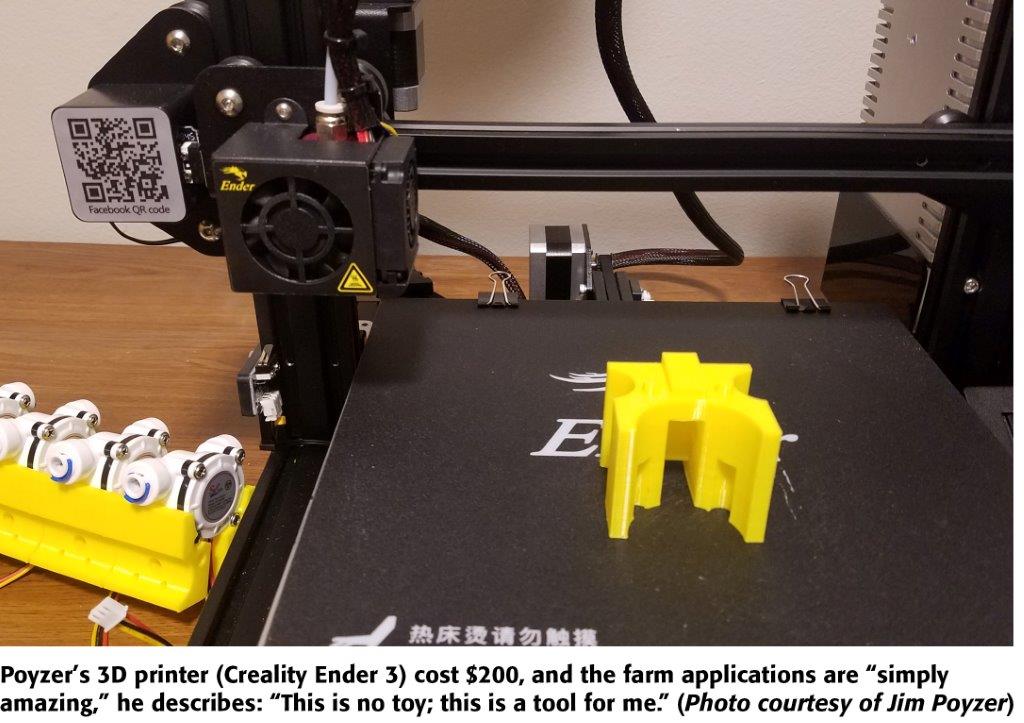 Poyzer's 3D printer (Creality Ender 3) cost $200, and the farm applications are "simply amazing," he describes. "With 3D CAD software I can make almost any shape and even put in threaded holes. I've watched YouTube videos on how to make things out of plastic, place them in a mold, and then remold them in aluminum. I can print objects as large as 9"x9"x10". This is no toy; this is a tool for me."
"It provides such utility and can apply to any project I work on because there are so many gadgets a DIY guy needs to build parts. I think 3D printing could most definitely explode in agriculture."
In addition, Poyzer is fine-tuning a RTK system with a fixed base and a rover. Beside his workbench, he has a box of parts for an RTK correction system that uses a cellphone to receive data, instead of a base station, getting a free correction service from a local airport. "It's an extremely accurate alternative to a base station. The comparable price off the shelf from a major player was $10,000-$15,000 plus a subscription cost. My parts? Somewhere in the range of $350."
Back to the Soil
Despite all of Poyzer's innovation, his greatest emphasis is on the ground below his crops—soil health. Technology is approaching that will enable sensors to monitor nitrogen and nutrient uptake inside a corn plant, he says. Sensors, related to soil health, will play a big part in the future: "We're going to use sensors directly in soil to check for microbial activity."
Over the past two years, Poyzer has hit the brakes on "overreliance of NPK" and started researching micronutrients, fungi, algae and microbes. On his website, Poyzer maintains record from several corn variety field trials focused on optimal levels of fertilizer and micronutrients. "Nutrient uptake is where the big yields are in the future, because the key is what is happening around the plant roots. I see more and more farmers moving in that direction and awareness is rising."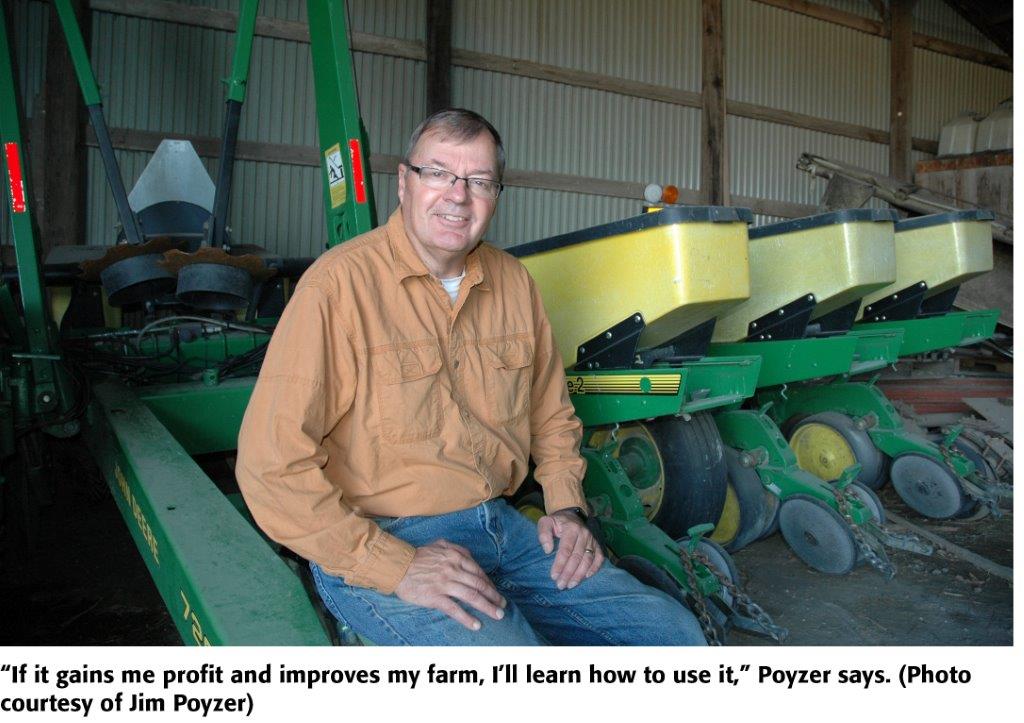 Bryon Westrum, Poyzer's farming neighbor, grows corn and soybeans, and leases several hog barns in central Iowa. Poyzer is motivated by the "right reasons," according to Westrum: "Everything he develops is done to forward the industry in production and done for the right reasons; he's never tried to make money off people. As farmers, we need minds like Jim's to tackle our problems in new ways because things are changing so fast that's it's hard to keep up by yourself, whether it's electronics or soil health."
"Jim's father split time between teaching and farming, and Jim is really walking back into his dad's footsteps. Considering Jim's background, he's overqualified as a farmer in the electronics department, but he takes advantage of the fact."
What's next for Poyzer? "People are playing with things all over the board on farms," he says, "but it's happening in pockets, not necessarily on your neighboring farms. Things are definitely growing, but it's hard to quantify when you can't see it beside you."
"Maybe I'll build my own seed firmer and put in sensors, similar to what the big companies do. Embed a moisture sensor in the seed firmer, but at a low cost. After all, that is classic DIY: See what else has been done and make it with a twist."
For more, see:
Descent Into Hell: Farmer Escapes Corn Tomb Death
Farmer Refuses to Roll, Rips Lid Off IRS Behavior
Breaking Bad: Chasing the Wildest Con Artist in Farming History
Rat Hunting with the Dogs of War, Farming's Greatest Show on Legs
Killing Hogzilla: Hunting a Monster Wild Pig       
Frozen Dinosaur: Farmer Finds Huge Alligator Snapping Turtle Under Ice
The Great Shame: Mississippi Delta 2019 Flood of Hell and High Water
In the Blood: Hunting Deer Antlers with a Legendary Shed Whisperer
Farmer Builds DIY Solution to Stop Grain Bin Deaths
Corn Maverick: Cracking the Mystery of 60-Inch Rows
Blood And Dirt: A Farmer's 30-Year Fight With The Feds
Against All Odds: Farmer Survives Epic Ordeal