Farm Journal Field Agronomists Ken Ferrie and Missy Bauer provide these tips for the harvest hustle. ( Darrell Smith, Crop-Tech Consulting, B&M Crop Consulting, Lindsey Pound )
Can you believe harvest is just around the corner? Now is the time to make sure your fields, your equipment and your team are ready to roll. Farm Journal Field Agronomists Ken Ferrie and Missy Bauer provide these tips for the harvest hustle. 
---

Irrigate to the Finish
As soybean and corn crops cook down toward harvest this fall, focus on soaking up every bit of yield. Bauer says seed size in soybeans can easily add up to 15 bu. to yield. This is why, she says, it's important irrigators water all the way to the end.
"Water even as the soybean pods are starting to turn color so those seeds can get as big as possible," Bauer encourages.
On irrigated corn, kernel depth is a big driver of yield in today's hybrids.
"Back when I got out of school, we talked about 90,000 kernels in a bushel," Ferrie says. "Well, now we deal with 60,000 to 63,000 kernels in a bushel."
Most of that difference is in kernel depth and can equate to nearly 100 bu. per acre.
"Some of these hybrids today we are working with will flex 50 bu. in depth," Ferrie explains. "The kernel and that depth of kernel comes in the last 30 days of grain fill."
Fungicides, as well as late-season irrigation, can help pump more bushels into the bin, Ferrie says.
"So many people get to dent, and they just shut the water off," he says. "But you can add to kernel depth even when the milk line is sitting with 50% or even 25% left to harden."
---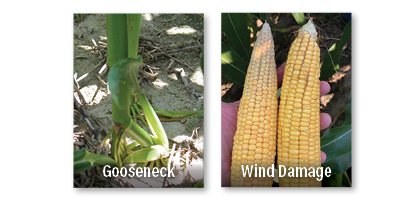 Watch Out for Wind
High winds in July and August left behind yield-robbing damage in corn fields. "It was wind damage of proportions I've never seen before in my career," Ferrie says.
This level of wind damage could cause plenty of harvest headaches.
"When we combine gooseneck plants, because of how they're anchored, they're not going to tip up and feed into the head like we're accustomed to. They could snap," Ferrie says.
In these types of fields, check behind the combine and look for field loss. If stalks are snapping or pushing over, it might require slowing the combine down or using a pickup reel.
Down or twisted plants won't see maximum yields. Plus, if that ear is on the underside and close to the ground it's more likely to come with ear rots and toxins.
"When we assess the wind damage and in a lot of these fields the loss is at least 20 bu., it's good to know where you lost your bushels," Ferrie says. "Knowing it is wind damage versus whether it was bugs or insects will help you in planning for next year."
---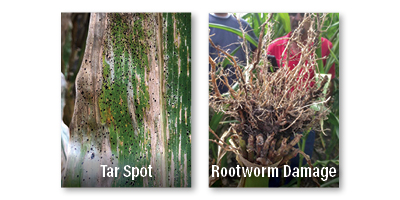 Scout Ahead of the Combine
Plan how and in what order you will harvest your fields, encourages Bauer. Those decisions begin with scouting for stalk quality.
"So, if I push 10 plants in this field and only one breaks off and I push 10 in the next field and six break off, then that field moves up on the roster," Bauer says.
Ferrie recommends digging up the root system. A plant might have been blown around by wind, but it could be rootworm attacking the roots that actually caused the plant to fall. That's important information for harvest and managing the field next season.
Between the wind, diseases like tar spot, drought and everything else, late season scouting is vital to managing the harvest season.
"You really want to stay on top of scouting because it may mean starting harvest earlier and buying dryer gas," Ferrie says. "It may mean getting a pickup reel for the combine, which helps with volunteer corn later."
With harvest this close to the finish line, he says, now is not the time to give up.
---
To learn more harvest prep tips from Ken Ferrie and Missy Bauer, visit AgWeb.com/2020-harvest