Look for U.S. farmers to plant a large soybean crop next spring. In fact, USDA pegs the 2020 crop at 84 million acres, which would make it the fourth-largest soybean crop on record.
Todd Hubbs says the number of soybean acres planted could total even more—closer to 85.4 million. His forecast is based on current market prices for soybeans, the outlook for other crops—including corn, cotton, wheat and small grains—rotational practices and various economic models.
"Guys planted a lot of corn this year, so the rotation itself is set up to come back into soybeans," says Hubbs, University of Illinois agricultural economist. "Looking at fall prices here in central Illinois, I see no incentive to plant corn more than beans other than the fact farmers like to plant corn, and they might, but the fall 2020 cash price structure doesn't currently favor that."
Arlan Suderman, chief commodities economist for INTL FCStone Inc., says he expects more farmers to have operating line restrictions from their bankers in 2020. "So that will make it difficult for corn acres to respond and expand, meaning farmers will plant more soybeans—maybe upwards of 86 million," he explains. "A phase one trade agreement would be the only thing that might offset that and boost corn acres."
Hubbs says any analysis of principal crop acreage for next spring requires considering 2019 as an anomaly.
"This past season we had a set-aside program using corn as prevent plant that took out 12-million-plus acres of soybeans," he notes, referencing a farmdoc daily article (https://bit.ly/33PJ6t1). "That's a once-in-a-blue-moon type of thing, and I don't expect that to happen again in 2020."
However, Mother Nature is always a wild card and could contribute to a boost or reduction in soybean acres next spring. Likewise, the ongoing U.S.-China trade dispute and African swine fever (ASF) are two additional factors that could impact soybean acres and prices, Suderman says.
"The market keeps trying to rally on a China trade deal, improve demand and strengthen the U.S. soybean balance sheet, but I don't see that happening," he notes. "If we get a phase one trade deal it might help, but with AFS continuing to be a problem in Asia that's not going to be enough business. I don't see any scenario short of a major weather event that would sustain a rally in 2020 above current price levels," he adds.
The U.S.-China trade dispute and ASF put considerable downward pressure on soybean prices in 2019, notes Stephen Nicholson, senior grains and oilseeds analyst at Rabo AgriFinance.
"The trade war alone has reduced the average national price paid to soybean farmers by $1 to $1.50 per bushel. The ASF outbreaks add another 50¢ to $1 to the reduction," he says in a Rabo report, "2019 Soybean Baseline: Long-Term Challenges for the U.S. Soybean Complex."
Here are the USDA projected prices: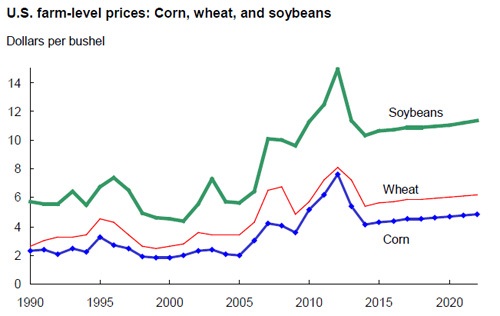 Even if the U.S. trade dispute with China is resolved, Nicholson expects ASF and export issues to have lingering, negative impacts on U.S. soybean exports to China and, ultimately, prices. His current analysis indicates a 75% probability that soybean prices at the farmgate will stay under $9.60 per bushel cash in the decade ahead.
Gary Schnitkey, agricultural economist at the University of Illinois, says his research indicates baseline prices for soybeans will be at $8.70 in 2019/20, $8.76 in 2020/21 and $8.85 in 2021/22. More pricing details and projections are available in his farmdoc article, "Adverse Corn and Soybean Price Scenarios for 2020 and 2021"(https://bit.ly/2sE4JPR)
Data availability on soybean acreage prospects in 2020 begins with the USDA's Jan. 10, 2020, report and will be followed by the March 31 Prospective Plantings report.
100 Million Acres of Corn in 2020?
How To Optimize Your Seed Discount