As landowners along the Missouri River in states like Nebraska, Iowa and Missouri face continued flooding, a harsh reality is setting in: it could take years for levees to be fixed, and some farmland may be forced out of production forever.
( Tyne Morgan )
The flooding of 2019 is far from over for farmers along the Missouri River – water continues to suffocate farmland. Scars are showing up in fertile soil swept away, abrasions with gaping holes ripped out by raging currents and cottonwood trees washed away, thrown along the land; all casualties of the historic flood of 2019.
Farmers like Travis Matthews can't escape the harsh realities of such a jarring year. The Carroll County, Mo., farmer not only lost half of the acres he farms to the flood of 2019, but his family was forced to move out of their home twice.
"It's the worst flooding I've personally experienced, because it's lasted more than 240 days that the local river gauge has been at flood stage," says Matthews.  "We haven't had a break in the inflow of water to work on the levee. Not just on this levee segment, but our whole local levee system, which is 19.2 miles long," says Matthews, commenting on the length and breadth of the flooding this year. 
"It's the worst we've seen since the 1950s in some places," says Congressman Sam Graves (R-MO). "We're talking about more than 1 million acres that flooded across five states—that's farmland, but it's also folks' homes and even entire communities. Looking back, when we talk about the worst floods we've seen along the Missouri River, we'll talk about 1993, 2011 and 2019."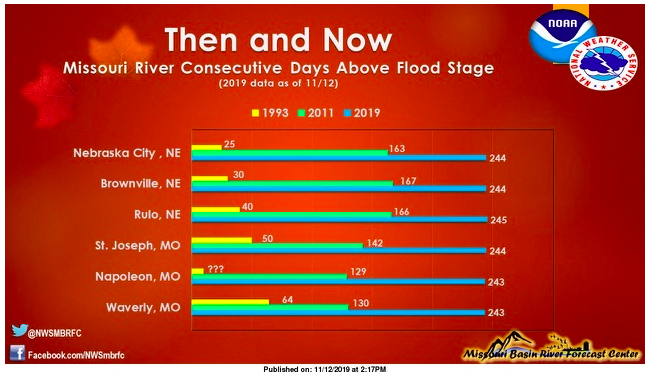 Flooding Far from Over
Matthews stares at the impacts of the flood daily. Around 66,000 acres of farmland in Carroll County, Mo., were underwater in 2019; some of it escaped the flooding and now full of weeds, with thousands of acres still underwater today. Matthews knows with already high river levels, excess water still sitting in reservoirs upstream and wet weather patterns shaping up this winter, things aren't looking promising for farming in the river bottoms in 2020 either.
"Our biggest fear in 2020 is our levees won't be completely fixed before spring," Matthews says. "If we have a high river, we'll just have another break down or upstream from what we're fixing today. We don't plan on farming very much of the land below the bench today, because it's going to be full of water, but we just can't handle another break."
"I think the chances are high flooding will last into the spring and even summer next year," says Tom Waters, chairman of the Missouri Levee and Drainage District Association. "Where we sit right now, the entire basin is seeing soil that's saturated and now the soil is freezing. When it rains and snows, it's not going to soak into the soil. It's all going to run to the river and in the lower base in the same situation. It's any rain we get will run to the river."
Meteorologists are paying attention to the flooding, turning to 2020 as overflow of what's already occurring today.
"We're going to have a lot of moisture that's going to be frozen in or locked into the soils," says USDA meteorologist Brad Rippey. "We're going to expect to put a lot of snow on top of that as we get to the spring of 2020. I'll go on a bit of a limb here and say that we do expect to see some big trouble with spring field work in states like the Dakotas and on into the upper Midwest, due to the excess soil moisture this fall and the expected heavy snow coming for this winter."
Forgotten Farmland
It's not just 2020 that's a concern for farmers like Matthews. The scars of 2019 could last for generations. Waters says some flooded farmland is too far damaged and may be forced out of production forever, while other parcels of land are already being handed over to the federal government, as absentee landowners see this as an opportunity to cash in.
"A lot of times environmental and fish and wildlife groups go after the absentee land owners who haven't seen their property the last few years," Waters says.
Matthews is one of those farmers already falling victim to land washed away for good; land that was farmed by his father before he died in a fatal accident in December 1993.
"This farmland that lays along this main levee south of Norborne where the levees broke, it's going to go into some type of government program, which would more than likely be a water easement," says Matthews, driving along nearly 1,000 acres of farmland that will now be forced out of production. "It's going to be out of production from now on."
Matthews says as farmland along the river gets put into an easement, he thinks local communities will suffer, including his hometown of Norborne, Mo, that posts a population of only 800 people.
"I don't think people realize how much tax base and income comes off this floodplain to sustain small communities," he says, pointing to tax dollars typically used to fund infrastructure like maintaining roads.
Flooding with a Long Tail
Farm Journal economist Chip Flory says the biggest concern for farmers like Matthews isn't the race to finish harvest in 2019; it's even being able to grow a crop in 2020.
"If you don't grow a crop, you don't have a bushel to sell," says Flory. "You want to get past that and get to the next year as quickly as you can and get a good crop next year."
The focus on being able to farm in 2020 is widespread. Brad Lubben, Extension Association Professor in Agricultural Economics for the University of Nebraska-Lincoln, knows next year may not be much better for some, acknowledging some of those flooded farm fields could be lost for good.
"Some of those acres are lost permanently," says Lubben. "Quite a few of them, however, came back and got planted and actually produced a pretty good crop this year. So it's a real mix out there of acres that were good acres, acres that were bad and and acres that will never recover."
Fighting the Flood
The fight against flooding isn't just personal for Matthews, but other farmers and landowners in the community, who have decided to build a temporary levee on their own—a levee that for now is funded by the landowners.
"We're just trying to stop the inflow so we can fix the other levees that have been breached," says Matthews, standing on the levee landowners are trying to build. "Until we stop this water from coming in this main levee, we cannot work on any of the four other projects going into spring."
The U.S. Army Corps of Engineers (USACE) has identified  projects, or levees, that will need to be repaired. The USACE says to date, the Omaha District has repaired 14 levee breaches on the Missouri River mainstem and tributaries, with 13 remaining. 
"All of the remaining breaches are outlet breaches and need to stay open until the water behind the levees has drained from the floodplain," says John Remus, Chief, Missouri River Water Management Division, USACE. "Once the water has drained, the breaches can be repaired. In the Kansas City District, 45 levee systems were breached and sustained a total of 163 breaches among those 45 levee systems. Approximately 1,000 miles of levee system sustained some type of damage from flood water (sod kill, erosion, seepage issues, breaches, etc.) and will need to be repaired."
The USACE says some levee repairs are already underway, with more requests for repairs still rolling in, and the costs are already in the billions.
"The estimated cost of repairs to levees is about $1.1 billion," says Remus. "We do not have details on the cost of other damages, that would likely be tracked at the state level for each state."
With upstream reservoirs still full, and water levels still above flood stage, Matthews says even installing a temporary levee to stop the water flow for now is proving to be a challenge in his area.
"What we've done is we've tried to take down a permanent levee that's breached and straighten our temporary levee out using that existing dirt," says Matthews. "We've hit a small ditch in there from where the current has cut it through our fields, leaving a hole 10 feet deep. Now we've started dumping shot rock, and as of today, we've dumped around 3,000 tons of shot rock. And that's not enough, as we're still battling to get across there."
While fixing levees is another priority for the USACE, the agency acknowledges the implications could continue to impact landowners in 2020.
"It is important to understand flooding can and will occur regardless of available reservoir storage space," says Remus. "As we head into the winter and next spring, levees will not be fully restored and the ground remains very saturated. Given these conditions, we will be as aggressive as we can in the spring to provide the greatest amount of flexibility in the system." 
Who's to Blame?
Matthews knows he's not alone in fighting the constant flooding, but even as he loses farmland to the Missouri River, he says the USACE isn't to blame.
"There's no reason to keep throwing rocks at the Corps of Engineers," says Matthews, "The Corps is doing all they can do, and now there's so much paperwork that has to be done today, and the Corps has their hands tied. It's just a long, drawn out process."
The USACE maintains it continues to operate the river for flood control; the agency calling it a top priority.
"We want residents along the Missouri River to know that Corps personnel are focused on inspecting and repairing levees damaged by this flood," says Brig Gen Helmlinger, Command, Northwestern Division, USACE. "We are your neighbors, we have suffered losses as well. The water management team is constantly in communication with the National Weather Service to provide the most accurate, up-to-date river forecasts, and that is part of our commitment to provide timely and accurate information. As we said before, our priority in our operations is life and safety."
Since the USACE are flooded with requests for help, Matthews and local farmer Chris Heil are working with FEMA and SEMA to build a temporary levee. With the flooded river still gushing through area farm fields, the Corps can't get to the levee to not just access, but ultimately repair the levees. Matthews says the Corps estimated it won't be until next summer until they can start working on it—a timeline he says area farmers can't afford, as landowners would be looking at thousands of acres of farmland not eligible to farm again.
As Matthews works closely with the USACE, he still wants to see change; change he knows won't come from the Corps. It's has to come directly from Congress. That change is something Waters is pushing for as well, saying the Corps may be managing strictly for flood control the past two years, but says the key point the agency is missing is maintaining the system for flood control.
"The problem is a long-term problem that started over 20 years ago," Waters adds. "They haven't been maintaining the river for flood control. The maintenance—and the things they do to take care of the river—have diminished the system's ability to provide flood control."
Waters calls the dykes and off-channel habitat for animals a "science experiment" that aren't working.
"Slowly, systematically, over a long period of time, those actions have diminished the system's ability to provide flood control," adds Waters. "That is what we're seeing today. It's catching up to us and now the lack of maintenance is what causing a lot of this flooding and damage that we're seeing today."
"The river needs to be managed like it was before 2004," adds Graves. "Flood control needs to be the top priority all the time, not just when we're staring down the barrel of a major flood. At that point, it's too late. That means it has to be the top consideration when we're setting releases from the dams, and it means we need to be investing in our flood control infrastructure instead of wasting money on wildlife experiments."
Focus on 2020 and Beyond with Push for Change
Graves is on a mission to implement change. He thinks the USACE bears some of the blame for the flooding, citing not releasing water early enough from the reservoirs. He says the courts recently agreed the Corps' management practices have contributed to ongoing flooding for the past 20 years.
"We continue to spend money rebuilding levees, communities, and trying to make people whole only to not change a thing about the way we are operating our river system. Something has to change," says Graves.
Graves thinks that change can happen, especially when Congress takes up the Water Resources Development Act (WRDA) reauthorization, which is what funds many Army Corps of Engineers Projects.
"It won't be easy, but I'm going to fight tooth and nail to make sure that when we look at which projects we fund, the first question is, how does this help protect our communities, and farm families. In addition to levees, the Transportation Committee also oversees FEMA and the disaster recovery process. We are continuing to push them to get dollars out to folks faster, cut down on the red tape, and not make things more confusing for folks whose lives have been completely uprooted by the flooding."
While the momentum is there today to implement change, Graves knows it may not be a battle he can win in 2019 or 2020. Even if it can't be addressed now, Graves doesn't think the momentum will be lost for good.
"I think we're going to continue to see momentum grow until we fix the way we manage the river," he says. "That said, there's certainly a sense of urgency. We have to work quickly to protect our communities, otherwise we're going to be looking at another devastating flood like this in just a few years. We spend billions of dollars across this country recovering from disasters, whether that is flooding, wildfires, hurricanes, or any other natural disasters. Folks in Congress on both sides of the aisle want to help communities rebuild."
Related Stories: 
Flooding in the Heartland: It's Not Over
Recent Missouri River Flooding Revives Concerns Over Flood Frequency
A Slow Recovery in Hamburg, Iowa
Live Coverage from Missouri Levee Breach
Farmers Brace for More Midwest Flooding, Debris Wipes out Rail Bridge