Boots in the Field Report with Ken Ferrie ( Crop-Tech Consulting )
Early harvest reports in corn and soybeans are beginning to trickle in from throughout Illinois, says Ken Ferrie, Farm Journal Field Agronomist and owner of CropTech Inc., near Heyworth, Ill.
Corn yields in some areas are averaging 40 bushel or more under last year's average yields, while soybean averages are often 15 bushels less than what farmers combined in 2018.
Two issues Ferrie addresses in this week's Boots In The Field podcast are planning your corn-harvest schedule by field based on standability, and also developing a plan to address compaction issues. Along with that, he says pest teams need to check corn fields preharvest for ear worm damage.
"Most of the severe damage is in June-planted corn. I'm seeing a ton of rot in some hybrid numbers, even in those hybrids that are fully traited," Ferrie notes. "We have some fields with 60% to 70%-plus of the ears showing tip damage."
This damage becomes potential infection sites for ear molds, which Ferrie says many of the ears are showing now. "Some of these ears look like they have Aspergillus ear rot, with that tan, blue-green color, and also some Gibberella ear rot, which is pinkish-red," he notes. (See photos below.)
These two ear rots concern him as they can produce mycotoxins, which, if consumed, can negatively impact animals and humans alike.
"Pest teams, If you see these in your preharvest scouting efforts make sure to tell the harvesting team to get the corn checked, especially before it's blended into a bin with other corn. We don't want to find contaminated bins of corn next summer that we can't sell," he explains.
Harvesting these fields a little early, at moisture levels above 24%, and drying the corn with high flume temperatures will help keep both ear rots somewhat in check.
"They seem to take off when we let this corn dry down in the field to between 18% and 24% moisture," Ferrie says. "You guys in the droughty areas particularly need to pay attention to this. If in doubt, send the corn to town."
The Sins Of Spring
With many fields still three to four weeks from harvest, Ferrie says to use this time to plan how you'll handle any compaction layers created this past spring.
"My biggest concern is no-tillers and spring vertical tillers who fell off the wagon and used horizontal tillage this past spring to get their fields planted," he notes. "Moving these farms back to no-till or spring vertical till will create challenges for next year's crop."
Listen here for Ferrie's recommendations on what to do this fall to address compaction issues: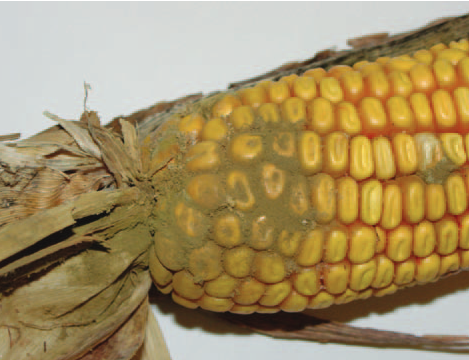 This is Aspergillus ear rot. Photo is courtesy of Purdue University.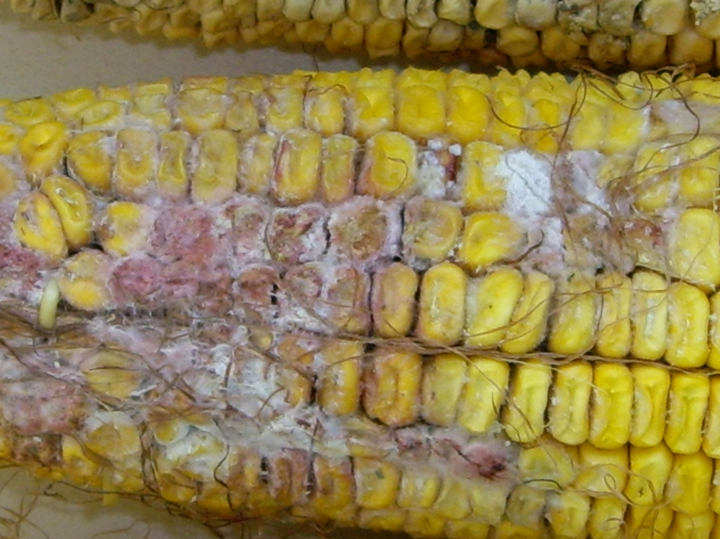 This is Gibberella ear rot. Photo is courtesy of the Crop Protection Network.