Producer Tommy Young, left, walks out of a Jackson County, Ark., corn field alongside Chris Henry, water management engineer at the University of Arkansas Rice Research and Extension Center. ( Photo by Chris Bennett )
Building trust in food begins with empowering farmers through one of the largest and most diverse conservation- and sustainability-focused public-private partnerships in our nation's history: America's Conservation Ag Movement. To find the latest news and resources related to the Movement, visit AgWeb.com/ACAM.
---
"It's the chicken or the egg. Money drives conservation on my farm, or maybe conservation drives money," says producer Tommy Young. "It doesn't really matter to me, because every day, I see irrigation conservation and money working hand-in-hand."
The challenge of balancing profit and conservation is a consistently mounting consideration for U.S. agriculture, and on many operations, although water is a path for savings and sustainability, growers sometimes leave the vital resource partially unharnessed. However, five operations spread across farm country in Alabama, Arkansas, Mississippi and Nebraska highlight transformative irrigation adjustments that target dollar per drop in order to tap profit.
A Skeptic Believes
Tommy Young once dropped a deluge on his furrows—no more. Young is a convert to precision irrigation and a true believer in automated irrigation management. With 7,500 row crop acres watered by 30 pivots, and spread across a 27-mile stretch in northeast Arkansas' Jackson County, Young knows every ounce of water has to be delivered efficiently across big acreage with minimal resource consumption and maximum yield.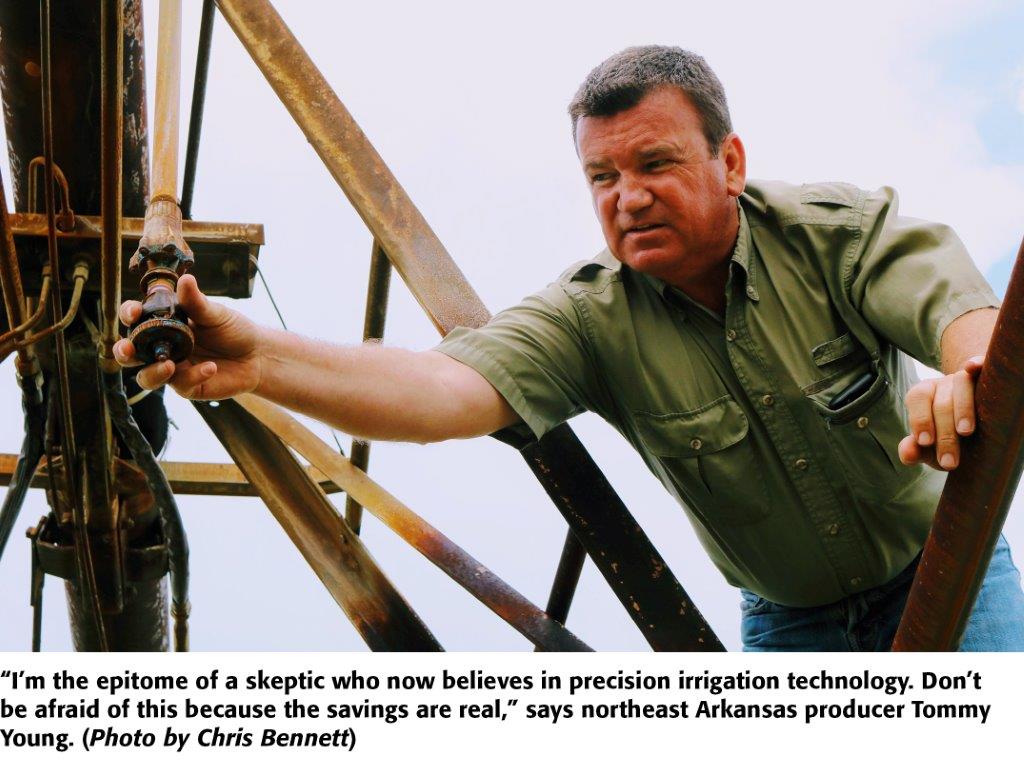 Young, former chair of the Arkansas Corn & Grain Sorghum Board, installed simple moisture sensors, and soaked in major savings. "I spent about $1,500 on sensor sets that cover about 500 acres, and in roughly a year that saves me about $10,000 in irrigation and pumping costs. I'll have a sensor set in every field next year; that's how important this is to me."
"The sensors prolong irrigation and save me. I used to run all week and turn off the pumps on Friday. If the sensors tell me otherwise, I might not start until Thursday and save four days. Maybe I catch a rain on Friday, and save an entire week."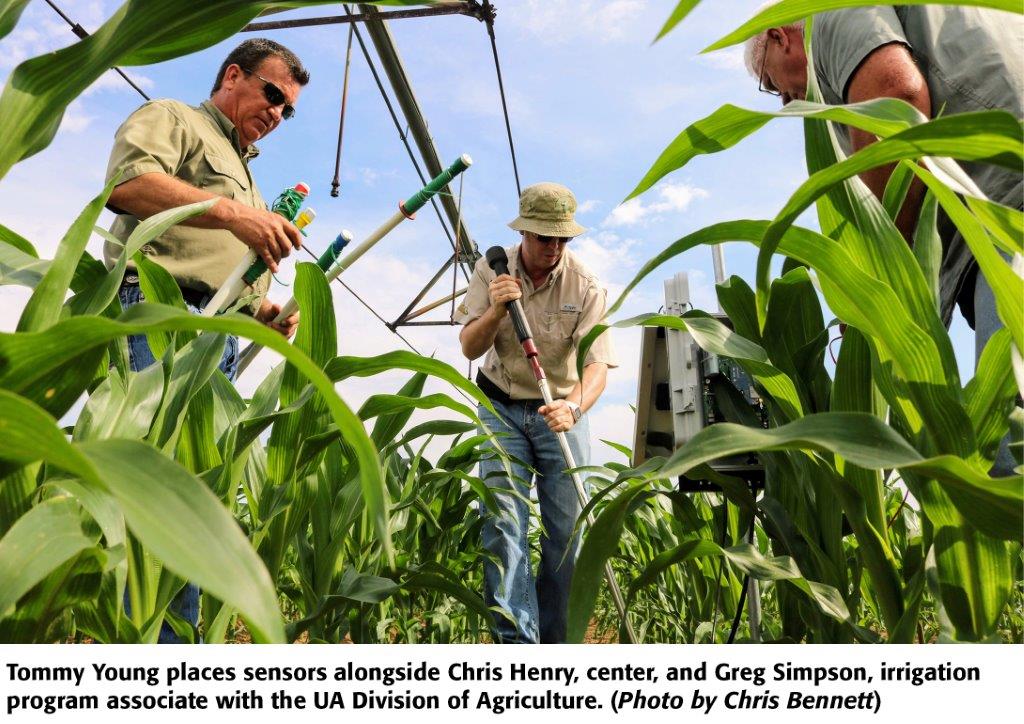 Co-owner of Young's Irrigation & Equipment, he placed AgSense Field Commanders on each of his pivots, supplemented by eight Davis weather stations, all monitored via smartphone—a mix of confidence and efficiency. "If needed, I can leave town in the heart of irrigation season, rely on this tech, and know my people at home have things covered."
"I'm the epitome of a skeptic who now believes in precision irrigation technology. Don't be afraid of this because the savings are real."
Drip Dollars
Farming in northeast Alabama's Cherokee County, Nick McMichen is chairman of the Soil & Water Conservation District, and grows corn, cotton, soybeans and wheat across 3,000 no till, rolling acres. In 2000, McMichen was among the first Alabama producers to try drip irrigation—a decision spurring him to additional drip in the near future.
Initially, McMichen placed a 17-acre pivot corner in drip ($1,200 per acre), laying 14 mil Netafim tape 1' deep, and quickly followed with an additional 18 acres at 10" deep. Surpassing center pivot ground, drip acreage yields were a shock: 80-plus bu. soybeans, 3.5 bale cotton and near-300 bu. corn.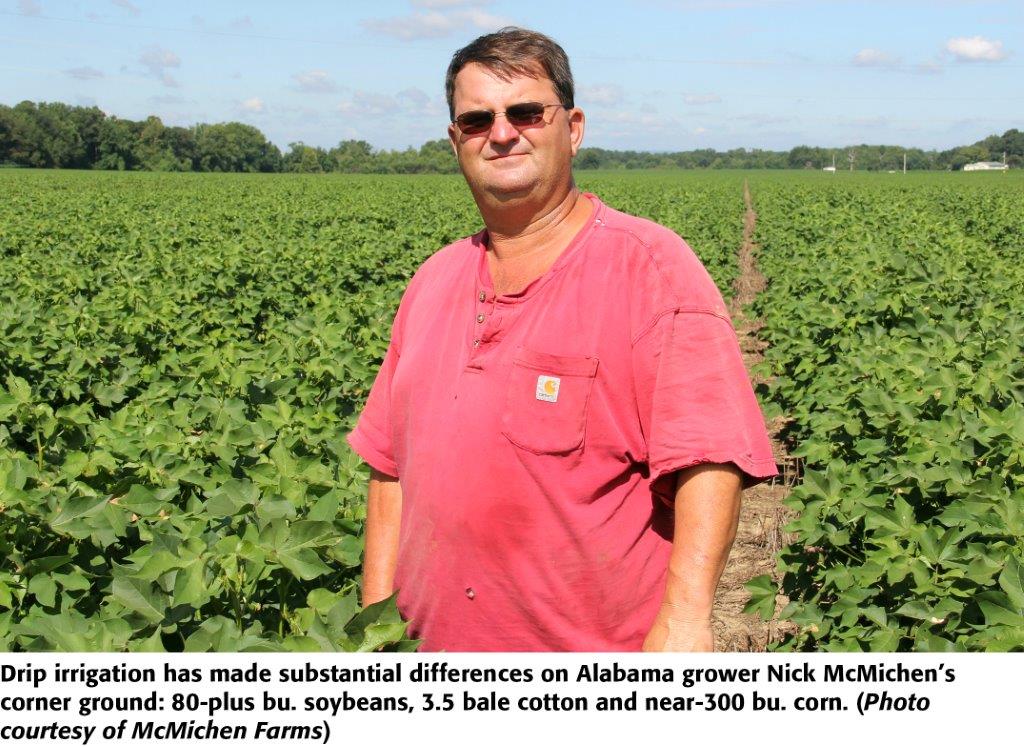 Presently looking at more corners and low-yield land along creek banks, McMichen is ready to pull the trigger on additional drip acreage, with installation of shallow tape as a lower cost alternative. "Some guys overlook irrigation savings and don't want to fool with something new to them, but it pays big dividends and is very cost-effective."
McMichen is currently partnering with Cotton, Inc. and Quail Forever in an effort to square up minimal production areas and bolster wildlife habitat. Stewardship and livelihood are a wedded pair, insists McMichen: "Conservation should be our way of life. It ultimately improves our farms, and it is efficient for our pocketbooks. Overall, irrigation is a great example where guys can save money and improve ground."
Food Chain Bedrock
With 40 pivots spaced across 6,500 acres of southwest Nebraska (Lincoln, Keith and Perkins counties), Roric Paulman operates in the Republic and Platte river basins on a five-year water allocation, spurring the cornhusker grower to thread the needle on precision irrigation: What does it take to get an economical return and still have enough water to sustain the farm over the long-term?
Over the past two decades, Paulman ran the management gauntlet from hand-probes, evapotranspiration (ET) estimates, mapping, reduced tillage, residue management, cover crops, infiltration rates, basic moisture sensors, high-tech probes, satellite imagery, drones, segment control, speed control and far more—all in an effort to capture a complete story.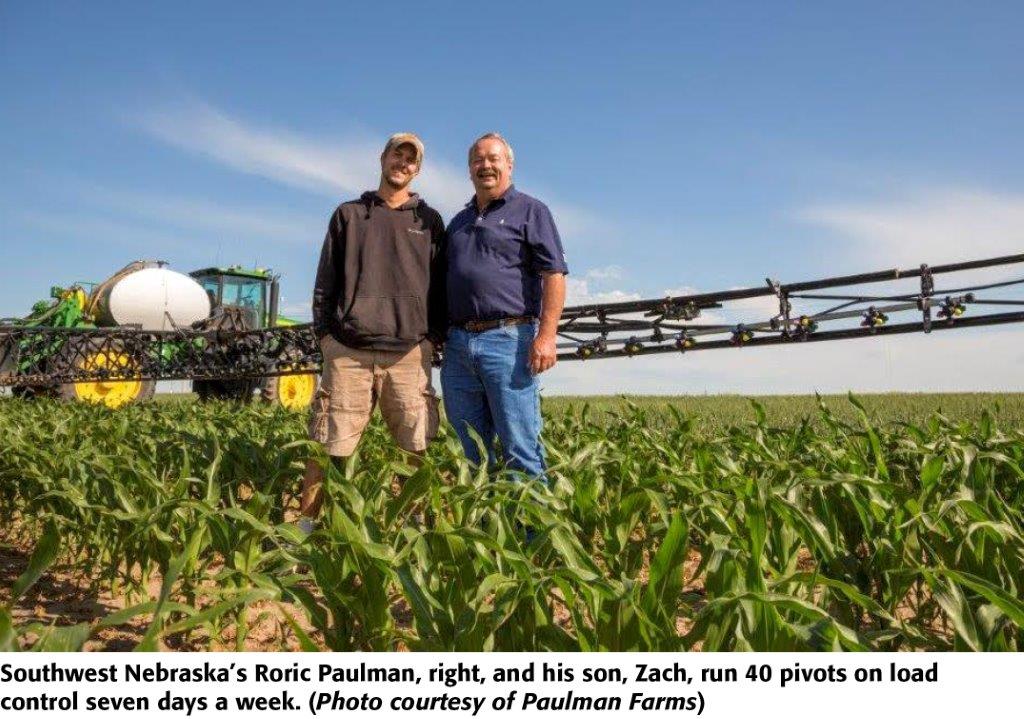 Long-term success is dictated by crop-per-drop precision, and today, all of Paulman's fields are mapped for water-holding capacity, with three weather stations supplying real-time ET data to match crops with soil- and site-specific application prescriptions. Paulman's irrigation management reveals a remarkable string of adjustments: Five years ago, Paulman, chair of the Nebraska Water Balance Alliance, participated in one-day load control—a 10 a.m. to 10 p.m. commitment. Today, his operation functions on seven days a week of load control. "We haven't upped our well capacity, but we're better able to understand the interactions of crop growth stage and exactly how much water is in the soil. Leaps and bounds forward."
Profit and stewardship are a part of every farming conversation, Paulman explains. "They are at the top of all aspects of an operation, and it's not always voluntary, but that is the expectation from end-users. We've got to have an economic return to invest, and we've got to be able to articulate our story every day. As farmers, we've got to stay as the trusted part of the food chain."
Going Big
In the low hills of west-central Alabama's Pickens County, Dee River Ranch is a 10,000-acre bit of heaven—4,000 acres of corn and soybeans. After implementing a highly successful soil fertility program—tillage out, cover crops in—Annie Dee turned her attention to irrigation in 2011. With dryland corn yields of 150-160 bu. per acre, multiple specialists predicted irrigation might boost yields by roughly 30-plus bushels. Pushing the dismal projections aside, Dee built a 25-acre reservoir to provide water for 310 acres, along with a cattle pond to irrigate an additional 114 acres. Dee's confidence won the day, and the fields exploded with a 125-bu. increase. (At the time, corn at $7 nearly paid for irrigation costs in one season.)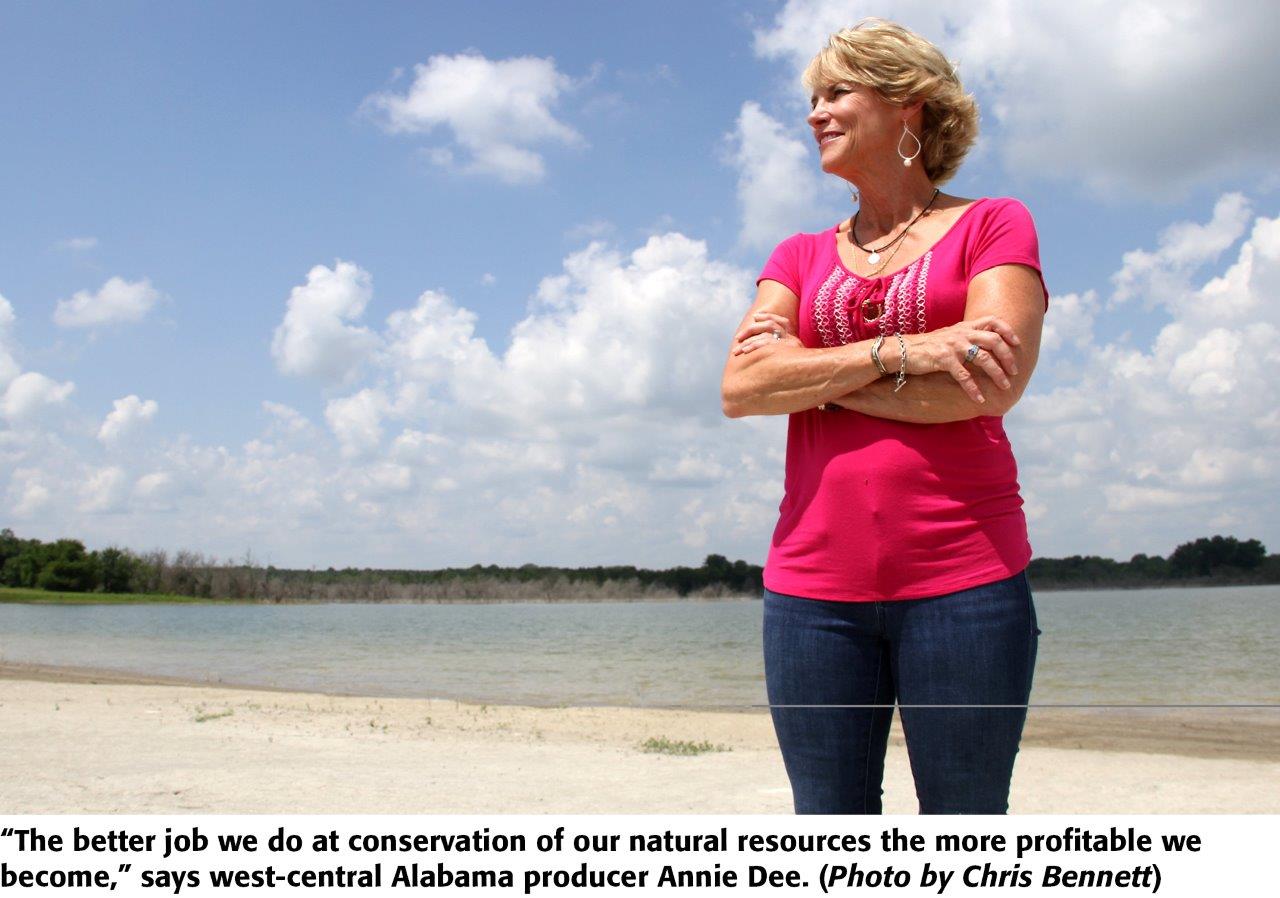 Buoyed by the results, Dee went bigger. Lindsay Irrigation designed a whole-farm system fed by a 110-acre reservoir built on idle land: Five Watertronics 150-hp pumps (feeding 17 pivots equipped with Growsmart FieldBoss panels and FieldNET controls) with variable frequency drive control technology supply water to 2,800 acres.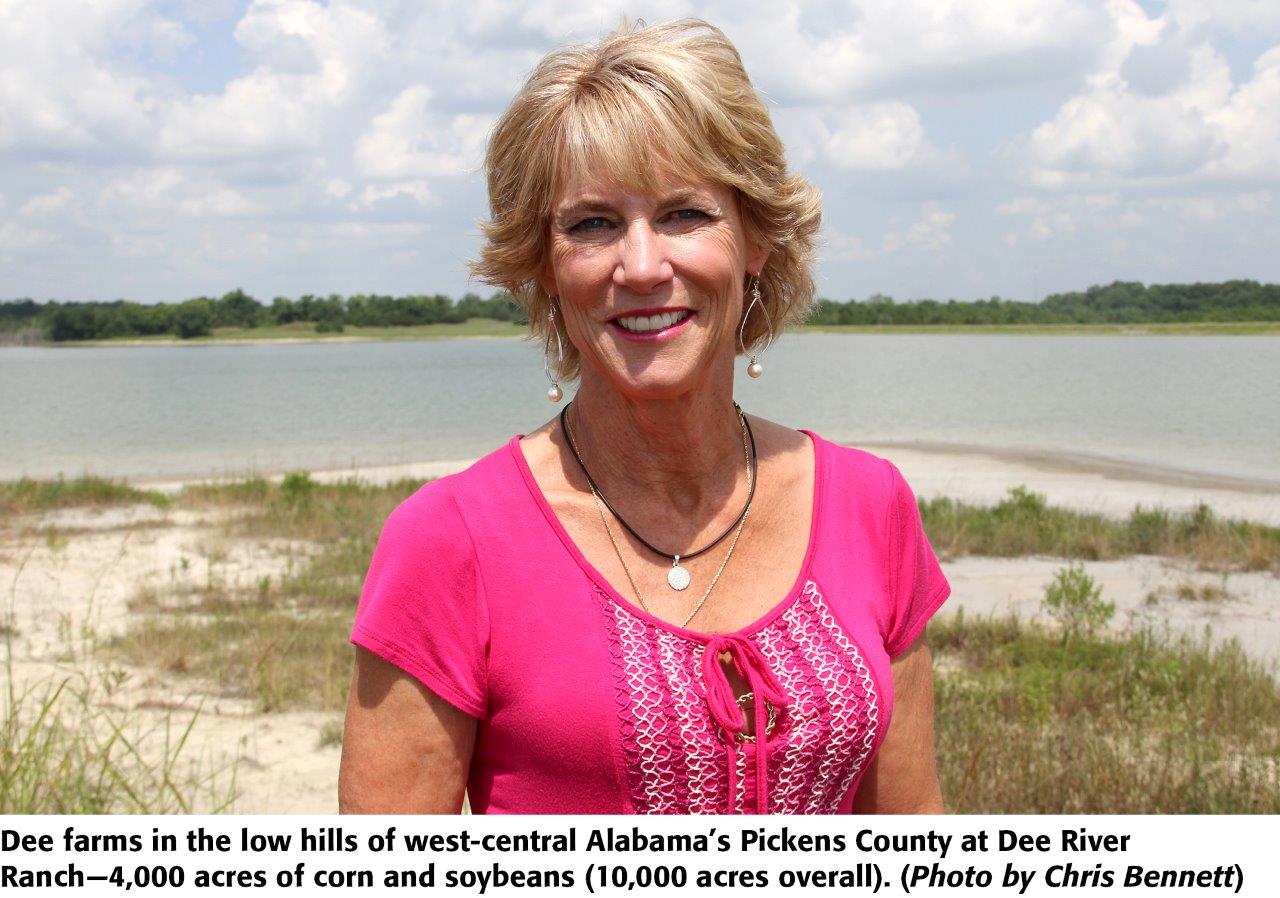 As Dee pushed yields to over 300-plus bu. per acre, yet minimized water use with a state-of-the-art irrigation system, the benefits of stewardship were evident, she explains: "No till, minimum till and cover crops have increased our organic matter and reduced erosion. With this, the water holding capacity of the soil increased, soil structure and soil health improved, and yields have increased. Increased water holding capacity allows us to irrigate less and increase our profit while conserving water and power. The better job we do at conservation of our natural resources the more profitable we become."
A Difference of Dollars
Two Brooks Farm, located between the Tallahatchie and Quiver rivers in the Mississippi Delta's Tallahatchie County, carried a lengthy list of broken producers until Mike Wagner began working the heavy blue gumbo—13' to 15' deep in most spots. In the heart of the Mississippi Flyway, Wagner unleashed an avian army (demolishing stubble and depositing nitrogen) and designed a unique, strategic irrigation system.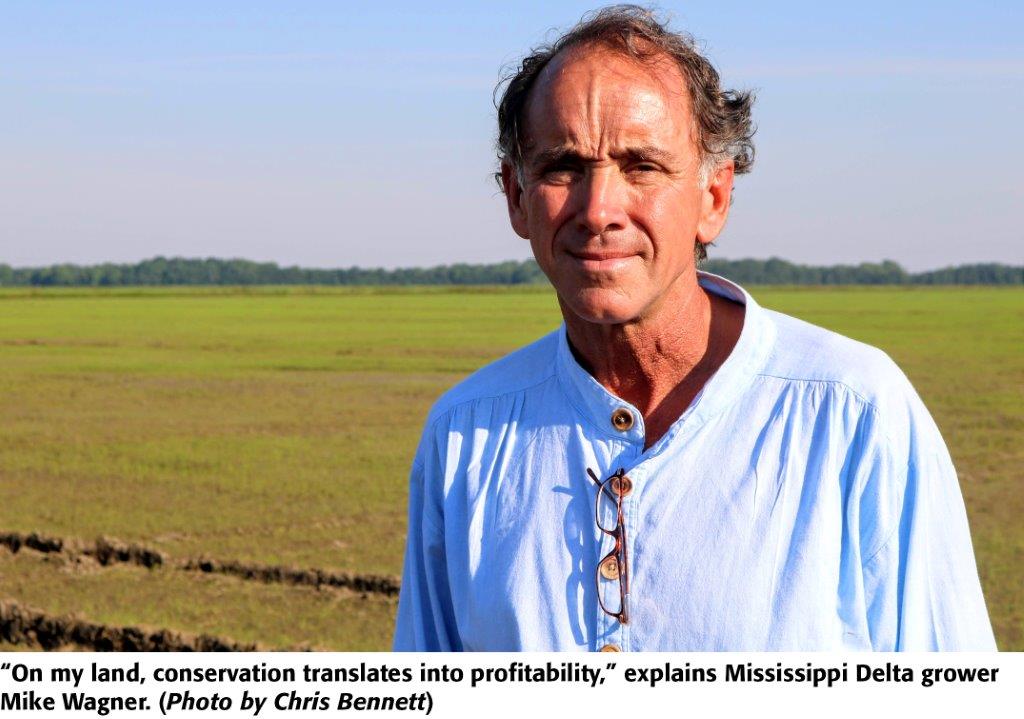 Starting in the 1990s and spanning 20-plus years, Wagner went full-bore into ultra-conservation, successfully shaping his operation into a showplace of crop quality, sustainability, market awareness and varietal segregation. Wagner's farm is precision land formed and half the acreage is on a zero grade. The operation (3,000 acres of rice and soybeans) is a labyrinth of interconnected fields following natural contours.
A Delta rice field can easily drink 2 acre feet (or more) of water, but Wagner pours on a quantity of inches and the difference is dollars: His zero grade fields use 6" of aquifer water and he averages 8.9" across the operation. Additionally, what he pumps, he keeps, stair-stepping water through pipes across several miles of the operation. As a given paddy is drained, water is channeled into an adjoining field, consuming minimal electricity and diesel.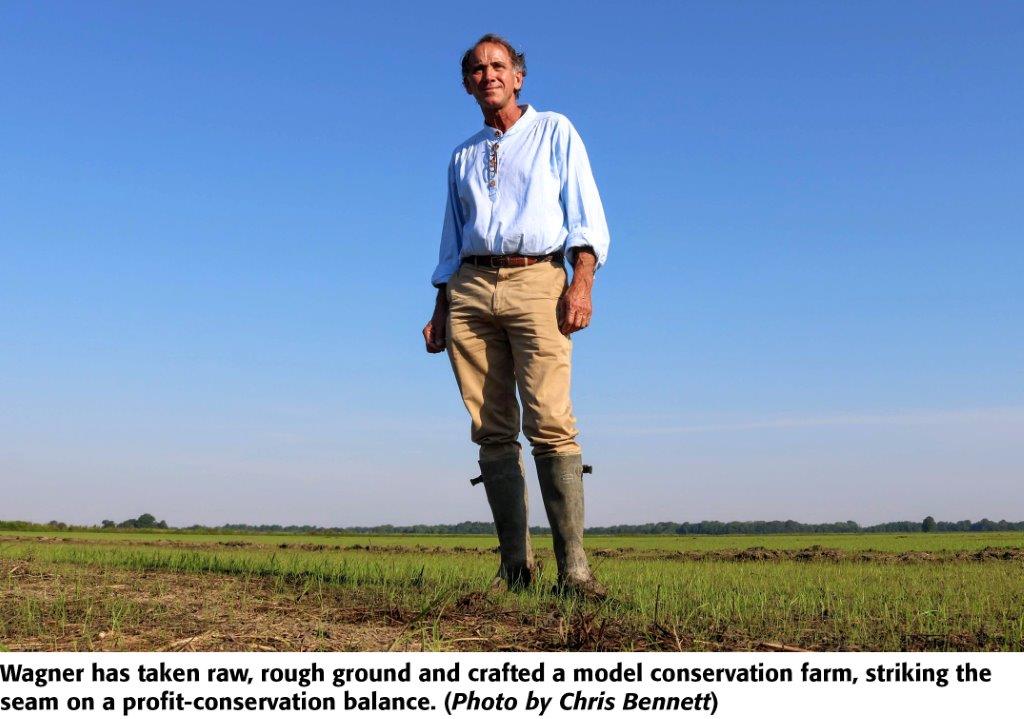 Wagner has taken raw, rough ground and crafted a model conservation farm, striking the seam on a profit-conservation balance. "What began as a cause for economy has transpired into greater benefits as we not only save fuel expense and equipment wear, but more importantly, we save about 80% of the aquifer water we used to pump, sequestering carbon in our soils, scrubbing runoff water with our elevated organic matter levels, and creating a better ecosystem and environment. On my land, conservation translates into profitability."
Chicken and Egg—and Gravy
All told, Young reiterates the "chicken or the egg" perspective and touts irrigation as a means to enhance stewardship and improve financial footing. "If they are true to themselves, I believe most farmers look at conservation and ask if it can save them money—the hard bottom line. That's fine; take a look at the economics and consider conservation as the gravy. Or, look directly at conservation and take the economics as gravy. That's all OK, because when done right, it is a win-win either way."
For more, see:
Descent Into Hell: Farmer Escapes Corn Tomb Death
Farmer Refuses to Roll, Rips Lid Off IRS Behavior
Rat Hunting with the Dogs of War, Farming's Greatest Show on Legs
Killing Hogzilla: Hunting a Monster Wild Pig       
Frozen Dinosaur: Farmer Finds Huge Alligator Snapping Turtle Under Ice
Breaking Bad: Chasing the Wildest Con Artist in Farming History
The Great Shame: Mississippi Delta 2019 Flood of Hell and High Water
In the Blood: Hunting Deer Antlers with a Legendary Shed Whisperer
Farmer Builds DIY Solution to Stop Grain Bin Deaths
Corn Maverick: Cracking the Mystery of 60-Inch Rows
Blood And Dirt: A Farmer's 30-Year Fight With The Feds
Against All Odds: Farmer Survives Epic Ordeal
Agriculture's Darkest Fraud Hidden Under Dirt and Lies