Brian Adams, Skagit County Parks and Recreation director, right, and Larry Otos, former director of Mount Vernon Parks and Recreation, are flanked by a stunning barn find—a $500,000, 28' x 7' mural preserved for decades in a loft. ( Photo courtesy of Skagit County Parks and Recreation )
Hidden inside a western red cedar barn long since faded to seven shades of gray, tucked along the back boards of a dusty loft behind the rusting detritus of farming utensils past, and forgotten beneath the slant of creaking rafters overtopped with shake shingles, lay a treasure of American, agriculture, and art history. Preserved inside the barn for decades, the miraculous tale of a lost $500,000 painting is packed with mystery, razor-slim margins, bizarre circumstances, and a family intent on sharing an incredible find.
Barns are tombs. Pickers and antique collectors maintain a steady drumbeat of unusual finds within old farm buildings: cars, furniture, books, tools, guns, memorabilia, and far more. But on the rarest of occasions, the script is flipped when an item reveals itself to an owner, almost as if the object refuses to remain under wraps. Case in point: In 2014, a massive painting—28' long and 7' high, weighing a stout 40 lb.—reemerged after decades of slumber and beat all reasonable odds of survival.
A Tangled Puzzle
In 2014, Tony Breckenridge, a farmer and hunting club manager in northwest Washington's Skagit County, lived on the edge of picturesque Puget Sound in a house with foundations over 8' high, encompassing a shop and storage. The greater basement area screamed for a thorough shakeup, and Breckenridge was hell-bent on a purge; i.e., toss out the mess. Central to his accumulated collection of clutter was a huge roll of white canvas that consistently managed to eat space and serve as a perpetual thorn, forcing Breckenridge to step on or crawl across the cumbersome behemoth.
On a foul-weather January day far-removed from crop season, but ideal for house cleaning, Breckenridge gripped the massive white canvas and pulled it out the garage door and onto gravel, intending to drag it 25 yards down the driveway for county trash pickup. Just 10 steps beyond the door, Breckenridge felt searing heat in his neck and nauseating pain down his back—the telltale sensation of a herniated disc. He walked back indoors and left the canvas on the ground, exposed to the elements and Pacific Northwest rain, but temporarily spared the indignity of the landfill.
After an arduous process of medical treatment and healing, and six months of Washington winter and spring later, with his neck fully recovered, Breckenridge returned to the canvas—still laying in situ just as he'd dropped it in January—to complete the driveway journey. He knelt, rolled back a canvas corner to gain a better grip, and stared in astonishment as the blanket of white opened to a spectrum of color. "I unfolded it and things got crazy," he exclaims. "All those years and I thought it was just a piece of canvas. It was actually a huge painting of every aspect of farming from my county and I couldn't have been more shocked."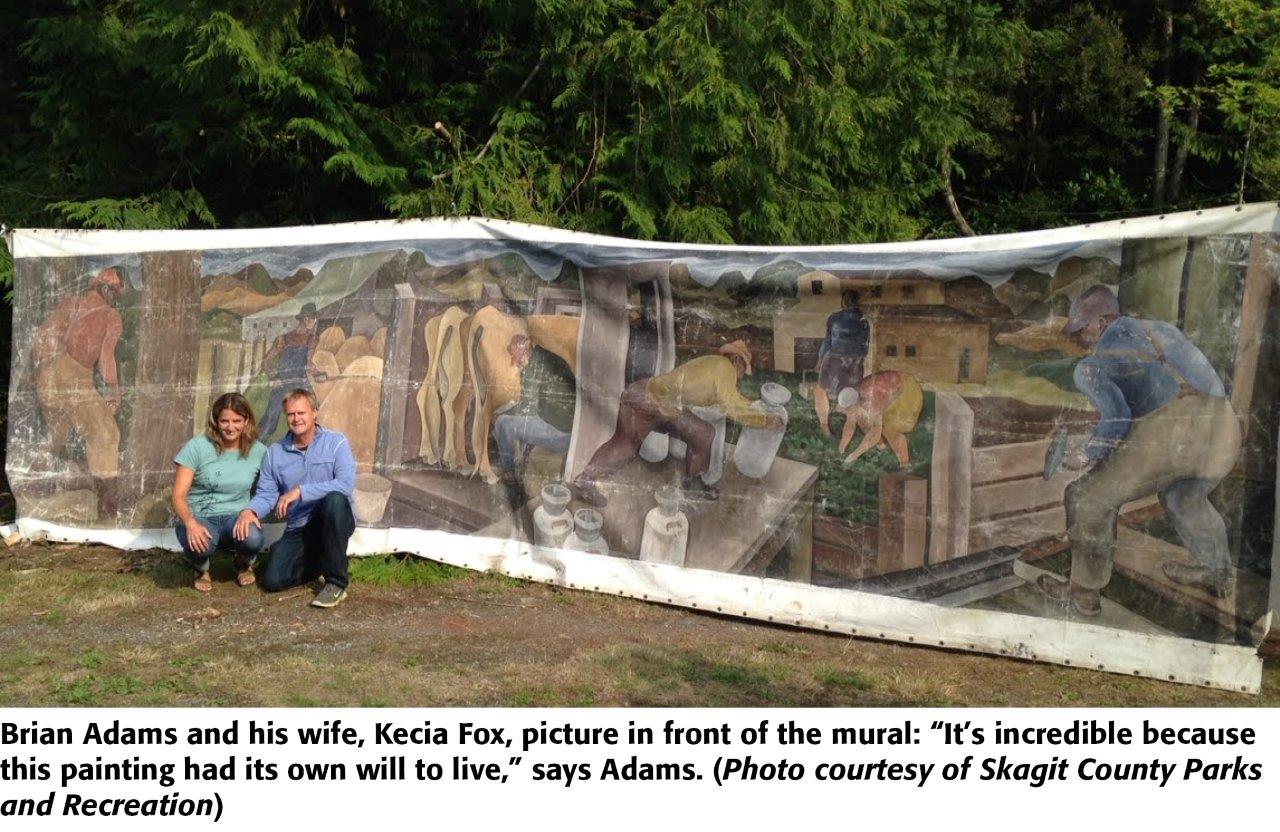 In the moment, the huge mural presented more questions than answers, and Breckenridge was about to uncover the surprise of his life. His memory raced past his stunned vision, back to a motley assortment of still images better suited to fiction: a pearl-handled pistol, a 1957 Chevy truck, a wrestling ring, a fire, a twist of fate, and a caring father. Peeling the layers back on the multi-level mystery, Breckenridge recognized the central, connecting piece of a tangled puzzle—the old cedar barn.
The Long Sleep
In 1967, when Breckenridge was five years old, his family bought an old farm in the countryside, and moved into a house flanked by a pair of contrasting barns—the new and the old. The barns were remnants of goldenseal production—a medicinal herb with cure-all qualities. The first barn, a cinder block structure, contained racks on tracks that held harvested goldenseal, and beneath the main floor, a coal-fired heater generated warmth to dry the root crop. At the rear of the cement block barn, a loading ramp led 15' to the back of the older, and traditional, gray cedar barn, overtopped with a cedar shake roof, and filled with farming paraphernalia, milk cans, and horse tack.
Although Breckenridge's grandfather farmed, his father, Edward, was a schoolteacher at Edison Elementary School, passing down science and math lessons. At the time, Edison Elementary was extremely rural, and it wasn't uncommon, after classes ended for the day, to see Edward, along with the principal and several students, hunting atop the school roof, armed with shotguns and waiting on passing ducks.
One of Edward's responsibilities was overseeing the art building (more of an anteroom)—a detached structure separated from the main school. At some point in the late 1960s, the art room was refurbished and turned into a standard classroom. Prior to the makeover, Edward was tasked with dumping years of art-related odds-and-ends.
Breckenridge combines facts with reasoned speculation: "The big canvas must have been rolled up and stored in the art room, and my dad saw it and couldn't bear to throw it away. I don't know if he knew who painted it, but he knew it was a special agriculture item and needed to be saved."
Edward likely lugged the canvas from the art room to the approximate 6' bed of a 1957 Chevrolet truck, a green stepside pickup with wooden racks frequently used by Breckenridge's grandfather to haul hounds during coyote hunts. Stowed caddy-corner in the '57 Chevy bed, Edward drove the canvas 2 miles home and carried it into the cedar barn, up the loft ladder, and against the rafters. It would sleep in the loft, undisturbed, for the next 30 years.
The Hopscotch Board
Today's Skagit County is an agricultural breadbasket blessed with extremely fertile soils capable of growing almost 100 different crops, in addition to livestock and dairy presence. Within Skagit County, Edison sits in the flats of the Samish River delta, but backs east within 20 miles to mountains climbing 10,500'. Breckenridge's corn and barley fields, outside Edison, rub the edge of Puget Sound and necessitate a dike system to prevent saltwater from inundating the farmland.
As boys, playing in the cedar barn and searching every nook and cranny, Breckenridge and four brothers often climbed into the loft and took note of the white canvas, but paid no mind. The barn was a child's kingdom, filled with enticements that held far more allure than white cloth. In fact, the cedar barn's first curious offering was found by Edward during the 1970s, secreted behind the gray walls—a pearl-handled pistol. "It was kind of a magical barn for us as kids, and there was a revolver literally hidden in the wall," Breckenridge recalls. "I don't remember it being loaded. Somebody had a reason—for the good or the bad—to hide a gun in such an odd place. That's another mystery I can work on some day because the revolver currently has disappeared again in our family. Maybe it'll surface in the future—just like the canvas."
In 1990, Edward fell ill and passed away at the early age of 57. Life pivoted for the family, and Breckenridge's mother, Charlotte, moved to Edison, and sold the small farm to Breckenridge's older brother, Jay. A high school wrestling coach and former wrestling stalwart with eight state championships to his credit, Jay eyed the cedar barn interior as a potential wrestling room, and prepared to renovate. He targeted demolition of a central cement wall, cleared out the loft, and put the canvas to immediate utilitarian use. Unraveling the fabric, but paying no mind to the artwork, Jay used the mural as a catch-all for the demolished wall, collecting the debris in order to haul out the concrete, in lieu of sweeping out the crumbled remains.
After using the canvas as a concrete sled, he folded the ends and carried it to the cinder block goldenseal processing barn, storing it on a heavy, steel worktable. Jay's five young children took a shine to the nuts-and-bolts value of the canvas, dragging it out for a variety of playtime activities—a hopscotch board, long-jump pit, tent cover for camping...and much more. "It was used for everything," Breckenridge says, "but somehow it never got any really terrible damage. Keep in mind, at that point I personally had no idea there was any artwork on it. It was just white canvas to me and Jay never thought to mention the pictures."
Fire Escape
In the mid-1990s, after Jay went through divorce, Breckenridge collected a bit of farm gear left in the barns, and salvaged several boxes of 4-H material and an assortment of livestock gear. Gathering the assorted items together, he spotted the folds of the white canvas, and grabbed it as an afterthought. "Why not? I'm a farmer and hunter, and I figured an old piece of canvas is always handy. I remember thinking I'd use it to cover a log pile or something along that line."
Tossed into another pickup truck, the canvas rode home with Breckenridge, unceremoniously stored in the basement—where it would hide for another 15 years. "I stepped on it and crawled over it all the time, constantly complaining and planning to trash it," Breckenridge says. "We tried so hard over the years to throw it away, but couldn't get rid of it. That's not chance. I don't know exactly what was going on, but it wasn't chance or coincidence."
Fast forward to 2014. Exposed in the driveway for six months, subject to plentiful Pacific Northwest rainfall, the mural waited patiently for its final episode of discovery. When Breckenridge's herniated disc healed, and he performed the fateful uncurling along the mural's edges revealing the concealed artwork, he bundled the canvas and carted it to Brian Adams, Skagit County Parks and Recreation director and manager of the county fair, hoping it might merit a spot for sentimental display.
Within days, the mural's notoriety exploded coast to coast. Far more significantly, the timing of the mural's revelation was uncanny: Six months after delivering the canvas to Adams, Breckenridge's house burned to the ground. Once again, as it had countless times across a span of 40 years, the mural had skirted destruction by a wafer-thin margin.
Nine Lives
Waiting at the fairgrounds for Breckenridge's arrival on the afternoon of July 30, and with no details beyond a cursory description, Adams had no premonition of the extraordinary. "On the phone, Tony said it was really big, had been in the barn for a long time, and might be related to 4-H or FFA. That was all I knew—but I'm naturally curious."
However, when Breckenridge pulled up with the mural in his truck bed, and unfurled the canvas on the fairground lawn, Adams felt his senses tighten as curiosity leaped to expectation. Stretched across the 28'x7' canvas (technically a linen sailcloth), and painted with egg tempera, was a tapestry of bucolic scenes pulled directly from Skagit County agriculture: hay baling, logging, strawberry harvest, dairy production and rail work. The artist's signature, tucked in a bottom corner, was scrawled and difficult to unravel. "Whoah. Right away, I recognized it as some kind of WPA work from the World War II era," Adams says. "It just had that look that told me there was significant history and value."
And how much value? "Initially, I was thinking maybe $40,000 or $50,000—never realizing it would prove to be worth far more," Adams adds.
Adams cranked into gumshoe action, calling museums and art teachers in the area, hoping to find a telltale clue. He struck out with each successive contact, until reaching Bret Lunsford, director of the Anacortes Museum in Anacortes, Wash. In league with Adams, Lunsford was convinced the mural was of extremely high significance.
With only a week to go before the county fair, Adams and Lunsford launched a hopeful game plan: Display the mural at the fair and hope for identification from the public, and gain further exposure from potential media coverage. On Tuesday, Aug. 5, 2014, the mural was hung on the main stage of the fair, in preparation for opening day on Aug. 6. In sync with Adams' and Lunsford's intent, a reporter from the Skagit County Herald clicked a camera on Aug. 7, and the mural's photo went viral by Friday, Aug 8.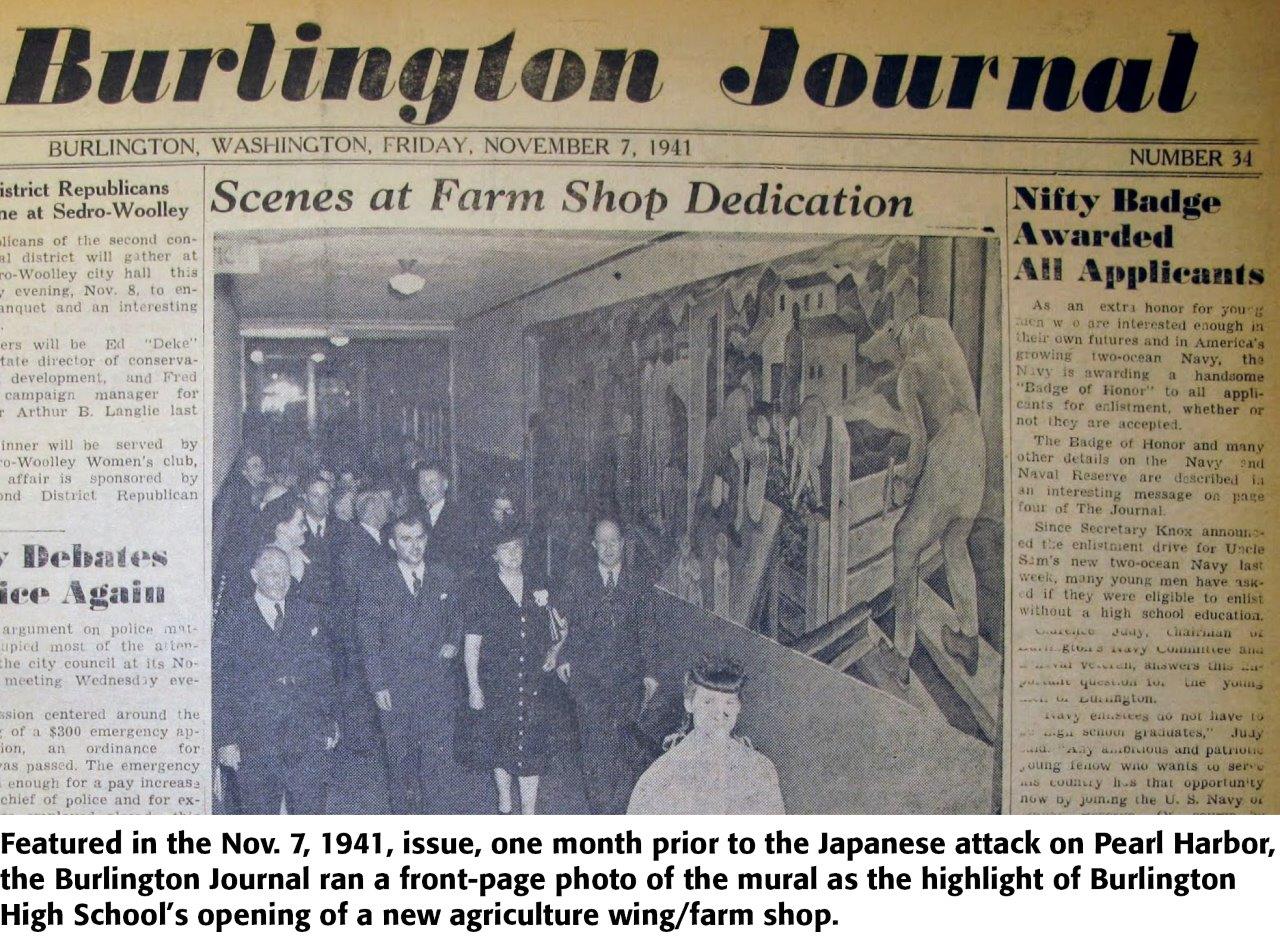 On Saturday, Aug. 9, less than 24 hours after the photo's online release, Breckenridge's phone rang with a caller ID tag in New York City, and he listened as a Brooklyn-accented voice peppered him with inquiries about the painting. "I'm just a farmer and a former policeman, and know nothing about art," Breckenridge says. "I was raised never to automatically trust anybody from the big city—especially an art dealer from New York. I got him off the phone quick, and that's when it hit me. That was my moment of reckoning: The canvas sitting in our barn for so many years that we tried so hard to throw away was actually something seriously special—really, really special."
Indeed. After decades of hiding in plain sight, the peculiar canvas with nine lives was about to reveal some of its secrets.
Out of Sight and Mind
Adams' efforts to identify the mural and its creator paid off in spades within days of the news article. John Braseth, of Woodside/Braseth Gallery in Seattle, recognized the signature and style of William Cumming—a member of the Northwest School art movement and a heavyweight of U.S. art history. Cumming died in 2010, at 93, but Braseth was a close personal friend, highly familiar with Cumming's body of work.  
Delving deeper into the mural's provenance, Lunsford went through the archives of the Burlington Journal (later acquired by the Skagit Valley Herald) and hit paydirt. Featured in the Nov. 7, 1941, issue, one month prior to the Japanese attack on Pearl Harbor, the Journal ran a front-page photo of the mural as the highlight of Burlington High School's opening of a new agriculture wing/farm shop.  
Boiled down, at 24 years of age, Cumming labored for roughly a year on the mural, painting the single largest work of his career under contract with the National Youth Administration (NYA). Further, Cumming's mural was a Works Progress Administration (WPA) project funded through Franklin Roosevelt's New Deal. "We had several key artists in Washington during that WPA era such as William Cumming, Kenneth Callahan and Morris Graves," Adams explains, "but it was so rare for a mural to be done on canvas instead of a train station or post office wall. It was given no name, but that wasn't unusual at the time."
Yet, how did a key work from a renowned U.S. artist disappear from the Burlington High School wall and surface again at Edison Elementary School approximately 25 years later? The answer is lost to time, but Adams offers reasoned conjecture based on Cumming's communist sympathies and the social-realist style of art. "World War ll was already in motion and I think Cumming's work wasn't well received by the public at large because of his beliefs. I think the mural was taken down, neglected, and put aside. As to precisely how it may have ended up in Edison—that's one we'll probably never know."
"I don't think people even thought it was attractive when they hung it up in 1941," Breckenridge echoes. "This was post-Depression and at the start of America's entry into World War ll. People were just trying to survive, and the last thing on their minds was appreciating or preserving art. I imagine no one cared: Out of sight and out of mind."
Cash on the Barrelhead
Standing in his yard, days after the phone call with the New York art dealer, Breckenridge watched as a sedan pulled onto his property, driven by a man he didn't recognize. The stranger exited the vehicle, walked toward Breckenridge, and made a blunt offer: "I've got $50,000 in cash inside my car and I'll give it to you for the mural right now."
Breckenridge was stunned. "I still didn't know the value of the mural, but some guy I'd never seen in my life was outside my house with a pile of money. I was a deputy sheriff for 20 years and my senses were going crazy. I didn't sell it to him and I never saw him again, but his offer sure told me that things were getting crazy."
However, the Breckenridge family, and particularly its proud matriarch, Charlotte, were not about to allow the mural to bounce with the highest bidder—and again disappear. "I love my county and state. I'm in agriculture and I've got great friends that farm berries, work dairy cows, grow row crops, or log. I have an attachment to every inch of the mural," Breckenridge describes.
"I always said I'd go through life and won't be rich, but my objective was to give back to this community, and this mural is part of that. My brothers and mother didn't want financial gain," Breckenridge adds. "We love Skagit County and we are all still here. This is our home. This is our valley. It's given us life, and we wanted to give back in a small way, and not allow the mural to slip away to some far-off place. It stays where it belongs."
"You've got to commend the Breckenridges for stepping up in such a big way," Adams adds. "So many others would have acted very different, but the Breckenridges wanted this mural preserved for our community."
Essentially, Cumming painted the mural on a tarp, and all told, the artwork was in remarkably fine condition, considering the battering it had taken over the years as an object of play. Alongside Adams and Lunsford, the Skagit Valley community stepped up in remarkable form, intent on preserving a major piece of local and U.S. history. A fundraising campaign lasted four years and involved an army of unsung heroes, Adams explains: "A campaign was started to raise money for restoration and care, and so many people in the community got involved. It was incredible to see so many people working behind the scenes to save this art. We were adamant that it be available for satellite facilities—permanently accessible by the public."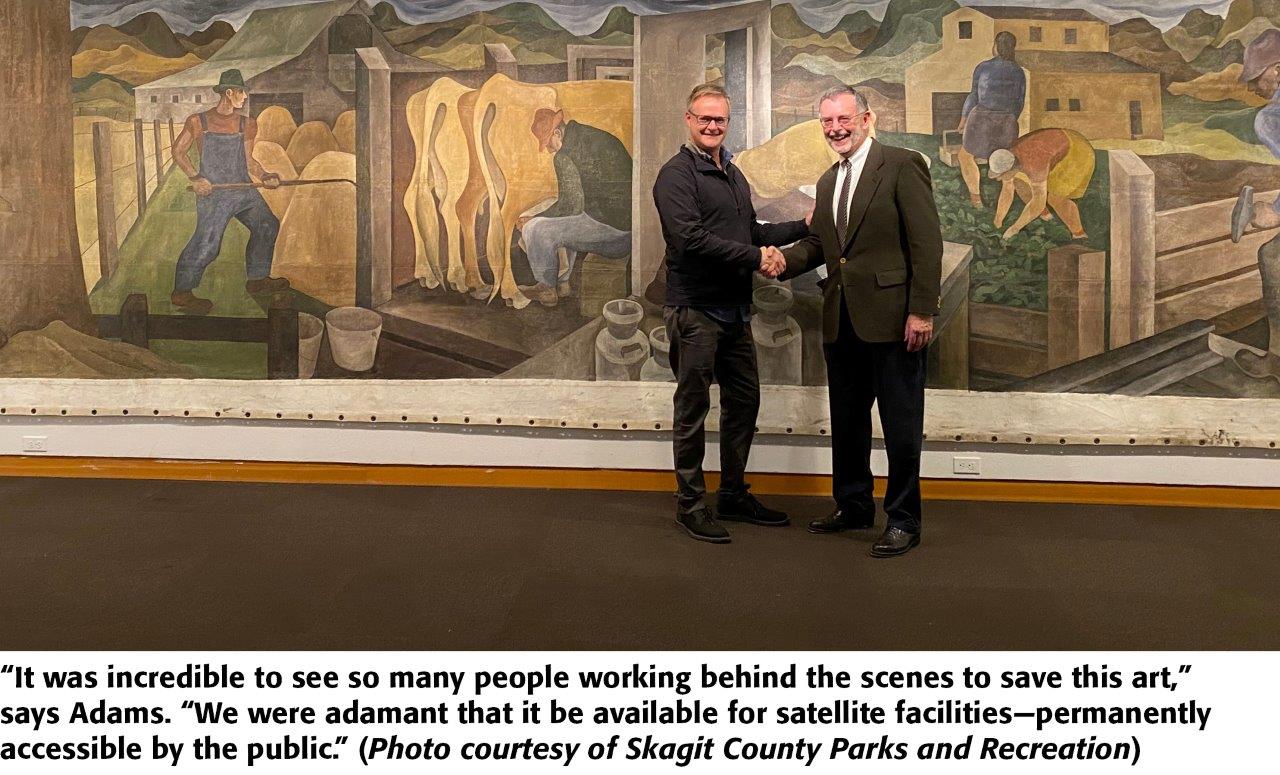 Restoration was completed by Seattle painting conservator Bruce Miller for $55,000 and took approximately one year. The restored mural officially emerged at the Museum of Northwest Art (its permanent home in LaConnor, Wash.), 75 years after first debuting on a high school wall. "It's incredible because this painting had its own will to live," Adams says. "Now it's estimated the mural is worth $500,000-$750,000."
"It Wouldn't Leave"
Years after Cumming's mural hitched a ride in the bed of a '57 Chevy, Edward's foresight grows all the more laudatory, especially when considering the mural had no significant value when he tucked it away in the cedar barn's loft. "I know what dad saw when he looked at mural," Breckenridge says. "He saw Skagit County and there was no way he could throw away the canvas. We're so proud he saved it, and it'll forever make me think of my county and my father. That mural is not just special because it survived, but it's also special because it depicts the farming life we live."
The no-name mural's strange tangle of events encompasses survival odds that no bookie would dare touch. It escaped weather, wear, and fire, and no matter how many times Breckenridge slated the "white canvas" for the refuse pile, the circumstances shifted on each occasion. Simply, Breckenridge is convinced the mural's journey is attributable to far more than serendipity: "I won't attribute its survival to just chance, because I did my absolute best to throw it away, but it wouldn't leave. Somebody was watching over it the whole time."
*On Sept. 1, 2020, Charlotte Breckenridge passed on, joining her husband, Edward. Rest in peace.
For more, see:
Government Cameras Hidden on Private Property? Welcome to Open Fields
Farmland Detective Finds Youngest Civil War Soldier's Grave?
Descent Into Hell: Farmer Escapes Corn Tomb Death
Evil Grain: The Wild Tale of History's Biggest Crop Insurance Scam
A Skeptical Farmer's Monster Message on Profitability
Farmer Refuses to Roll, Rips Lid Off IRS Behavior
Rat Hunting with the Dogs of War, Farming's Greatest Show on Legs
Killing Hogzilla: Hunting a Monster Wild Pig  
Shattered Taboo: Death of a Farm and Resurrection of a Farmer     
Frozen Dinosaur: Farmer Finds Huge Alligator Snapping Turtle Under Ice
Breaking Bad: Chasing the Wildest Con Artist in Farming History
The Great Shame: Mississippi Delta 2019 Flood of Hell and High Water
In the Blood: Hunting Deer Antlers with a Legendary Shed Whisperer
Farmer Builds DIY Solution to Stop Grain Bin Deaths
Corn Maverick: Cracking the Mystery of 60-Inch Rows
Blood And Dirt: A Farmer's 30-Year Fight With The Feds
Against All Odds: Farmer Survives Epic Ordeal