Farm Journal Pulse ( Farm Journal )
Farmer approval for President Donald Trump rose to 76% in September, according to the latest Farm Journal Pulse Poll. His ratings rebounded from a fall in August amid turmoil over trade deals and corn grower discontent over oil industry exemptions to ethanol blending requirements. 
The August Pulse marked the first time the president's 'strongly approve' rating among farmers fell below the 50% mark, dropping to 43%. However, that number showed a strong reversal in September by climbing to 55% "strongly approve." 
"The rise in the 'strongly approve' category, to 55% from 43%, is important," noted Pro Farmer Policy Analyst Jim Wiesemeyer, "because that shows the president continues to garner support among his strongest backers, including many in the ag sector.
"The 'not sure' category remains at 3% and shows that voters have definitely made up their mind on Trump well ahead of 2020 elections," he added.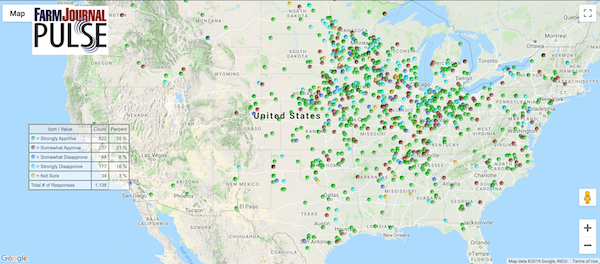 The poll, with 1,138 respondents, was conducted Friday, September 27, at the end of a tumultuous week for the president which included the formal launch of a Congressional investigation into possible impeachment. 
The Pulse poll shows an overall support for President Trump is growing among farmers and ranchers. Those who reported 'strong' approval were the only group to grow in September with 'somewhat approve' falling to 21% from 28% the previous month. 'Somewhat disapprove' and 'strongly disapprove' fell two percentage points each to 6% and 16% respectively.
A positive view of the president in farm country has been bolstered by perceived progress in trade talks with China, according to Purdue University Extension Economist Jim Mintert, who oversees the Ag Economy Barometer.
"In recent months, there's an increasing percentage of farmers that say they expect to see the trade dispute with China resolved pretty quickly, which is somewhat interesting," Mintert told U.S. Farm Report's Tyne Morgan. "And then secondly, as you look at it, pretty consistently, farmers have told us that they expect a positive outcome for us agriculture to this trade dispute."
 
For more policy and trade news:
Signal to Noise: Does USMCA Get Chewed Up By Impeachment?
John Phipps: MFP Payments' Impact on Farmland Values