Agronomic and management decisions will be critical in 2020 to help farmers see positive returns. Pay close attention to the crop throughout the year and start thinking through potential obstacles today. ( Darrell Smith )
While recent trade agreements indicate positive momentum in the corn and soybean markets, it's still not quite enough to make positive net returns, not without some unexpected help, that is. University of Illinois FarmDoc net farm income projections show negative returns unless farmers have higher-than-expected yields, or the Trump administration grants a third round of Market Facilitation Program (MFP) payments.
"Across Illinois Farm Business Farm Management Farms, farmer return for corn averaged $8 per acre in 2019," according to FarmDoc data. This included an average yield at 237 bu. per acre and an average price of $3.60 per bu. However, that was just a projection, actual yield average came in much lower because of weather challenges.
Returns in 2019 are projected to hit negative $4 per acre with an average yield of 196 bu. per acre on highly productive farm ground. Without the $82 per acre MFP payment, corn losses would have been much more dramatic.
In 2020, farmers might realize the full extent of corn losses as Secretary Sonny Perdue said last week farmers will not receive 2020 MFP payments. Even with potential for the markets to rebound on export demand, it's not enough to offset the $82 per acre loss from no MFP, according to FarmDoc calculations.
FarmDoc research says farmers should be ready for $37 per acre losses in corn, on high-productivity Illinois farm ground—it'll be different in other geographies but could mean negative returns in your area, too.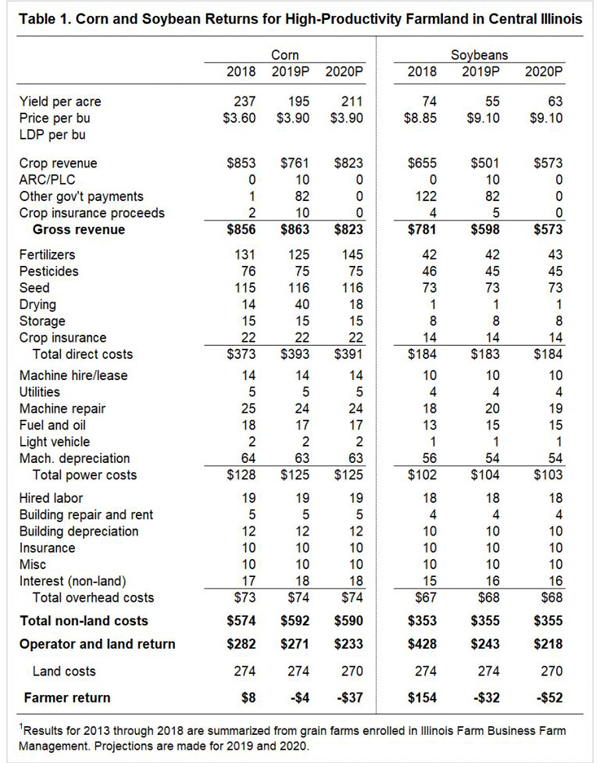 Net return for soybeans expected to drop, too.
While 2019 isn't quite finalized, MFP payments are keeping net returns higher than they could have been due to lower yields. In Illinois, FarmDoc pegs MFP payments at $82 per acre, down from $122 per acre in 2018. The researchers expect final returns to hit negative $32 per acre.
Returns in 2020 are expected to fall further to negative $52 per acre based on 63 bu. per acre yield and $9.10 per bu. prices.
Agronomics and Management Key in 2020
For farmers in Illinois, a corn yield at 230 bu. per acre and soybeans at 70 bu. per acre could put them back in the black in 2020. Take a close look at your budgets as we go into 2020 to figure out what your breakeven and profitable yields are, and where you might be able to trim some fat.
Actively scout fields, be mindful of hybrid and variety placement and make careful management decisions. With higher prices expected, a few more bu. per acre could be the difference between making or losing money this year.