You never know what a year will bring, and it's the same for magazines. We follow where the news takes us, which means we had some unexpected headlines this year. It's not often we write about record prevent plant, extreme flooding and even major international issues like trade, but 2019 provided opportunity to write about them all.
Check out 2019's Farm Journal covers, and cover stories to see what made the biggest headlines.
---
January 2019
"Trump kicked a hornet's nest and now I'm feeling the pain, but the truth is somebody had to do it. I wish somebody would have done it 30 years ago," says Iowa farmer Kevin Pope, 40. "One thing is for sure, I've never seen a president get this close to farming in my lifetime."
With only two years worn from Donald Trump's White House heels, the Manhattan billionaire's waltz with the American farmer has shifted to a foxtrot, jumped to a blistering quickstep and now skirts the edge of a raucous trade mosh pit.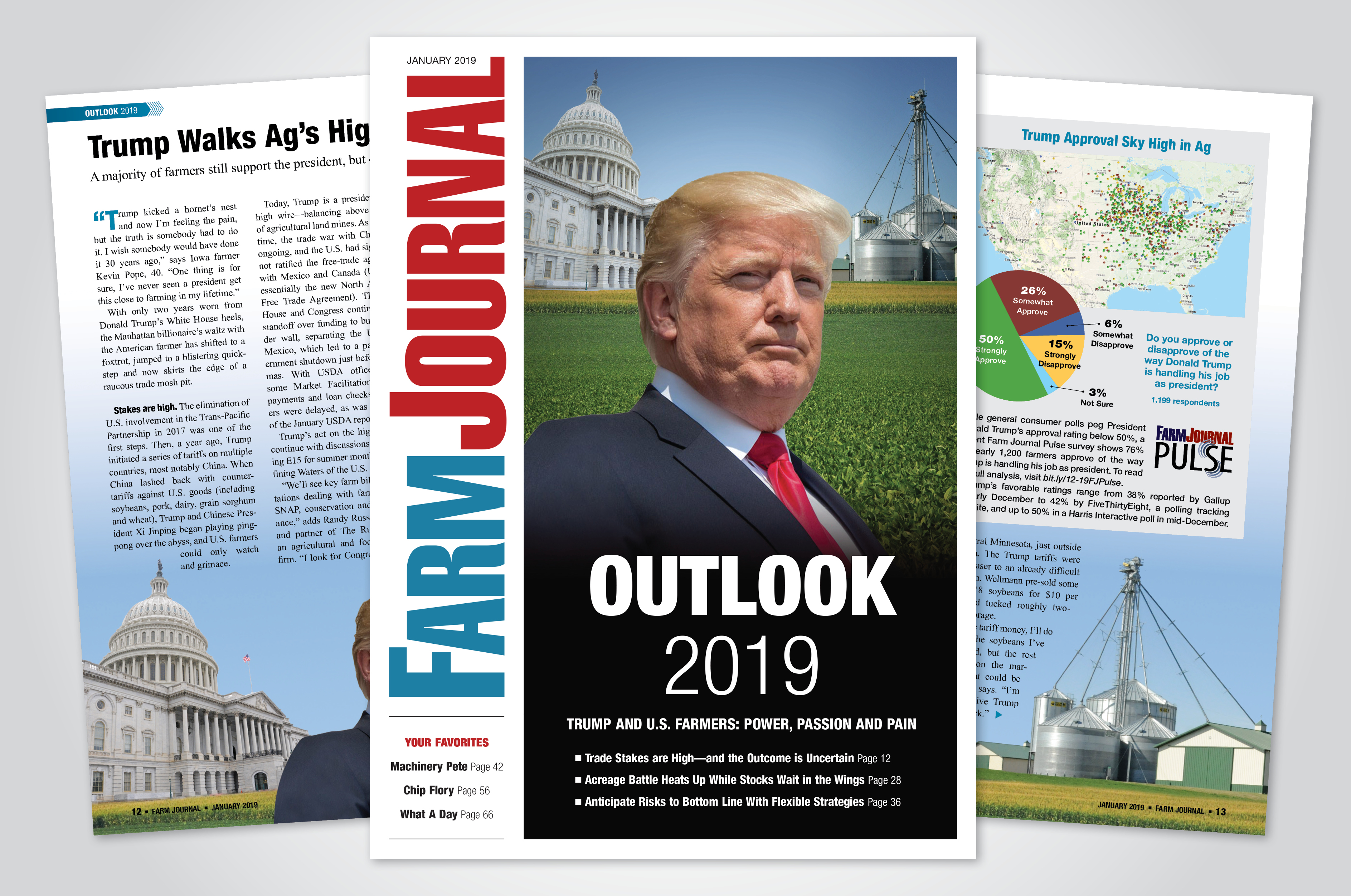 ---
February 2019
Giles Shell was racing against rain when opportunity climbed the Kentucky hilltop where he and a 12-man crew were setting tobacco. Escorted by his father, Gary, a small cadre of agricultural entrepreneurs from California and Colorado had come to probe possibilities for a crop resurrection. With a benched crew on the clock, Shell sat frustrated at the periphery of the gathering with his arms folded in defiance as the parley began. Shell didn't find a hemp opportunity in May of 2014; it found him.

While he listened to the western visitors and stared down at empty rows of light brown silty loam, Shell was forced to reckon with the tight margins of tobacco production. Curiosity raged beneath his stubborn exterior and triggered an exhaustive online search for more information. He was hooked by hemp's potential.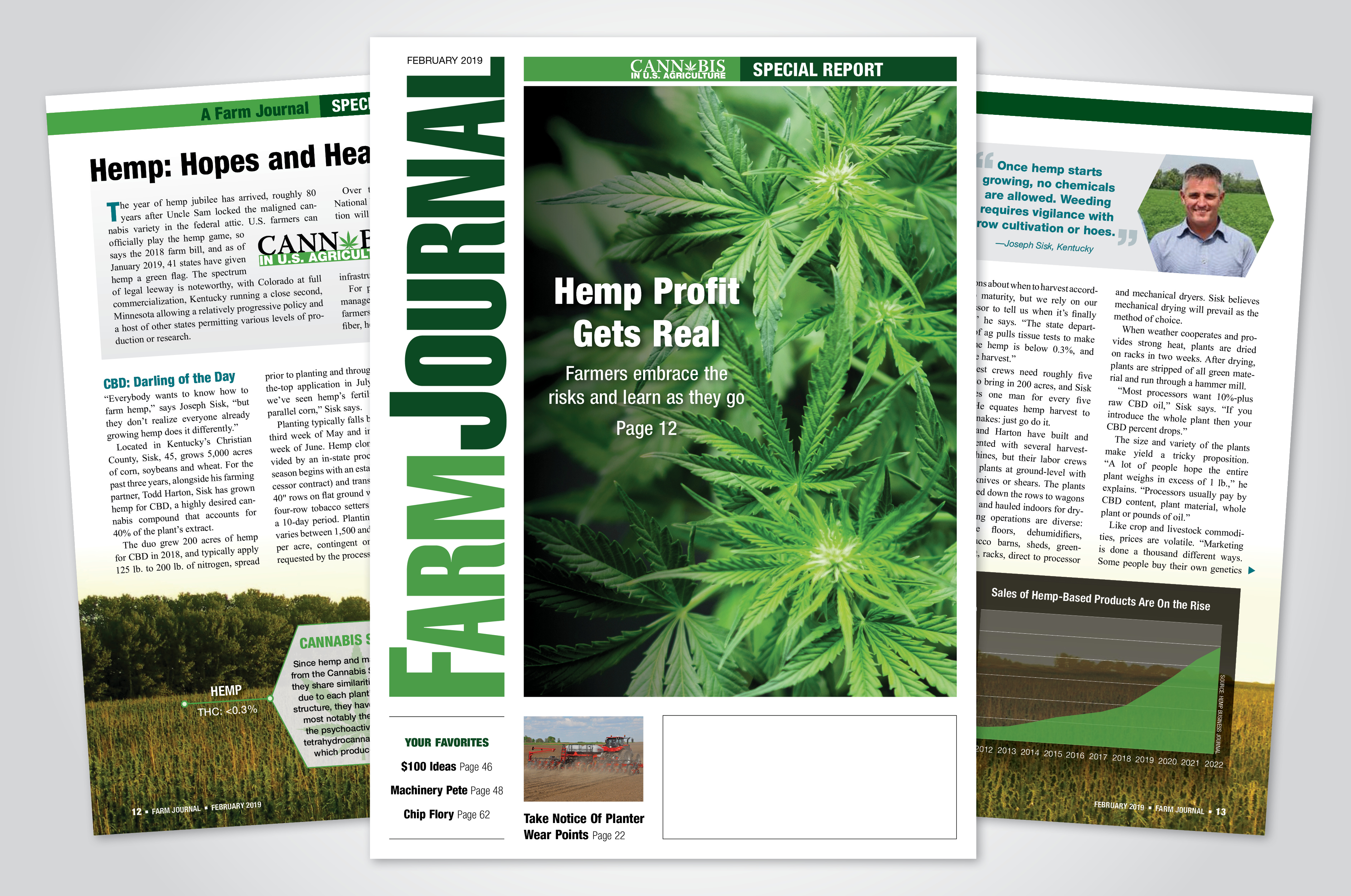 ---
Mid-February 2019
Farmers have a unique connection to the machinery they use on their farms. And for the past three decades, there's been someone whose sole mission is to help farmers make the best machinery decisions.
"I'm a numbers guy," says Greg Peterson, founder of Machinery Pete. "In high school study hall, I would doodle with Minnesota Vikings football stats."
Yes, that's right, the founder of Machinery Pete played with numbers—for fun. All these years later, he's still having fun but his focus has been on farm machinery.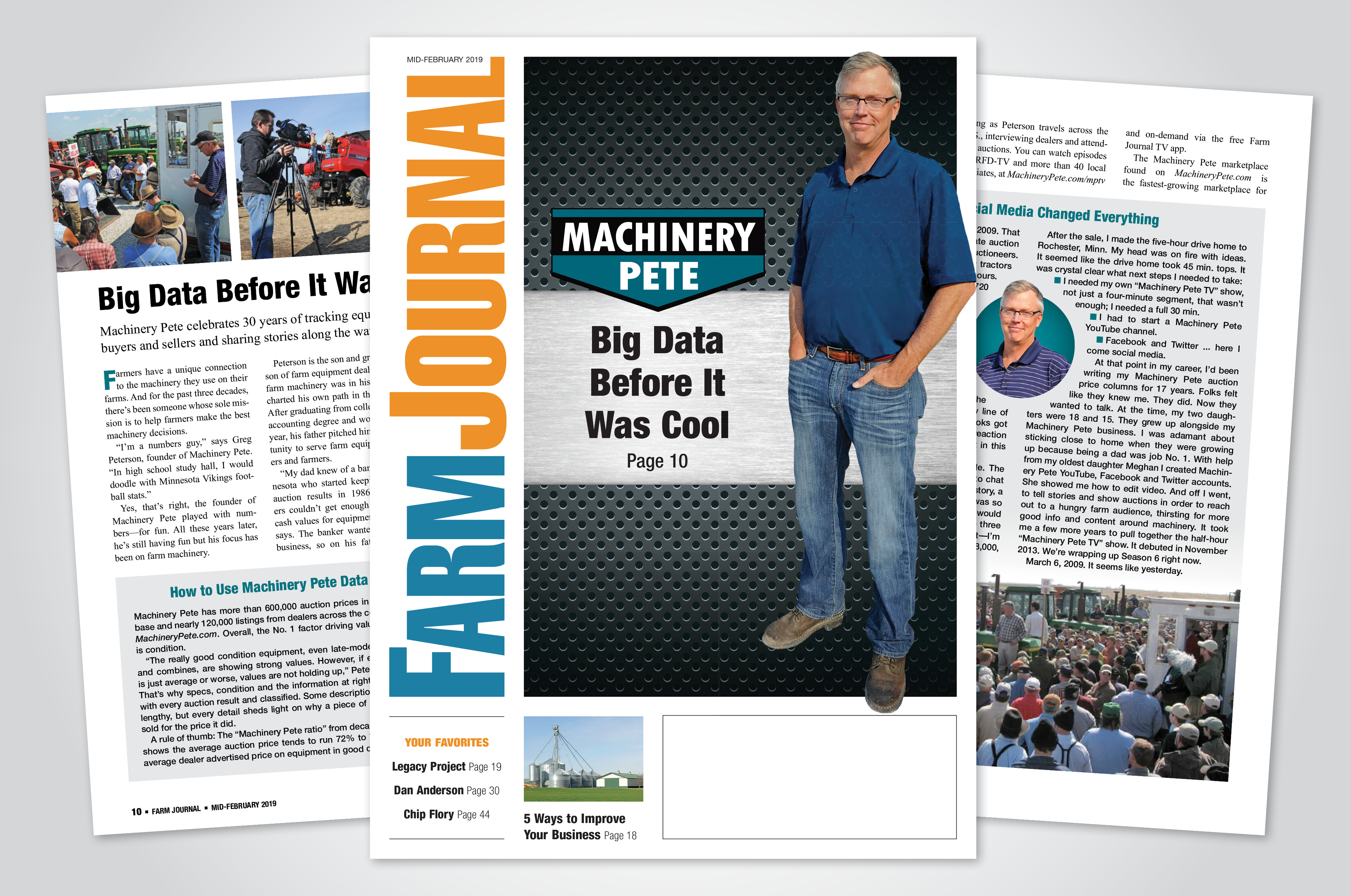 ---
March 2019
Early Start Pays Off for Beans
After sudden death syndrome (SDS) reached epidemic proportions in the early 1990s, farmers started planting soybeans later to give the soil a chance to warm up. In the years since, fungicide technology and other management tools have helped in the fight against SDS, but farmers haven't readjusted their planting dates, sacrificing yield as a result.
In 2017 and 2018, Farm Journal Agronomists Ken Ferrie and Missy Bauer took to the fields to manage planting date and other factors to increase the odds of achieving higher yields.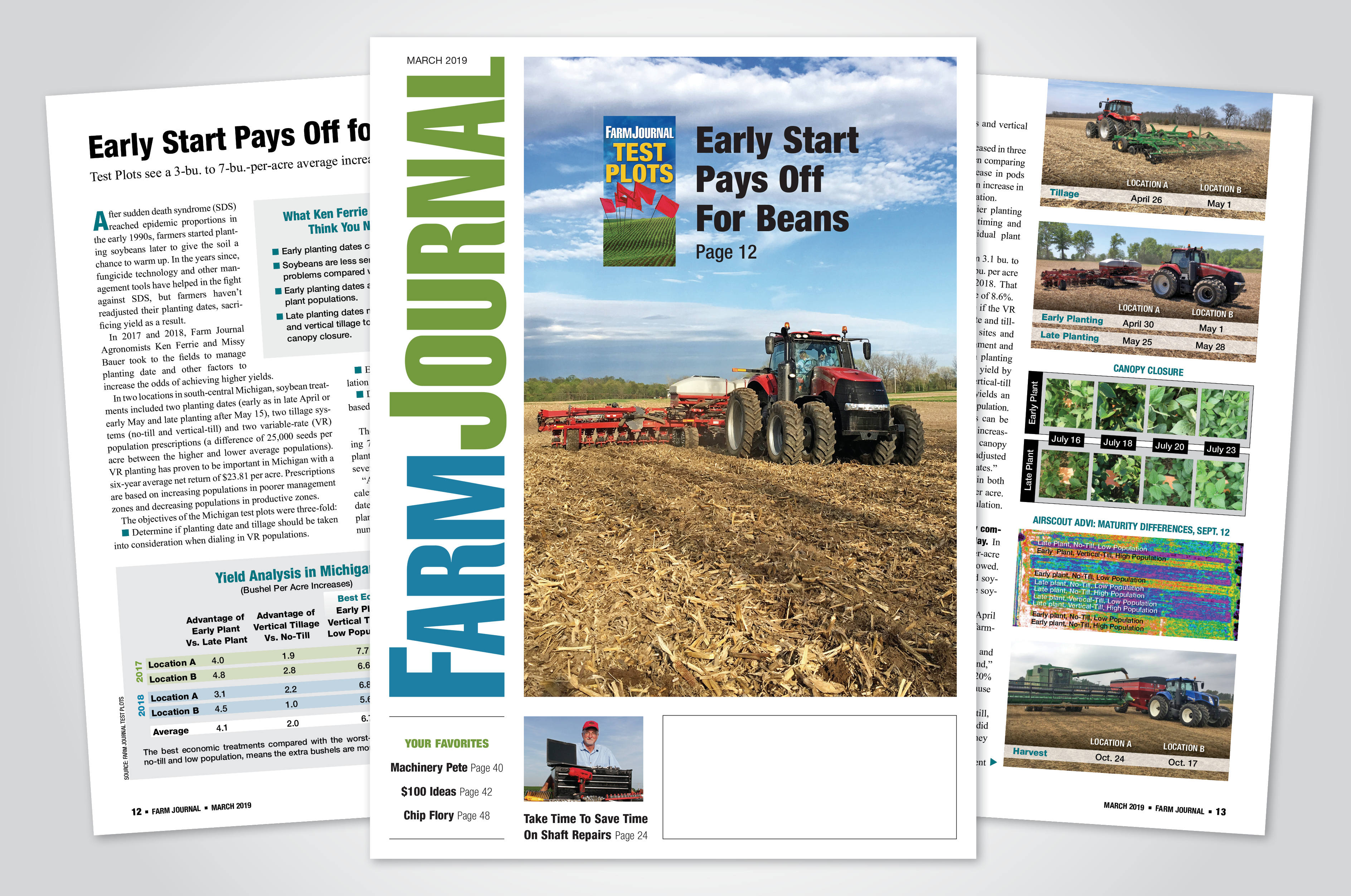 ---
Early Spring
Wind took a big yield bite out of one of Mason Lantrip's cornfields this past summer. When the insurance adjuster showed up to verify the claim, the two men enlisted help from Lantrip's unmanned aerial vehicle (UAV or drone) to assess the extent of the crop damage. "He said, 'Fly it to your four worst spots.' So, I flew the drone over the field and hovered it. He walked to the drone, came back and said, 'Oh, it's really bad in there,'" recalls Lantrip, who farms near Coatesville, Ind.
Ultimately, insurance paid nearly twice the amount Lantrip had expected for the wind damage, and that wasn't the first time the drone, a quadcopter, improved his bottom line.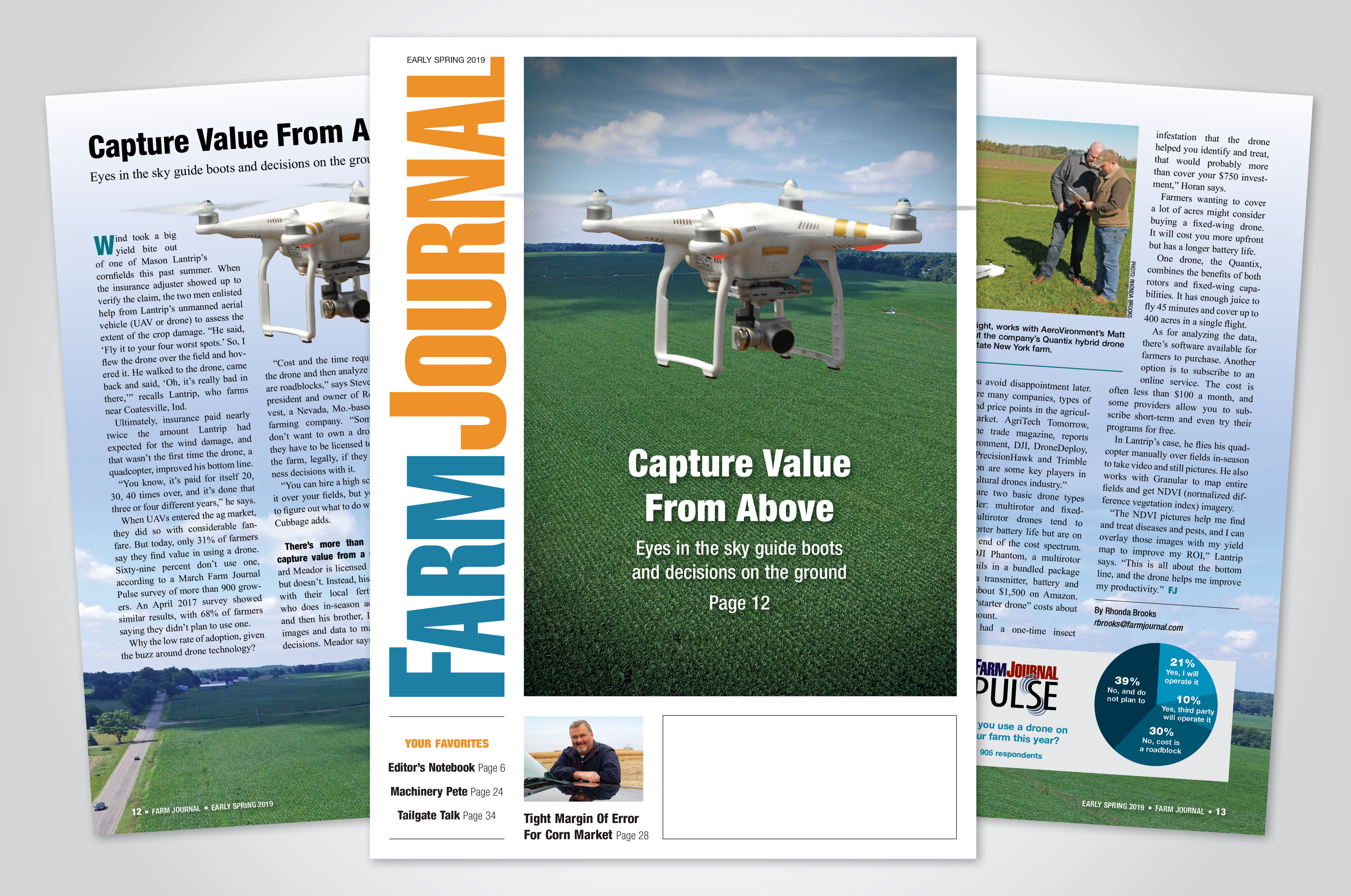 ---
Late Spring
Spring planting season is a hopeful yet anxious time. The days are short and tensions run high. Equipment breaks down and communication does too. Meals are quick and a full night's sleep is rare. Our goal with this planting season package is that the information will come in handy at just the right time.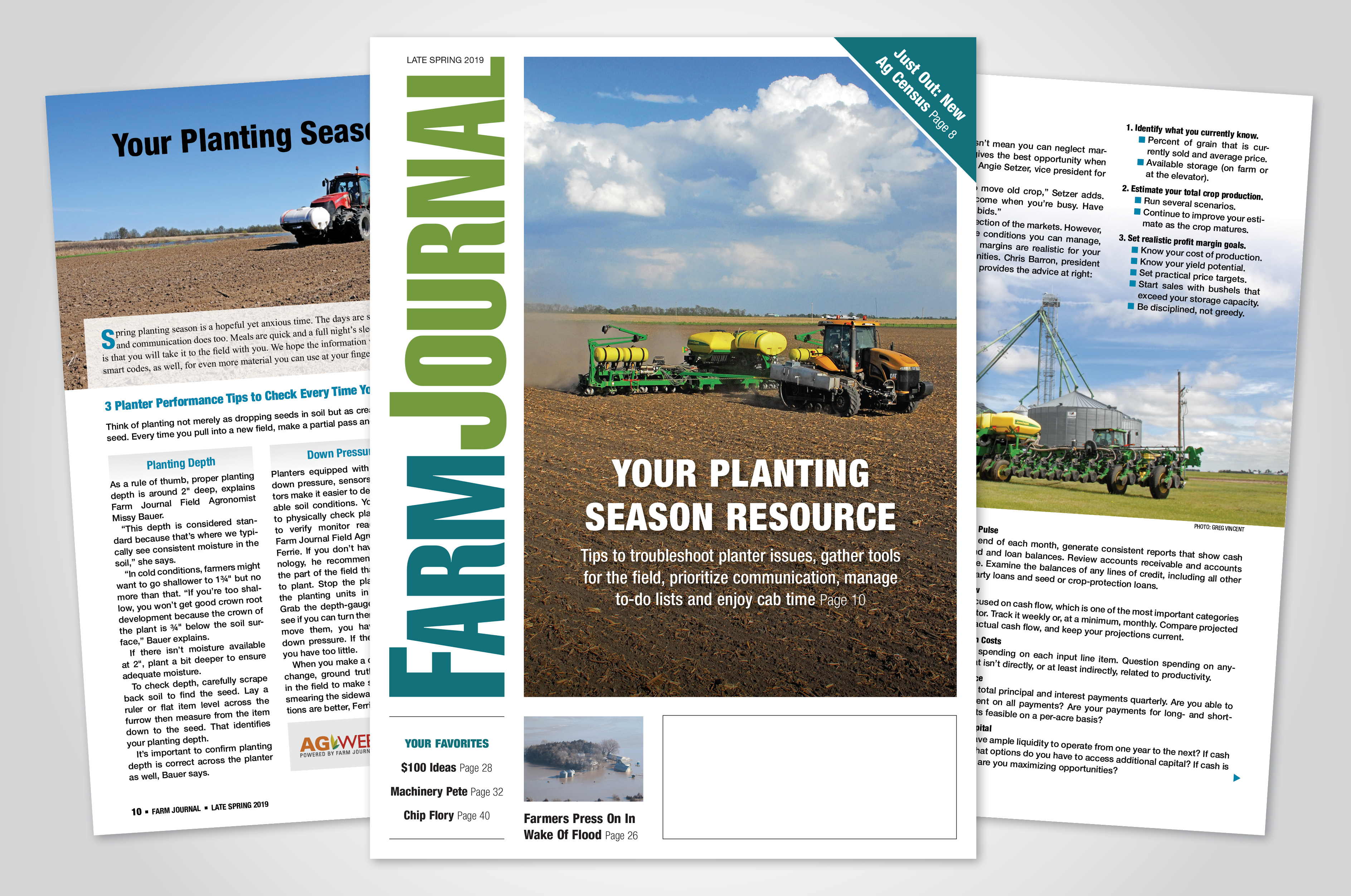 ---
June 2019
Conservation Agriculture: Soil, Savings and the Realities of Farming
According to the plain realities of farming, conservation agriculture's yardstick is efficacy and profit. For the following, featured farms, conservation and financial success are a wedded pair. Each of these farmers has long stood at the vanguard of an effort to mix crop management with environmental awareness and produce tangible benefits to soil and nature, without sacrificing dollars.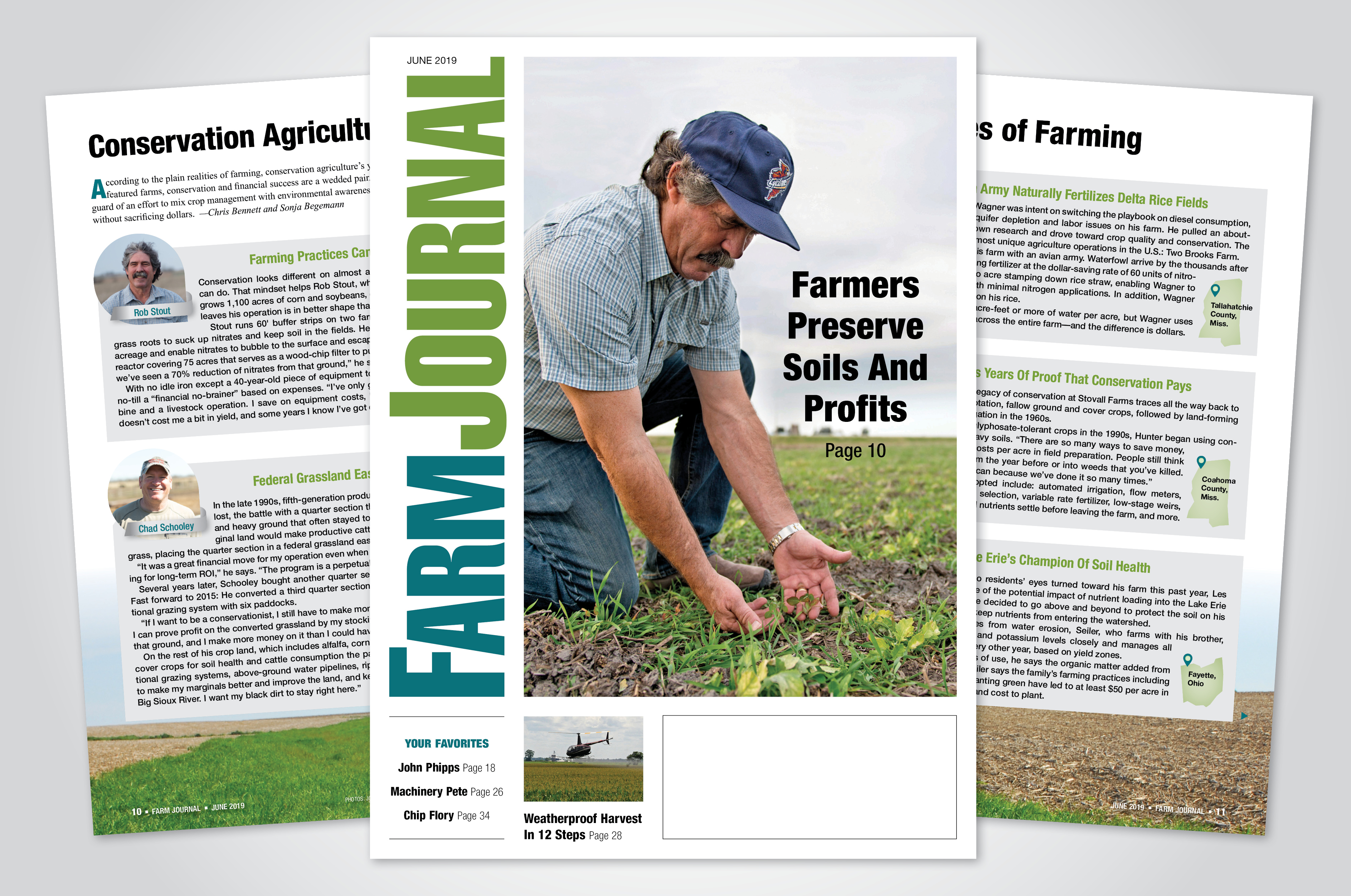 ---
Summer/Seed Guide 2019
Seed and Planting Research You Can Use
For 27 years, Farm Journal Field Agronomists Ken Ferrie and Missy Bauer have studied numerous aspects of planting and seed. Take what they've learned to your fields.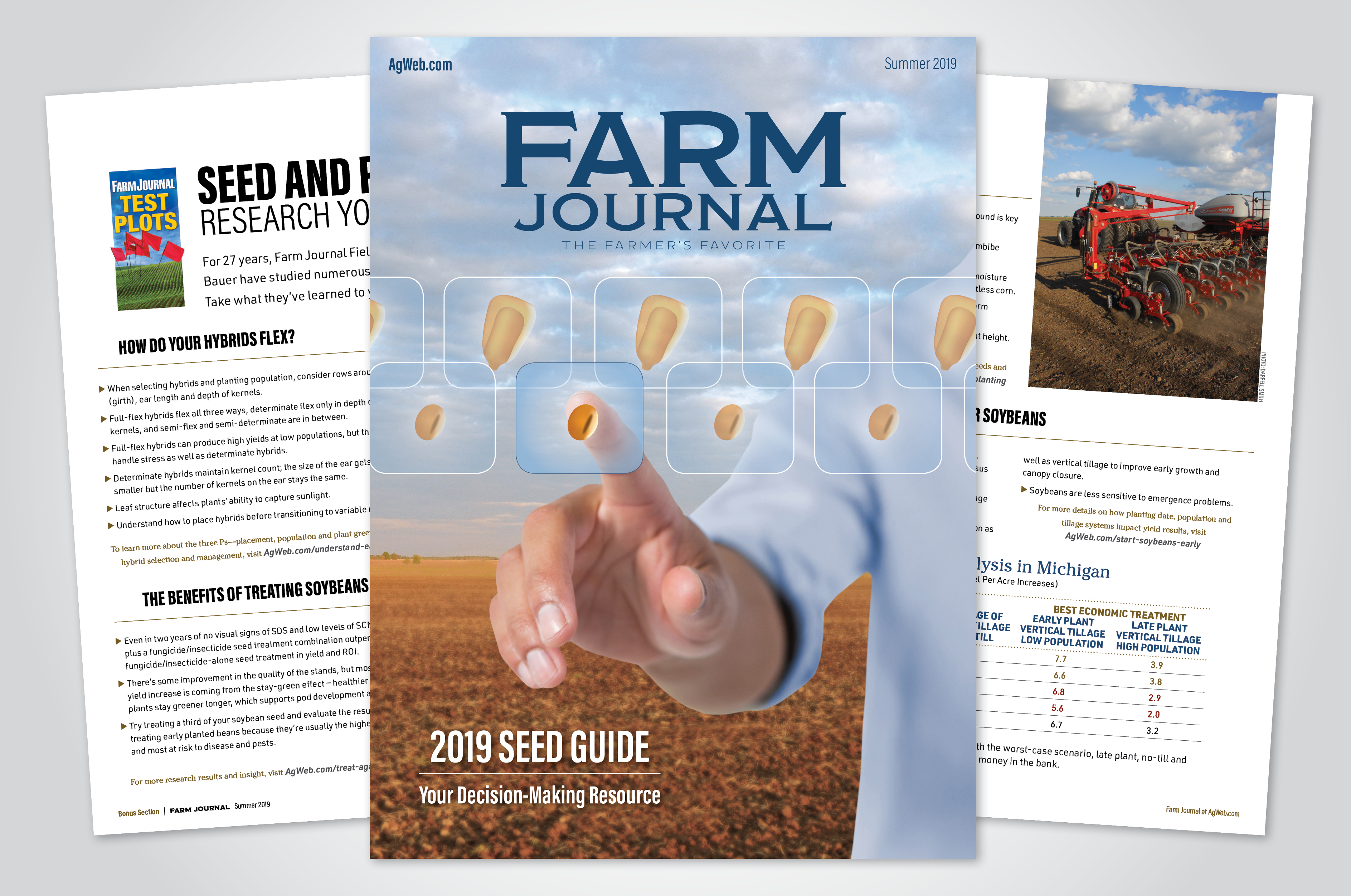 ---
September 2019
Thanks to technology, the days of choosing one farming system for your entire operation are over. Multiple systems are required to overcome weaknesses in each field, take advantage of each field's strengths, and be as economically and environmentally efficient as possible. But how does a farmer gear up to no-till, strip-till, vertical-till or conventionally till as soil and weather conditions and timely field operations demand? What adjustments might be required from season to season? In this series, Farm Journal Field Agronomist Ken Ferrie will explain how to cater farming systems for success field by field.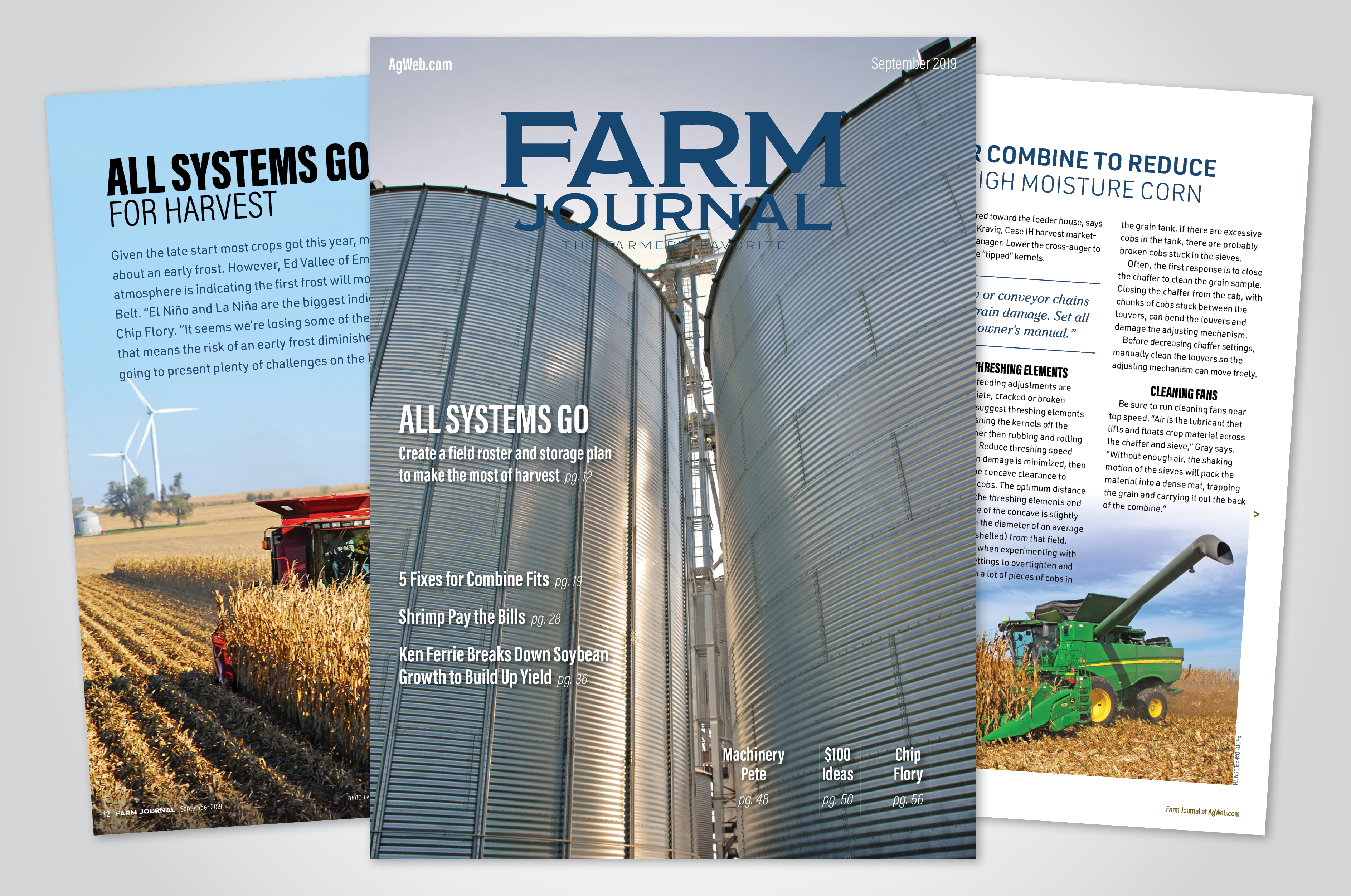 ---
October 2019
Your Value Isn't Measured by Your Net Worth
Katie Lyons grew up on an Illinois farm and experienced first-hand how depression can change farm families.
"When I was younger, he was always out playing with us in the yard having fun," Lyons says of her father, David Hulsizer. "We used to go swimming and do a lot of different activities. I try to hold those memories close because that's all I have left."
In 2013, the unthinkable changed their family forever when Lyons' father died by suicide at 51. She says her dad battled depression and anxiety for years, but when anyone would try to address it, he shut down.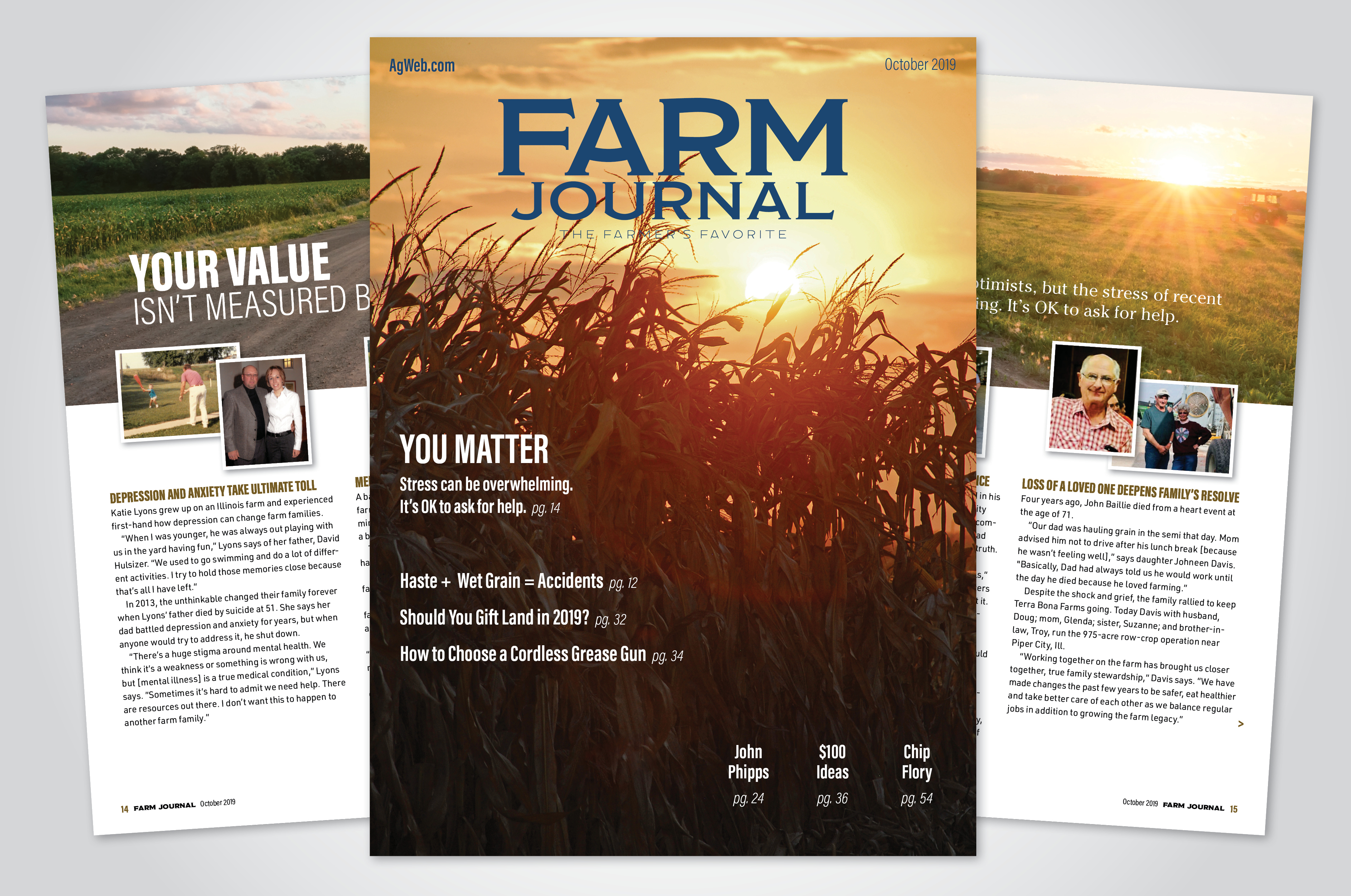 ---
Mid-October 2019
Artificial Intelligence is Transforming Ag-Now
The age of artificial intelligence (AI) in agriculture is in motion. Automated planting and harvesting, unmanned vehicles for cultivation and soil sampling, robotic drone activity and more — AI technology has jumped from theory to design to farmland. In short, farming's driverless machines of tomorrow are at work in the rows today with the implementation of AI meaning a significant shift on many operations in the not-so-distant future.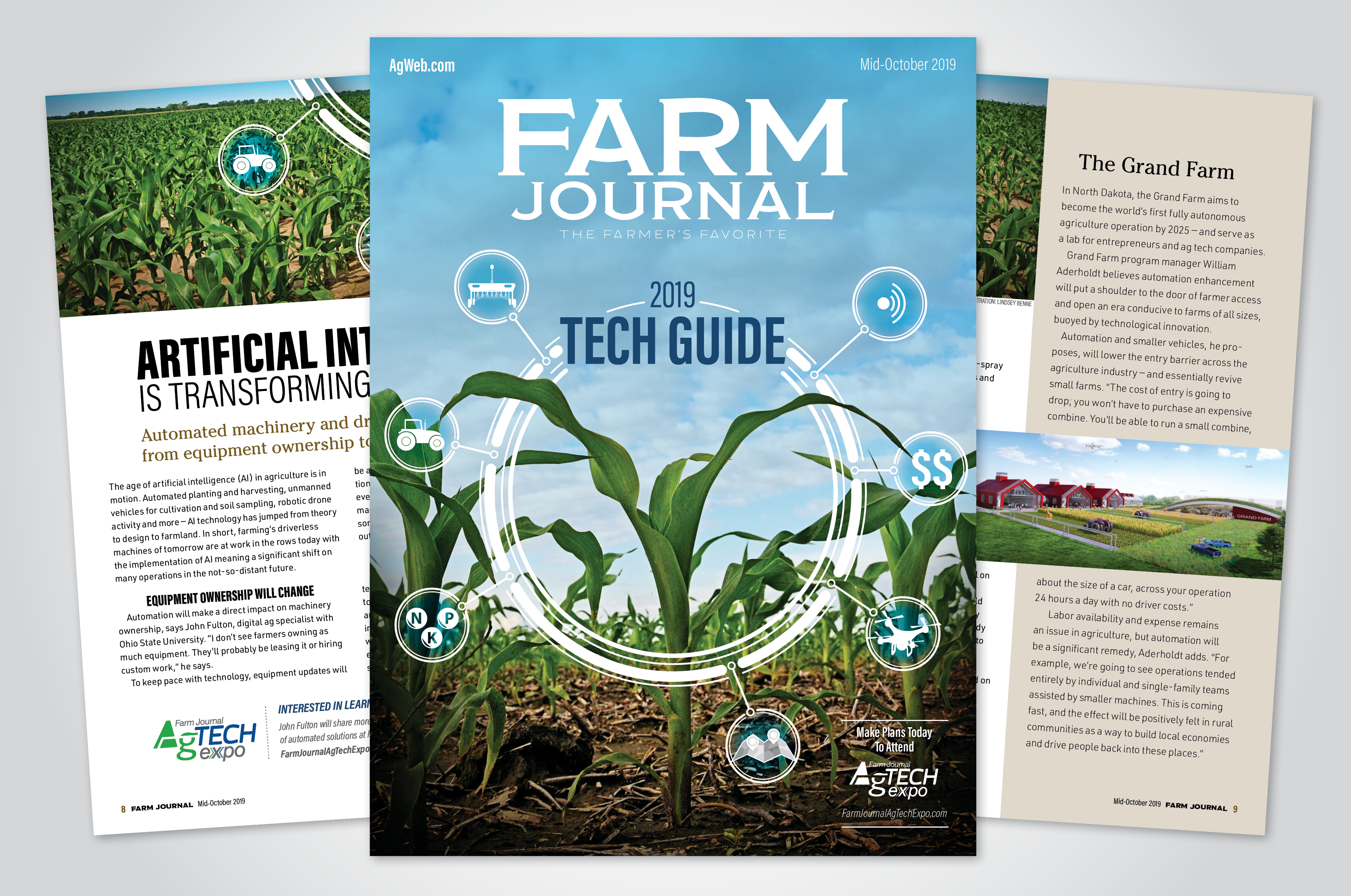 ---
November 2019
As harvest runs full speed at the McCauley farm in White Cloud, Kan., Ken McCauley and his son, Brad, are at an exciting crossroads. The two are increasingly working independently and even starting to focus on their own land outside of the joint operation.
"Brad is 40 years old, and I was 42 when I split off on my own," Ken says. "I think our estate plan is giving Brad a lot of confidence that he can move forward knowing things are going to happen the right way. I have always wanted to help create opportunities like I had for any young farmer, and I've been able to do it for our son."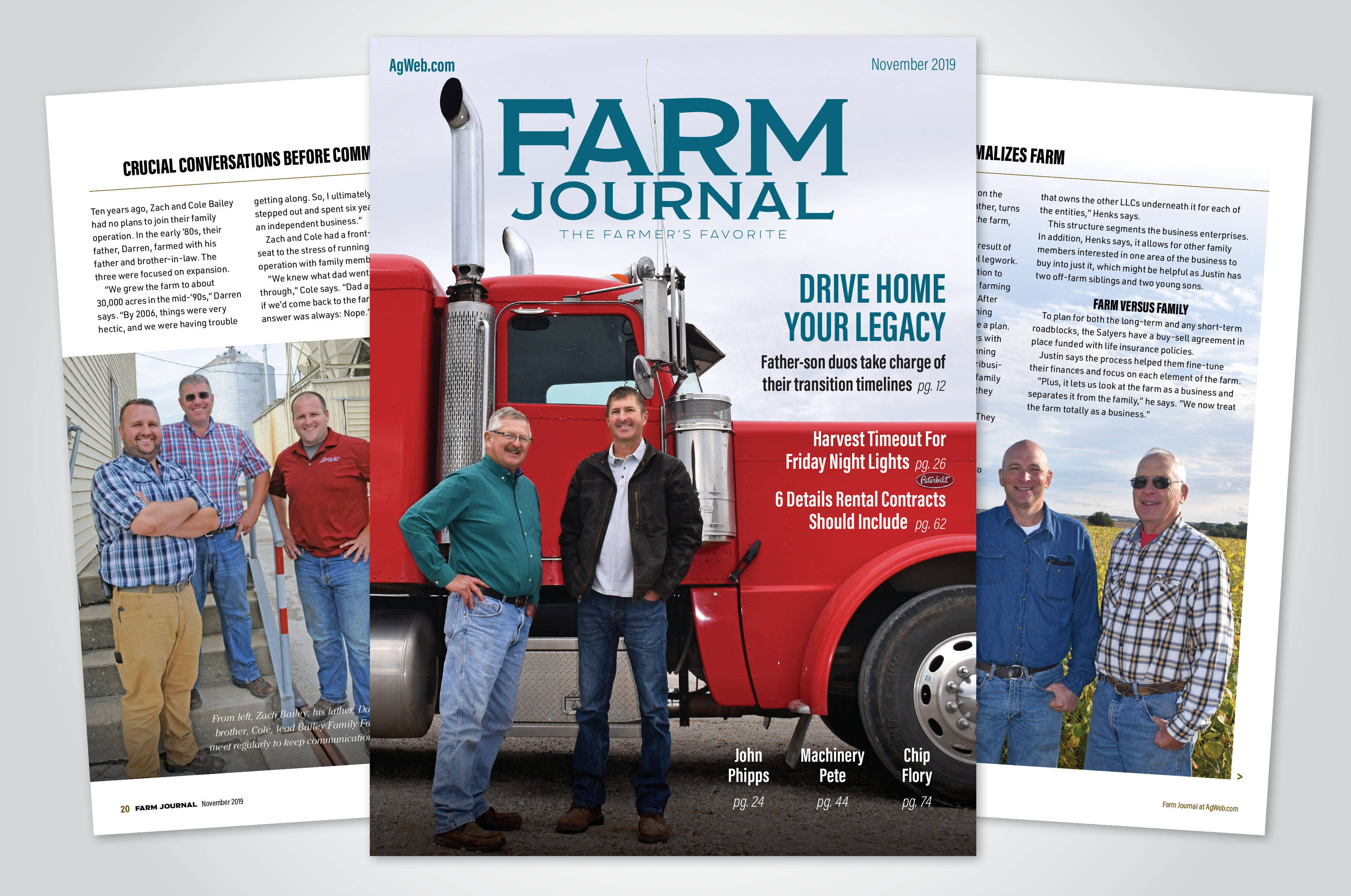 ---
Mid-November 2019
Make Every Machine Earn Its Keep
Introducing a new production system to your existing practice (for example, adding no-till to conventional horizontal tillage to protect erodible land or please a landlord) probably will require acquiring new implements or attachments. That's the time to examine what Farm Journal Field Agronomist Ken Ferrie calls your equipment balance sheet.
Analyzing your inventory will help you maintain sufficient implements and tractors, without burdening your operation with excess machinery. In fact, it's a good idea to study your balance sheet even if you aren't adding a new system or resizing to take on additional land.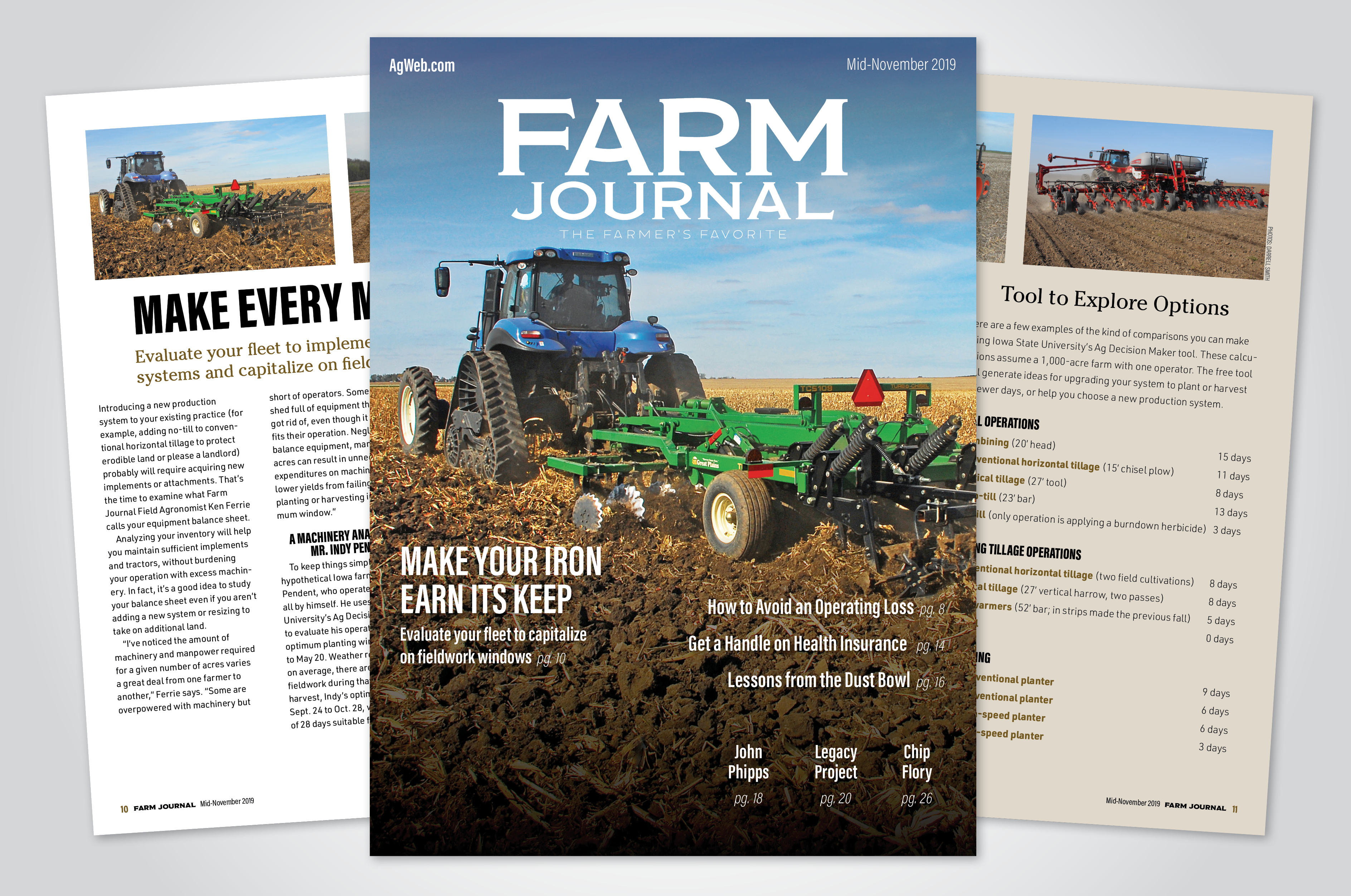 ---
December 2019
Grit With Grace: A Harvest Full of Heart
Curtis Lewis' second home is in the combine seat. With a career as a custom harvester, he was gearing up for the season this fall – until his life took a dramatic turn.
On Oct. 3, Curtis, who lives in Lafayette County, Mo., was taking a load of corn to the elevator when a piercing headache hit.
His wife, Angela, happened to call and she quickly realized he was slurring his words.