Twenty-five years after the last Earthmaster iteration, the redesign has been crafted by Eric Zimmerman, center, product engineer with M&W, pictured alongside Jon Clark, left, and Steve Walder. ( (Photo courtesy of M&W) )
Elmo is back on farmland, with candy apple-colored iron in tow. The M&W name, a storied link in the history of agricultural machinery, has returned to the rows. Elmo Meiners fixated on improving the performance of farm equipment and cranked out a chain of innovative products from the late-1940s to the late 1980s, and one of his most effective—Earthmaster—is back in upgraded form.
Originating in the basement of a grain elevator and spilling onto farm fields across the United States, M&W's manufacturing tale is jam-packed with layers of ingenuity. The return of the redesigned Earthmaster tillage tool is homage to the bootstrap effort and pioneering foresight of Elmo Meiners—and by proxy, the American farmer.
Chain of Innovation
In 1948, Meiners and Art Warsaw tapped a vein leading directly into the heart of the agriculture machinery industry. Meiners was a row crop farmer in Anchor, Ill., and owned Meiners Grain Co.; Warsaw owned an International Harvester dealership. The unlikely McLean County pair, far removed from the constraints of corporate convention, understood the bottom-line equipment needs of a farming operation.
In the Meiners Grain Co. basement, Meiners and Warsaw crafted a 9-speed transmission—essentially an auxiliary addition for a Farmall M tractor. The extreme success of the 9-speed transmission gave birth to M&W Gear Co., and forced the duo's production out of the basement and into a remodeled schoolhouse that served as an initial headquarters and churned out thousands of transmissions each year.
Only three years later in 1951, M&W developed oversized pistons, ramping up Farmall M horsepower from 36 to 45. (Warsaw sold out to Bill Ertel and continued in manufacturing with the creation of A&W Dynos.) In 1954, Meiners' innovative streak continued with the introduction of a live PTO kit. The chain of successes enabled a final M&W move to Gibson City in 1955, and an eventual network of five branch houses and roughly 9,000 dealers across the U.S. Each product was trialed in the dirt of Meiners' 4,800-acre test farm—turbo kits, grain dryers, grain wagons—and tillage tools. (Ever the entrepreneur, Meiners retired from M&W in the early 1990s, but maintained his luxury golf cart business, Elmco, producing a Rolls-Royce imitation vehicle kitted with television, wet bar, refrigerator, chrome rims, hood ornament and wood-grain dash.)
Two-In-One
Currently owned by RhinoAg, M&W is undergoing a revival, embodied in the Earthmaster's return. "Elmo's big deal was to take something and make it better—solutions for real farming problems," says Jon Clark, Technical Service, M&W.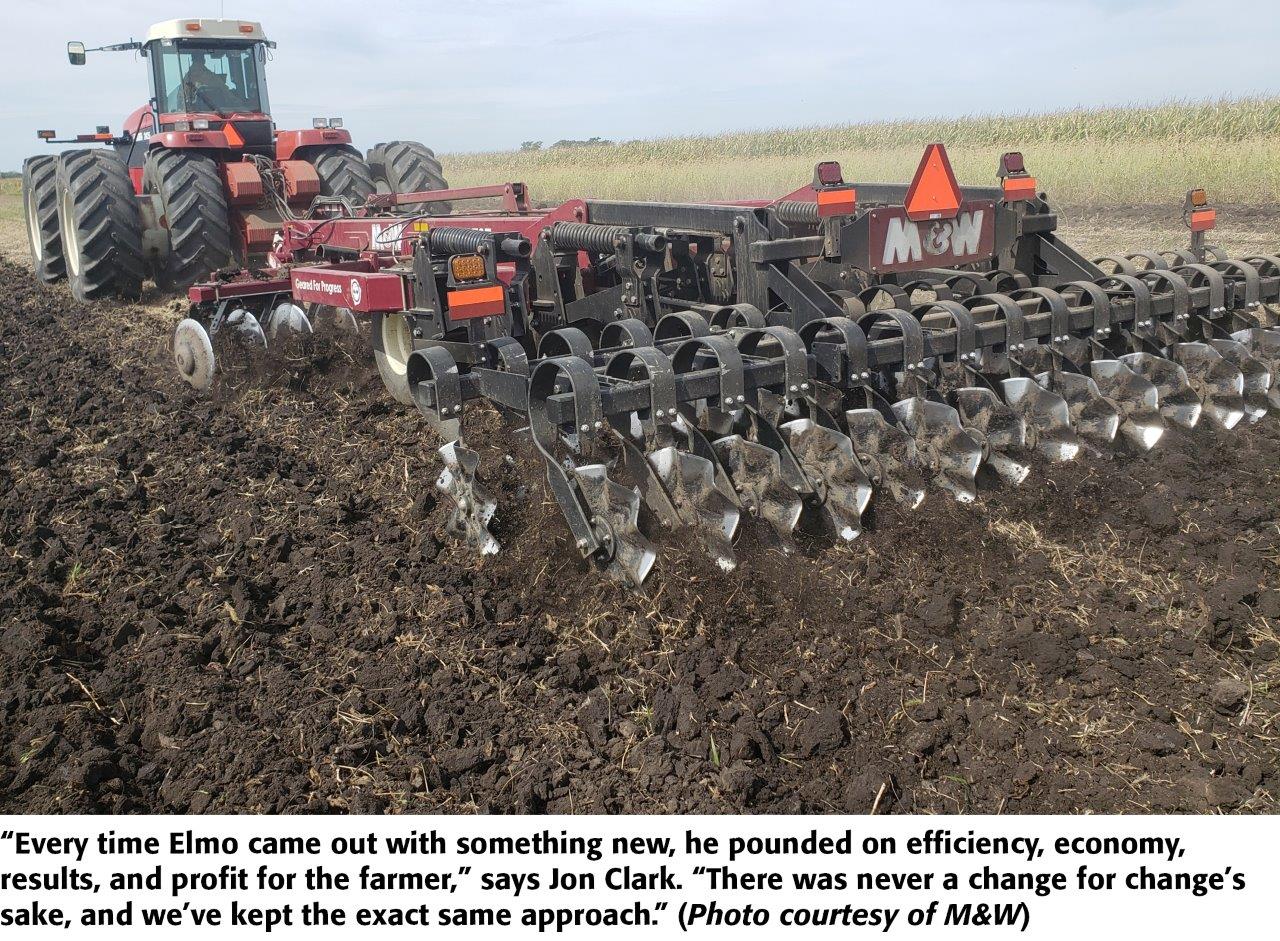 Originally debuting in the early 1980s, Earthmaster doubled a disc with deep tillage to perform two operations in one pass. "Midwest ground compaction is a consistent problem," Clark describes. "We get heavy machinery and heavy compaction in the fall atop maybe 18" of topsoil. Prior to Earthmaster, we had deep tillage tools to alleviate the problem, but Elmo saw the need to combine a disc with a ripping tool, and that hadn't been done before."
"Earthmaster was so innovative, and it spread like wildfire after its introduction," explains Steve Walder, engineering manager with M&W. "It brought time savings and excellent functioning—burying stalks and debris, and eliminating compaction."
Twenty-five years after the last Earthmaster iteration in the 1990s, the redesign has been crafted by Eric Zimmerman, product engineer with M&W, with three new models: M&W 1707; 2209; and 2511.
The frame and wheels have both been strengthened, but the biggest development is the addition of a finisher on the back, according to Zimmerman. "When we thought about relaunching the M&W brand, we knew many other companies use a rolling basket to finish the soil after the tillage tool," he explains. "Quite often, we're operating in marginal soil conditions—wet to very wet, and that means a rolling basket is ineffective. One of our main objectives and goals was not only to capture the early M&W excitement, but we wanted to develop a tool that doesn't use a rolling basket, and could be used in any condition, even mud, and do very well."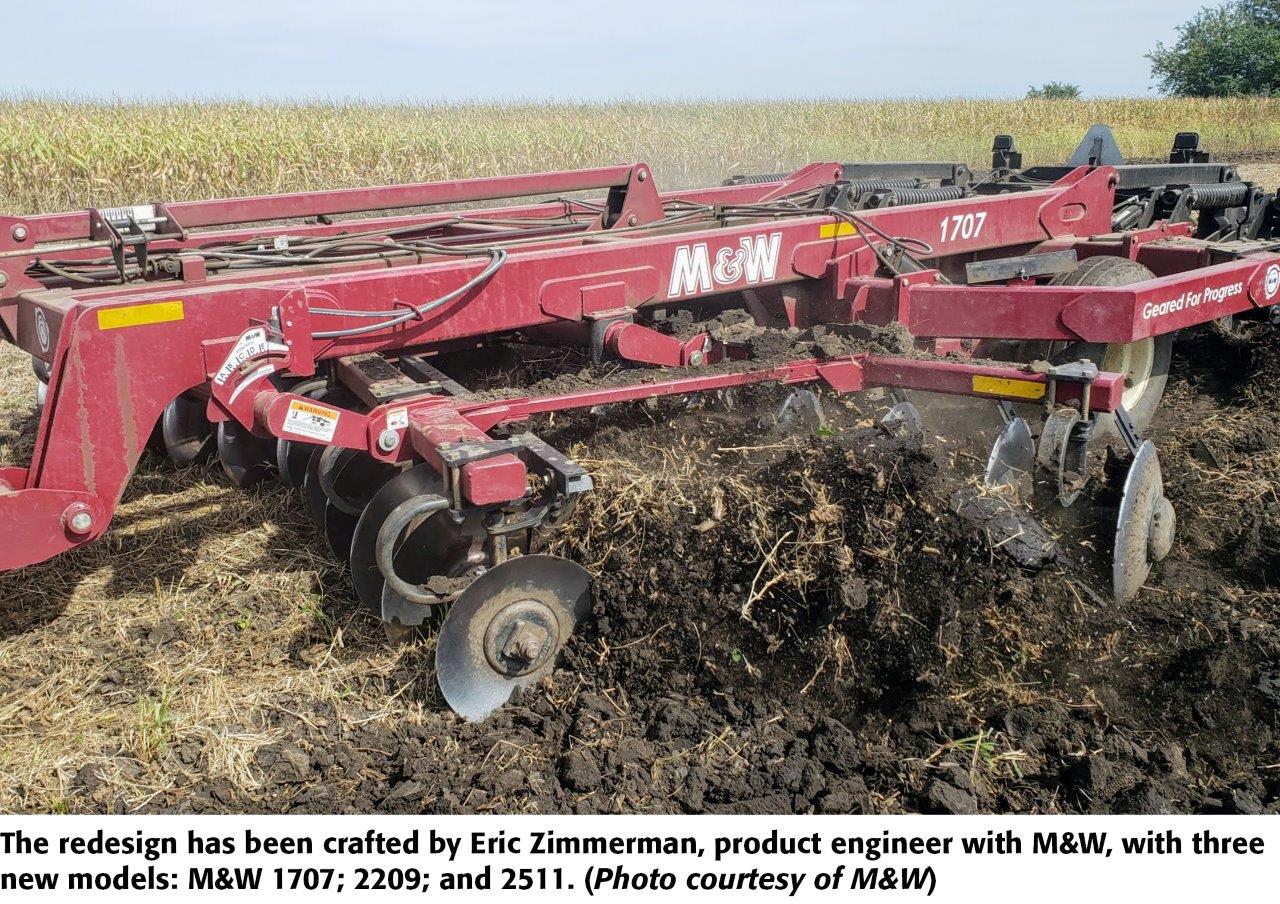 The new leveler has two ranks of offset, independent wavy coulters set at a slight angle to size and level. "This is now an all-weather leveler," Walder adds. "Testing has shown this tool can operate in all conditions, while a rolling basket is only a fair-weather tool."
Candy Apple
Clark, Walder and Zimmerman are all part-time growers, backed by multiple generations of farming experience. "We all farm and test equipment on our own ground," Clark says. "There's so much passion out there for M&W. We're continuing the legacy—and going back to Elmo's red candy apple, his signature color. Every time Elmo came out with something new, he pounded on efficiency, economy, results, and profit for the farmer. There was never a change for change's sake, and we've kept the exact same approach."
The updated Earthmaster is also intended as a springboard for additional M&W products, Zimmerman says: "This is the initial launch and we're going to add a smaller model that's in development, and then branch out to other areas of tillage. Just like Elmo, everything we produce will be targeted to improve performance on the farm."
For more, see:
Government Cameras Hidden on Private Property? Welcome to Open Fields
Farmland Detective Finds Youngest Civil War Soldier's Grave?
Descent Into Hell: Farmer Escapes Corn Tomb Death
Evil Grain: The Wild Tale of History's Biggest Crop Insurance Scam
A Skeptical Farmer's Monster Message on Profitability
Farmer Refuses to Roll, Rips Lid Off IRS Behavior
Rat Hunting with the Dogs of War, Farming's Greatest Show on Legs
Killing Hogzilla: Hunting a Monster Wild Pig  
Shattered Taboo: Death of a Farm and Resurrection of a Farmer     
Frozen Dinosaur: Farmer Finds Huge Alligator Snapping Turtle Under Ice
Breaking Bad: Chasing the Wildest Con Artist in Farming History
The Great Shame: Mississippi Delta 2019 Flood of Hell and High Water
In the Blood: Hunting Deer Antlers with a Legendary Shed Whisperer
Farmer Builds DIY Solution to Stop Grain Bin Deaths
Corn Maverick: Cracking the Mystery of 60-Inch Rows
Blood And Dirt: A Farmer's 30-Year Fight With The Feds
Against All Odds: Farmer Survives Epic Ordeal