Planting corn. ( Darrell Smith )
Farmers across much of the Midwest are facing planting delays—in some cases severe.
There are three key implications of late planting, according to University of Illinois Farmdoc:
First, incomes could be low because of low yields

Second, switching to soybeans will be more complicated than expected because of low prices

Third, prevented plant could be a factor on many farms
According to USDA, twenty-three percent of U.S. corn acres are planted, compared to 46% over the five-year average. With delayed planting, farmers could see lower corn and soybean yields. Illinois and Ohio agronomists also anticipate preventive planting could come into play on many Midwest farms. Here's a glimpse at planting:
Illinois: 10% compared to a 66% five-year average

Indiana: 3% compared to a 35% five-year average

Iowa: 36% compared to a 51% five-year average

Kansas: 36% compared to a 51% five-year average

Michigan: 3% compared to a 16% five-year average

Minnesota: 6% compared to a 42 five-year average

Missouri: 49% compared to a 74% five-year average

Nebraska: 35% compared to a 47% five-year average

North Dakota: 3% in 2018 compared to a 23% five-year average

Ohio: 2% compared to a 27% five-year average 

South Dakota: 0% compared to 29% five-year average

Wisconsin: 7% compared to a 24% five-year average
While delayed planting could lead to lower yields, farmers have dealt with this situation before. In 2009 farmers planted late and yields were 10 bu. above trend. Last year, however, parts of Iowa and Minnesota last year were planted late and had below trendline yields.
At this point, many farmers are weighing their crop decisions. In some areas it might soon be time to switch to soybeans, however, low prices are putting pressure on farmers to stick with corn. Farmdoc breaks down what yields farmers need to achieve to break even (in Illinois):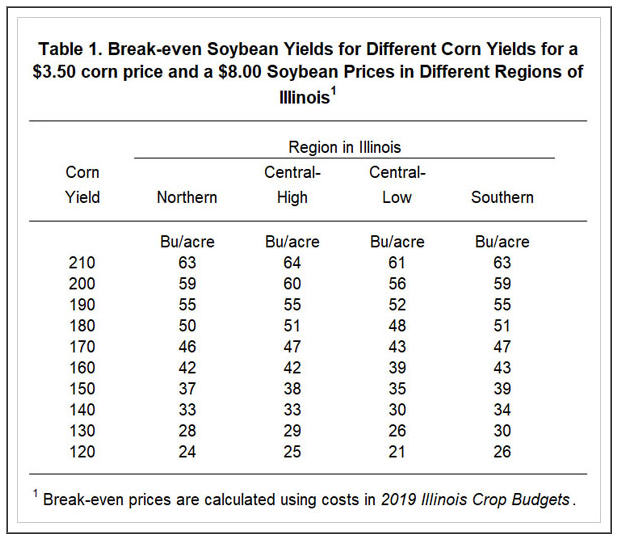 What happens if you're stuck with prevented plant?
Prevented plant, the "final planting date," outlined by crop insurance policies varies by state and crop. Farmers who qualify for prevented plant include those with revenue protection, revenue protection with harvest price exclusion and yield protection.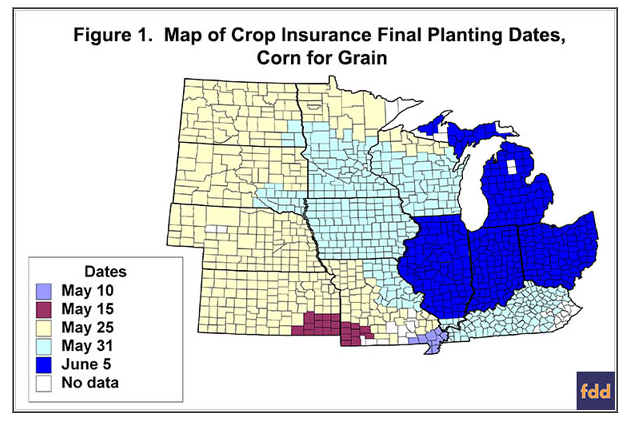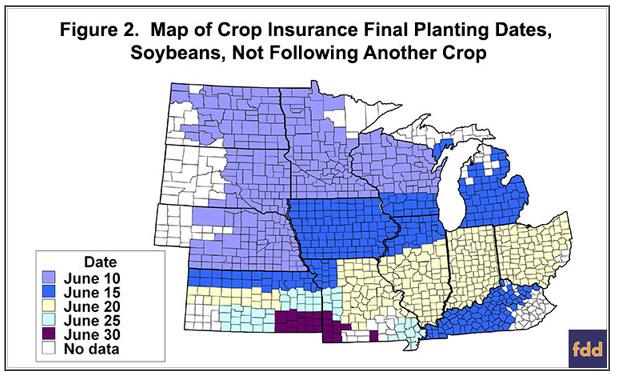 Unless a 5% buy-up was purchased, a farmer will receive 55% of their guarantee for prevented plant acres in corn, according to Farmdoc. Soybeans receive 60% of their guarantee.
Acres eligible for prevented planting are limited to the number of acres in the insurable unit unless there's a history of double crop production. If acres haven't increased, the number of acres eligible for a crop equals the maximum acres planted to that crop in the insurable unit over the past for years, according to Farmdoc. A similar calculation is performed for soybeans, however, it's recommended you speak with an insurance agent to understand your options.