As growers, seed dealers and processors hurl accusations of fraud and failure—one lesson, among many, is increasingly clear: Hemp is a crop unto itself and a solid contract is crucial from the get-go. ( Photo by Manstrom Photography )
Take the hemp money and run. Expect litigation to rise as the 2019 hemp crop comes in during the first harvest since legal hurdles were lowered in the 2018 farm bill. In many cases, as growers, seed dealers and processors point fingers or hurl accusations of fraud, failure, theft and breach of contract—one lesson, among many, is increasingly clear: Hemp is a crop unto itself and a solid contract is crucial from the get-go.
Against the backdrop of a growing number of hemp-related lawsuits surfacing in the U.S., the contractual weakness of generic agreements, ill-defined terms, and the haze of best growing practices are a recipe for a farmer's financial pain. A tight contract, overseen by the eye of a hemp-savvy attorney, provides a layer of protection during the present period of hemp uncertainty.
Absolutely Forbidden
As disagreements and malfeasance related to CBD and seed spill over to court rooms, the timing is in sync with hemp's rollicking rise, describes Jesse Mondry, an attorney with Harris Bricken, and head of the firm's Portland litigation team. "Hemp litigation has increased for the past couple of months and it will continue to rise, at least for a few more months, because this is the first crop under the 2018 farm bill," Mondry explains. "There is lots of uncertainty because people don't know exactly what they're doing yet, even as far as how to store the crop or how to process it, and that's part of why litigation is happening."
Front and center example: In September 2019, Elemental Processing (Lexington, Ky.) hit HP Farms (Troutdale, Ore.) with a $44 million lawsuit, alleging receipt of fraudulent seed for CBD production. Elemental claims HP delivered a batch of predominantly male seed—absolutely forbidden in CBD hemp farming which requires feminized seed; no males allowed. (Whether male or female, hemp seed is indistinguishable to the eye.)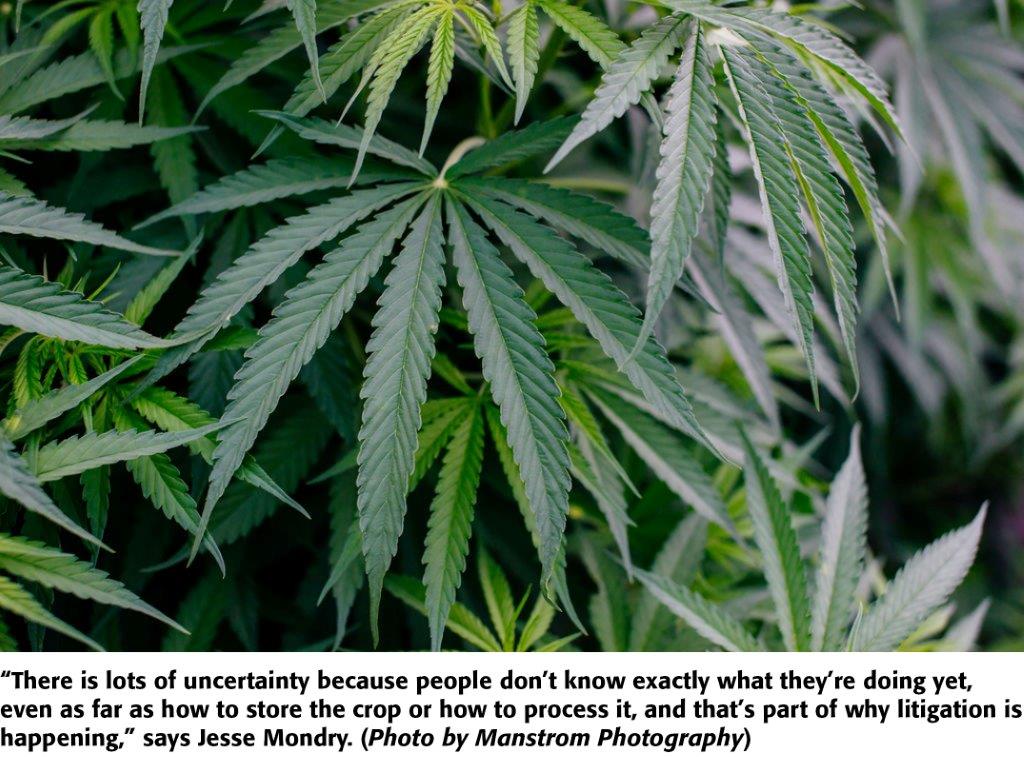 After Elemental distributed the HP-provided seed, its farmer clients got whacked with a jarring surprise in late-season when the plants developed pollen sacs—indicative of males. Bottom line: Elemental claims the male seed allowed $44 million to bounce.
When hemp lawsuits go to court, there is far more at play than simply referencing a contract to settle a given dispute. Why? Hemp contracts, at present, are sometimes riddled with holes and buttressed with little more than nebulous text.
Willful and Wanton
Counterintuitively, some hemp industry players are not well-educated about hemp, and the disconnect inevitably leads to problems, contends Harris Bricken attorney Nathalie Bougenies. "There is a lack of guidelines, certainly at the federal level, and that makes it difficult for everyone, even attorneys, to know what to look out for until presented with problems. You don't know what you don't know until you start working in the hemp industry, and too many people—including growers and processors—have never worked with hemp before. Therefore, all of this has contributed greatly to a rise in litigation."
"Because people are not sophisticated or well-versed in the hemp industry, it is vital to have a clearly stated contract. Everyone involved needs to understand their obligations and when they are no longer liable," she adds.
Case in point: On July 9, 2019, Boring Hemp Company (BHC) filed suit against Natural Health Resources (NHR), Terry Vickery and Chris Kiernan, for breach of contract and "an amount to be proven at trial, but not less than $563,200."
In January 2019, according to BHC's complaint, NHR signed a "Hemp Purchase Agreement" with BHC, and agreed to buy 9,000-14,000 lb. of hemp at $50 per pound. The agreement did not specify CBD percentage or the moisture content of the hemp. The precise weight of the hemp was to be determined on delivery via a certified scale. Further, if payment wasn't received by BHC in 30 days, plus an additional 10-day grace period, a 10% penalty would be shouldered by NHR.
On Jan. 24, NHR retrieved a hemp load from BHC in Boring, Ore. After placement on a certified scale, the load net weight measured 10,240 lb. according to the complaint. Therefore, the purchase price dictated BHC was due for a $512,000 (10,240 x $50) payment. When NHR didn't pay, BHC tacked on the 10% penalty ($51,200).
Asking for an amount no "less than $563,200," BHC is pulling no punches: "Defendants' actions in depriving BHC of the possession, use, and value of such industrial hemp was intentional and attended by circumstances of fraudulent and/or willful and wanton conduct."
(For more on potential fraud, see Hemp Pitfalls and Promise: Alarm Sounded by Midwest Grower)
Assume Nothing
Whether buying seed or selling a hemp crop to a processor, growers need separate, explicit contracts on both ends, Bougenies explains. Particularly in a hemp-related contract, the details—including the simple and complex—must be clearly covered, she notes. Specificity is an absolute: "Be sure you can lawfully sell your product to a processor; most states mandate that seeds and raw hemp be sold to a licensed processor. Ensure contracts specify the buyer's license and include warranties, where basically the processor agrees to remain in compliance with all applicable laws, permits and registrations."
"Make sure the buyer hasn't entered into an exclusive agreement with another grower," Bougenies continues. "Also, who holds title to the hemp and when? Another thing, be certain the goods are carefully defined; I see a lot of contracts where this isn't specified. For example, is it feminized seeds being sold? What is the CBD concentration? What is the quantity and the frequency of delivery? Every hemp contract must have clarity. Never assume anything is too obvious."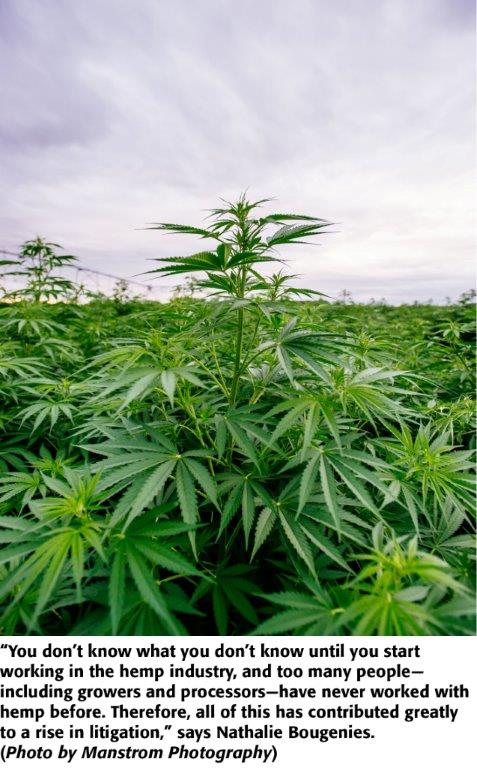 Mondry, author of "Avoid Hemp Litigation with a Real Agricultural Production Contract" at Harris Bricken's Canna Law Blog, warns of two frequent red flag-areas—CBD and seed. "CBD is the big one when growers and processors don't specify CBD content or that the purchase price doesn't fluctuate based on the CBD content. Second, I see farmers lacking the right security in contracts with seed sellers. With sellers, there is a lot of fraudulent or bad hemp seed out there."
What happens if hemp doesn't meet testing requirements and rises above THC thresholds? The scenario can be a reality for growers, yet contracts sometimes ignore the possibility, Bougenies stresses: "I've seen agreements where test results aren't even mentioned. If a significant amount of your harvest can't be sold, what do you do? If a sample doesn't meet THC testing requirements, a contract can ensure the buyer gets a portion or all of a buyer's deposit back, generally based on the amount of hemp delivered. But can a buyer sue? A grower, especially, must consider all of this because that is a huge liability."
Bougenies also stresses the useful role of purchase order (PO) arrangements, an informal approach typically utilized after parties conduct hemp business via agricultural production agreements. (For more on POs, see Bougenie's post: Top Five Hemp Purchase Order Terms)
Considering the legal complexities and shifting landscape of a rapidly evolving hemp industry, growers must consider contract examination by an attorney well-versed in hemp law, she concludes. "Just in the last few months, we've received so many requests from attorneys across the country who have been practicing in other areas of ag law, asking us for templates that pertain specifically to hemp. Why? The attorneys themselves understand this is a very different crop and there are a lot of uncertainties, due to a lack of clear regulation."
"I encourage growers to go to an attorney who has been preparing hemp agreements for at least the last six months, ideally for the last two years," she adds. "The more you work on these agreements, the more you realize how little is really known about hemp."
For more, see:
Corn Maverick: Cracking the Mystery of 60-Inch Rows
Descent Into Hell: Farmer Escapes Corn Tomb Death
Killing Hogzilla: Hunting a Monster Wild Pig
Breaking Bad: Chasing the Wildest Con Artist in Farming History
Blood And Dirt: A Farmer's 30-Year Fight With The Feds
American Farmer Snuffed Out Saddam Hussein
Against All Odds: Farmer Survives Epic Ordeal
Future Shock: Farmers Exposed By US-China Long Game
Wild Pig Wars: Controversy Over Hunting, Trapping in Missouri
Agriculture's Darkest Fraud Hidden Under Dirt and Lies
In the Blood: Hunting Deer Antlers with a Legendary Shed Whisperer