Can growing international markets compensate for domestic demand shortfalls? ( Top Producer )
Can growing international markets compensate for domestic demand shortfalls?
Demand for biofuels in the next decade is complicated. The industry's ability to maintain or grow its consumption of corn and soybeans centers on both domestic and global policy and markets.
Domestically, gas consumption is expected to decline 26% between 2018 and 2050, per the U.S. Energy Information Administration, which will curb ethanol use. 
"Currently, there is just not a tremendous amount of growth in domestic ethanol demand," says Seth Meyer, research professor with the Food and Agricultural Policy Research Institute at the University of Missouri (FAPRI-MU). 
On the other hand, exports hold big potential. As the largest producer, the U.S. is poised to be the lead supplier of biofuels as countries mandate the use of renewable fuels. 
"We spend too much time and money trying to convince the government to blend more here when we should have spent that time and money on export markets," says Pete Meyer, head of grain and oilseed analytics, S&P Global Platts.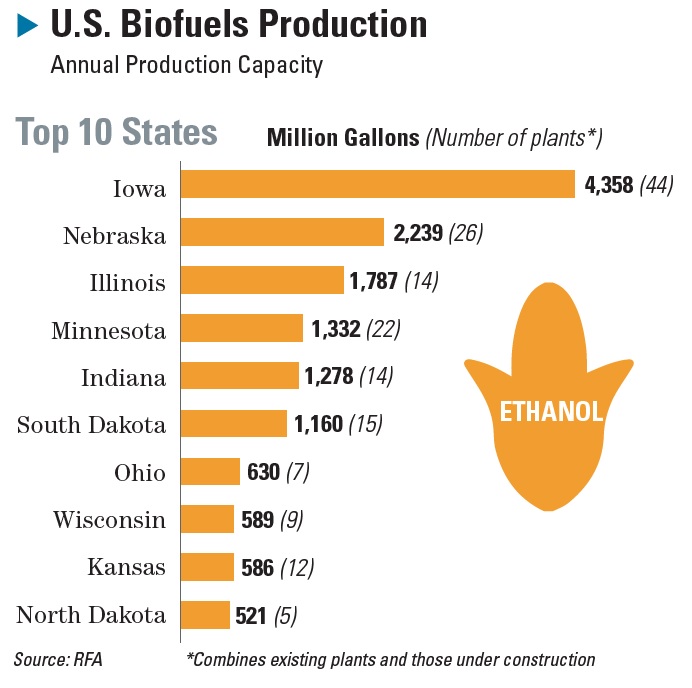 In 2019, four ethanol facilities have permanently closed and 14 have temporarily idled production, according to the Renewable Fuel Association (RFA).
The National Biodiesel Board reports 10 biodiesel plants have shuttered or scaled back production in 2019.
Ethanol Consumption Faces Limited Growth 
Domestic ethanol demand faces headwinds in the next decade. This is the result of declining gas demand, as well as infrastructure, says Pete Meyer of S&P Global Platts. "If I'm driving in Iowa, I can pump anything from E0 to E85 because they have blender pumps, where there's a tank of gas and a tank of ethanol," he explains. "On the East coast — the most densely populated area — we don't have that."


Ethanol Around the World
Exports are the bright spot for ethanol demand. New records were set in 2016/17 and again in 2017/18, when exports totaled 1.6 billion gallons, or 10% of U.S. ethanol production. Still there are challenges to continued growth in export consumption. "Some markets are price sensitive, and some are very policy sensitive," says Seth Meyer of FAPRI-MU.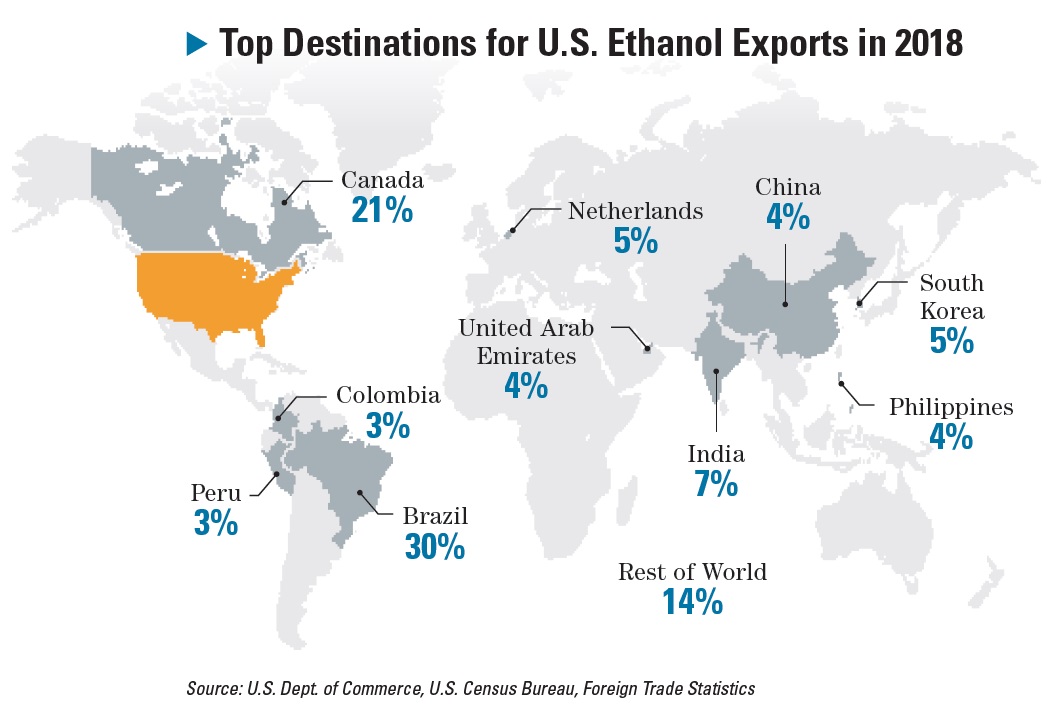 High Supply and Low Margins
Ample production and slow demand have weakened ethanol margins, says Tanner Ehmke, economist with CoBank.