usda-planter-planting ( Jo Windmann / Farm Journal )
Farmers made great progress in corn and soybean planting this past week, according to USDA's Crop Progress Report. Corn jumped from 51% planted to 67% planted, which is 12 percentage points above the 5-year average. Soybeans hit 38% planted, 15 percentage points above last week and the 5-year average.
Mother Nature is cooperating in many areas, helping boost planting progress. However, recent cold snaps could be a challenge.
"The year before we had some wet issues, the sunshine makes it feel like we should be planting more but it's cool here," says Darrell Bryner, a Michigan farmer. "But I don't think the cold is going to bother anything."
Michigan sits at 37% planted, a huge jump from last week's 11%.
See AgWeb's Corn Planting Map: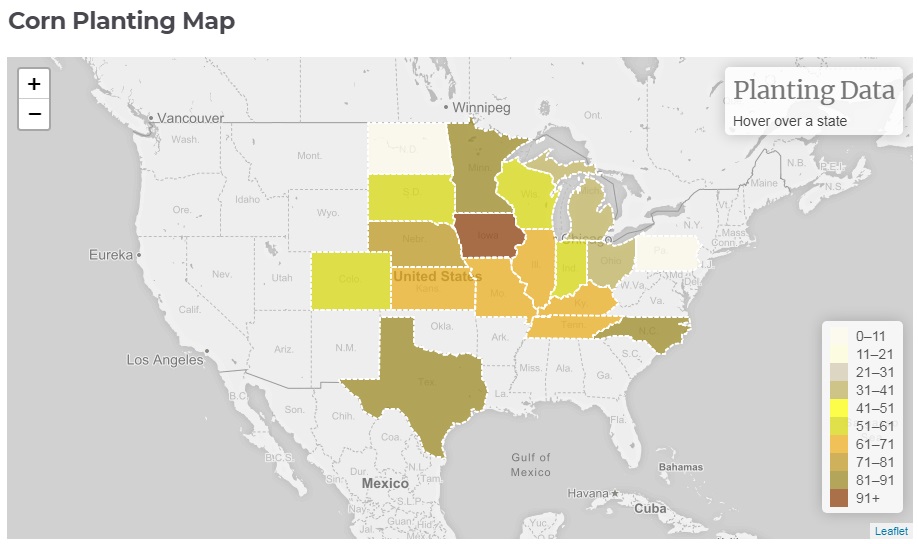 States leading the pack for corn planting progress include Iowa at 91%, Minnesota and North Carolina at 89% and Texas at 84%. Overall, the U.S. corn crop is 24% emerged, a massive spike since last week's mere 8% emerged.
Iowa leads the pack at 71% planted for soybeans, followed by Louisiana at 68% and Minnesota at 57%. Soybeans are 7% emerged this week. Time will tell if the weekend's freeze and frost will force farmers to replant or patch in beans.
See AgWeb's Soybean Planting Map: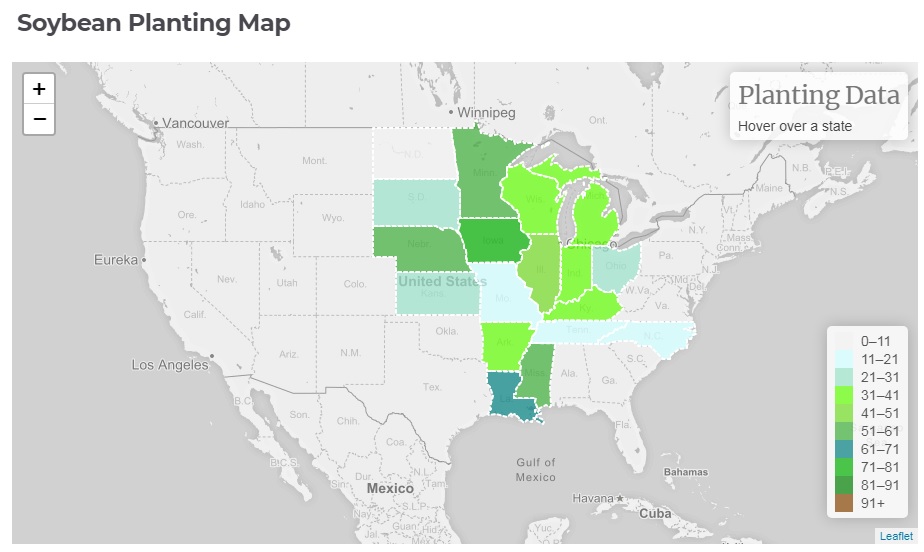 Supply and Demand Picture
Tuesday at 12:00 EST USDA will release the World Agricultural Supply and Demand Estimate. This market-moving report will provide insights on demand for old-crop grain as well as new-crop production.
"The trade is expecting a 3.4 billion carryout versus something higher but it's still a high carryout," says Arlan Suderman, INTL FC Stone. "It shows how we really need China to come in for 20 million tons of corn."