The technology exists to make such products a reality, and we're already seeing some early sprouts coming to market. But are the market and producers ready for such change? ( MGN )
Mondays are never good, but nobody expected anything like this. On Monday, Aug. 10, Mother Nature woke up on the wrong side of the bed in the Midwest and unloaded her fury on millions of acres of corn and soybean crops. And in a New York minute, corn yields went from 200-plus to zero. 
Moments like this underscore just how risky growing a crop really is. In the words of baseball great Yogi Berra, "It ain't over till it's over," but for farmers, it's more like, "It is not a crop until you have the check in hand." Whether it is a freakish Spanish-named windstorm that levels a third of the crop in the top corn-growing state or a game of trade war chicken with the country of China or better yet a worldwide pandemic that upends the global supply chain, farming ain't getting any easier—just weirder.
Numbers tell the story of the impact this trifecta of "events" has on bottom lines. And these three stark figures serve to heighten the awareness that the current financial safety net for production agriculture is about as safe as a 1975 Ford Pinto. What if there were more and better insurance and financial products out there on the market that allowed for more than just survival but success in the not-so-good times? Better data used in better and more innovative ways may help do just that, but it won't be easy. Change is hard. But numbers like these are even harder to swallow.

Although Iowa bore the brunt of the straight-line, hurricane-force winds, the USDA said the total number of acres negatively affected across the Upper Midwest by this single storm may be more than 37 million. That's big, and nobody will have a clue what the actual production may be on those fields until the combines roll across them. Because as good as satellite imagery may be at predicting yields of standing corn, it's a whole different story when it comes to corn lying flat on the ground. 
The only way to tell the true recoverable yield of those acres will be reviewing the ground-truth data that come from combine yield monitors. Whether the crop is standing or on the ground, such data are becoming more important than ever. I'll tell you the reasons why in a minute, but here are more sobering numbers.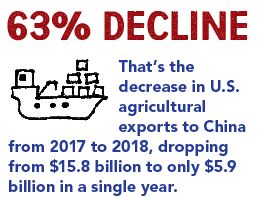 Meanwhile, retaliatory tariffs on steel and aluminum products were predicted to raise manufacturing costs of farming equipment by an average of 6%. Couple that with the overall continued strength of the U.S. dollar, and the numbers continue to show a weakening U.S. farm economy. This year, 2020, was supposed to be a turnaround year.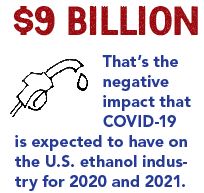 Overall fuel use plummeted to levels not seen since the early 1990s. In the second quarter of 2020, overall gasoline demand in the U.S. was down by 25%. When you figure that 40% of the U.S. corn crop gets mixed with gasoline, you know COVID-19 was like a derecho to the corn market. It was a direct hit, and it is estimated it may take up to 18 months to recover. 
Unforeseen Complications
Just when you thought you'd seen it all in farming, something just topped Mother Nature and Washington, D.C. A bad bat from China caused the world to run out of toilet paper, left our cars parked in our garages and forced us to hunker down! Bottom line, we've got to be better prepared for almost anything.
We need better safety nets and better crop insurance options rather than just settle for the one-size-fits-all governmental model. Plus, producers need more access to auxiliary lines of capital. What could happen if you could insure up to 105% of your average production? Quick answer: it allows you to be more bold to price production during peak market months or purchase more of your inputs ahead for deeper discounts. The result: it helps drive ROI toward the positive. What could happen if you had lenders actually compete for business in a more open 21st century forum? Likely answer: it increases overall flexibility and reduces the cost of capital. 
The technology exists to make such products a reality, and we're already seeing some early sprouts coming to market. But are the market and producers ready for such change? Don't wait too long to answer. You don't know what tomorrow may bring!