This fall, Brandt products helped two growers set new yield records in corn and soybeans. 
Both Randy Dowdy (who set a new yield record in soybeans at 190 bushels) and David Hula (who set a new yield record in corn at 616 bushels) used Brandt nutrition products. 
With his yield accomplishment just announced this week, Hula credits the Brandt EnzUp product as a "key factor" in his success and has worked with Brandt directly since 2018. 
"We are pleased to be able to bring technology, such as EnzUp to hard working growers such as David Hula who is always working to push yields," says Brian Haschemeyer, Director of Discovery and Innovation at Brandt. "We put a lot of effort into developing new technologies, and the product quality and timing of application are key." 
Haschemeyer explains EnzUp is a specialty biological product formulated with zinc and two specific enzymes that have been treated for extended soil activity and performance. 
"EnzUp enriches the soil environment to give the plant a strong start out of the ground and increases root mass," he says. 
Dowdy also used EnzUp in his 2019 yield contest fields. 
Another Brandt product line that was a tool used by the record-setting farmers was Brandt Smart System. Both Brandt Smart Trio and Brandt Smart B-Mo were used. 
"This line of products is about delivering micronutrients in foliar application in combination with other chemicals." Haschemeyer says. "It can be a challenge to tank mix nutrients with crop protection. We've developed a system that works extremely well and makes it a lot easier for the grower to use." 
As for takeaways from these growers, Haschemeyer says, "These guys manage the crop really intensively. They try to give that crop everything they think it could need. However, even with crops managed less intensively there is still an opportunity for every farmer to gain a 5 to 10 bu. advantage with a small investment in these fertility products." 
AgDay's Clinton Griffiths has a report on Hula's latest achievement: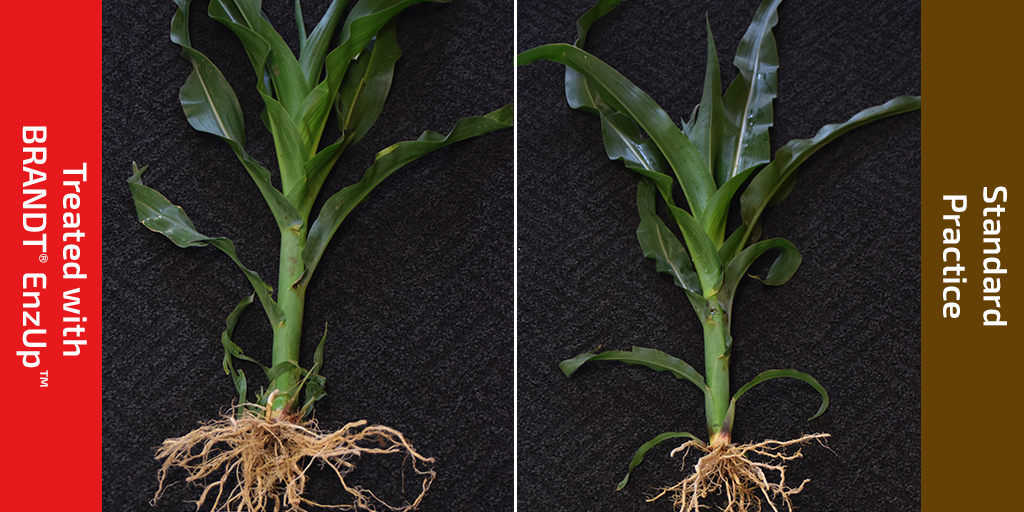 The above photo showcases the impact of Brandt's new enzyme technology on corn. Both Hula and Dowdy used Brandt EnzUp on their 2019 world record corn and soybean plots. Brandt EnzUp is applied at planting to ignite soil activity and prime the soil environment for success.