"I've seen the devastation of grain bin deaths up close, with friends of family that have experienced the tragedy, but it doesn't have to happen anymore," says Shawn Gengerke. ( Photo by Chris Bennett )
Grain bin death is a reality for dozens of farmers every year, but Shawn Gengerke, producer and CEO of Leading Edge Industries, believes he has found an unparalleled safety solution. Entrapments have long been a macabre cost of doing business in agriculture, but a new technological innovation may help keep farmers permanently out of bins and beyond the reach of gruesome death.
Gengerke's remedy? Bin SumpPRO, a system of beaters and blades to break, cut, and clear grain clumps that clog sump flow. Capable of operating at full bin capacity, the retrofit kit has no parallel and will save lives across the agriculture industry, Gengerke contends: "I've seen the devastation of grain bin deaths up close, with friends of family that have experienced the tragedy, but it doesn't have to happen anymore. Bin SumpPRO will clear 99% of all plugging issues—which will keep producers out of the bins."
"Breakthrough"
The steady drumbeat of grain bin deaths is a misunderstood and perplexing statistic for the public; a constant reminder of danger for farmers; and an incessant reopening of life-altering wounds for the farm families left behind in each tragedy. In recent years, the nationwide numbers are sobering, with grain entrapments responsible for 12 deaths in 2017, 15 deaths in 2018, and 23 deaths in 2019. As a sidecar to the grim mortality statistics, every year thousands of farm workers deal with the stress, hazard, and expense of getting a bin unplugged or unloaded.
Machinery and harvest chaos claim a consistent share of farm-related deaths, but grain (particularly corn) lures in victims with false assurances, and seals escape with a grip akin to hardened cement. After a given bin is filled, grain (depending on moisture levels) is subject to condensation, temperature fluctuation, and freezing in winter. As it thaws or sweats, crusting occurs and the clumps get sucked into the center cone, eventually descending into the sump area and clogging the entire system. Literally, the bin can't be unloaded.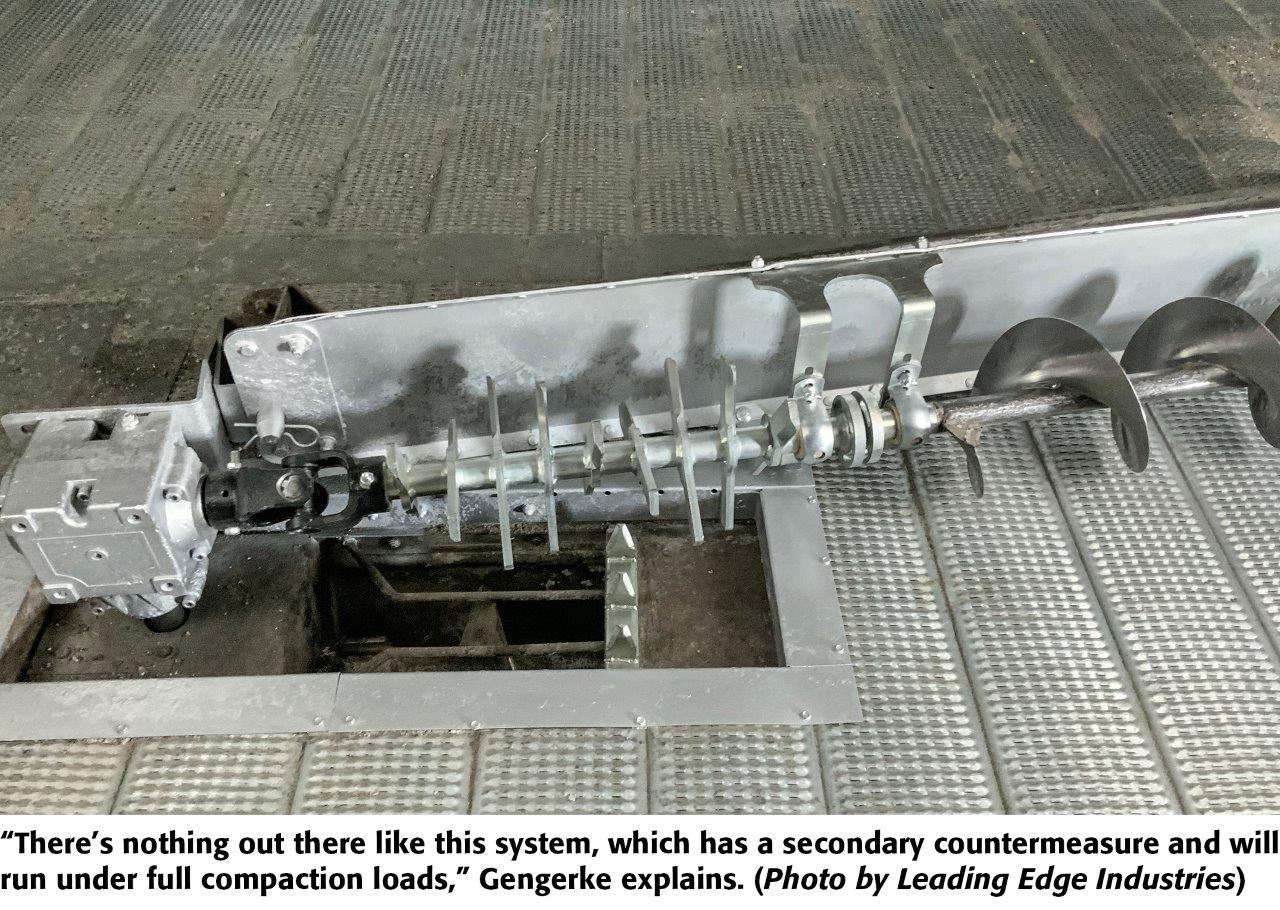 Located in the bowels of the bin, beneath thousands of bushels of grain, the clogs are physically inaccessible to a producer. Despite the danger, farmers often enter bins and walk over the top of grain, poking or thrusting downward with PVC pipes to dislodge clumps and trigger proper flow. During instances when the crust gives way and pockets collapse, farmers are often sucked into the unforgiving physics of quicksand-like grain movement. A human body typically weighs an equivalence of 2 bushels to 4 bushels of corn, and when an auger churns at 2,500-5,000 bushels per hour, the entrapment occurs in mere seconds.
In approximately 2017, Gengerke dealt with a major bin clog on his South Dakota farm, unsuccessfully trying everything from vacuators to air—every trick in the book—to break the plug. Eventually, he was forced to cut open the bin, resulting in a $15,000 expense to repair the damage. "Stress, danger and time were worse than the money. After it tried to kill us twice, I had enough of this age old problem," he notes. "We started working on a prototype, installed in multiple bins and tested for two years. The results came as a complete breakthrough."
"Save Lives"
Bin SumpPRO fits existing grain bin sweep systems using the powerhead, gearbox and a modified auger capable of running under full bin capacity. Beaters, along with cutting blades, break up grain clumps, ice chunks, crust or foreign material that plug the sump.
"There's nothing out there like this system, which has a secondary countermeasure and will run under full compaction loads," Gengerke explains. "We have a beater with knives built out of a bulletproof AR400 material, and we operate it off of the existing gearbox, and the sweep motor in the bin drives it. You don't have to rip your floor up or change your sweep system out. It's a total retrofit."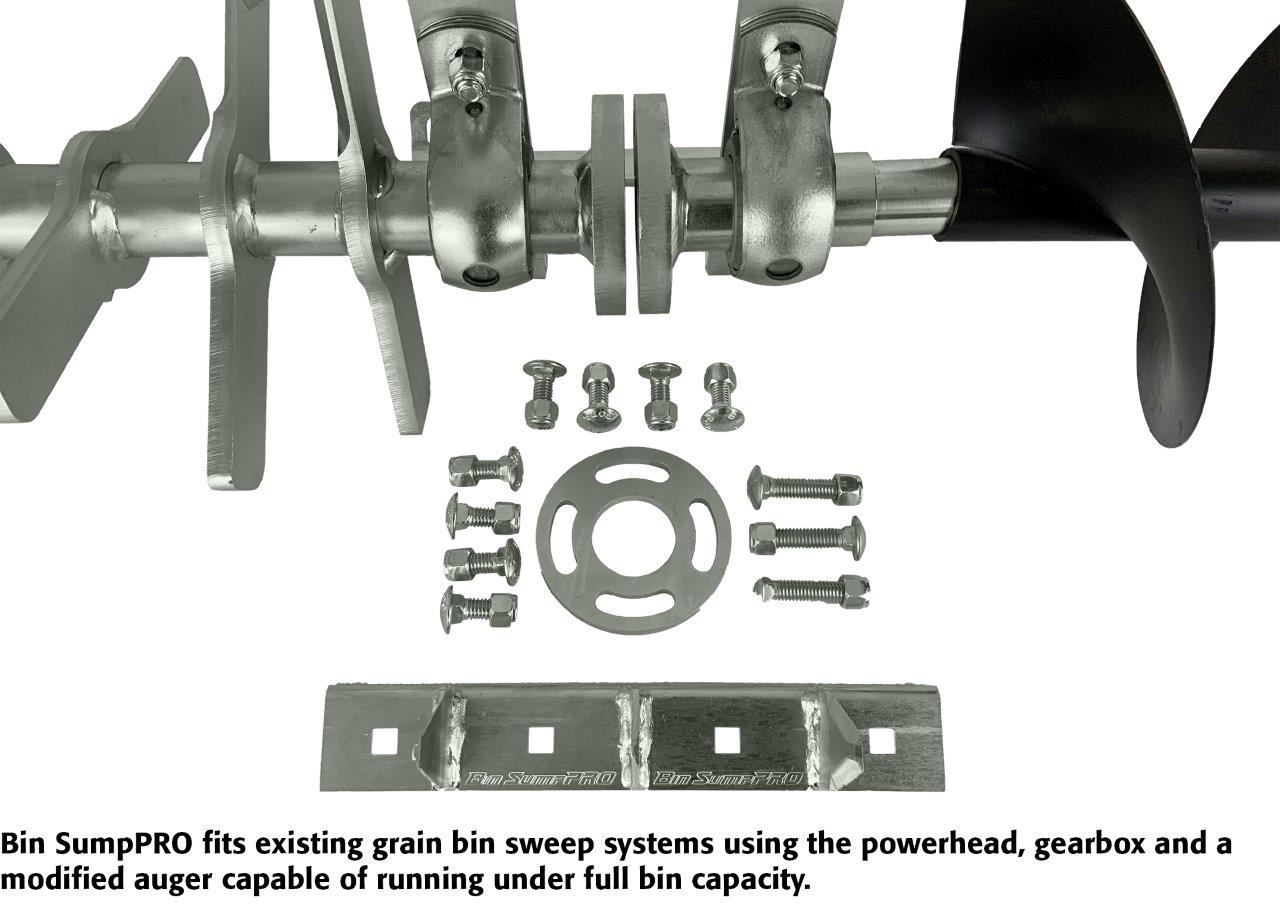 "The beater design allows it to start under load because of the way the knives are shaped," he continues. "The system has a quick coupler that disconnects the sweep flighting so only the beater turns. You can engage it or disengage it from outside the bin, using the electrical motor that runs the sweep. It demolishes the clogs—chunks, clumps, ice, foreign material, etc."
Essentially, the beater busts any impediment that sits atop the sump hole. Then, as a secondary countermeasure, in case a chunk gets below the beater, a cutting system bolts to the gate, enabling a producer to cycle and clear the gate area. Installation requires no major tools and roughly three to four hours of labor. The kit includes five patent-pending items: beaters, gate cutting blades, quick coupler, HD knuckle, and coupler storage box. Currently, Bin SumpPRO is compatible with Springland, GSI, Brock, and Sukup sweep styles, but Gengerke estimates most all common sweep systems will be accommodated by 2021.
"I've seen the cost of grain bin deaths up close—a daughter losing her father, or two sons and a father being lost in the same day. It's a heart-wrenching loss that is impossible to describe," Gengerke adds. "So my question is: What's that worth? Bin SumpPRO is a product that can help eliminate these tragedies from happening." 
For more, see:
Government Cameras Hidden on Private Property? Welcome to Open Fields
Farmland Detective Finds Youngest Civil War Soldier's Grave?
Descent Into Hell: Farmer Escapes Corn Tomb Death
Evil Grain: The Wild Tale of History's Biggest Crop Insurance Scam
A Skeptical Farmer's Monster Message on Profitability
Farmer Refuses to Roll, Rips Lid Off IRS Behavior
Rat Hunting with the Dogs of War, Farming's Greatest Show on Legs
Killing Hogzilla: Hunting a Monster Wild Pig  
Shattered Taboo: Death of a Farm and Resurrection of a Farmer     
Frozen Dinosaur: Farmer Finds Huge Alligator Snapping Turtle Under Ice
Breaking Bad: Chasing the Wildest Con Artist in Farming History
The Great Shame: Mississippi Delta 2019 Flood of Hell and High Water
In the Blood: Hunting Deer Antlers with a Legendary Shed Whisperer
Farmer Builds DIY Solution to Stop Grain Bin Deaths
Corn Maverick: Cracking the Mystery of 60-Inch Rows
Blood And Dirt: A Farmer's 30-Year Fight With The Feds
Against All Odds: Farmer Survives Epic Ordeal