In April, AgVend introduced a new product for the company—grower portals, which allow ag retailers to connect with farmers using digital tools for input purchases. The introduction of grower portals coincided with a global pandemic—leading many to seek more physically distant connections—as well as a trend for more farmers to seek doing business with their retailer of choice using technology tools. 
This confluence has led to AgVend announcing it will solely focus on the grower portals and will sunset its existing Marketplace product—the product the startup launched the company with. 
"This evolution started back in April, and at the time, we thought marketplace would be live for another 2 years, but the success we have had with portals and the current demand have accelerated our decision," says AgVend co-founder and CEO Alexander Reichert. 
The April introduction of grower portals fueled the company's revenue growth, which in the second quarter grew 20x compared with the same quarter in 2019. 
"We are digitizing the supply chain with the retailer in the center," he says.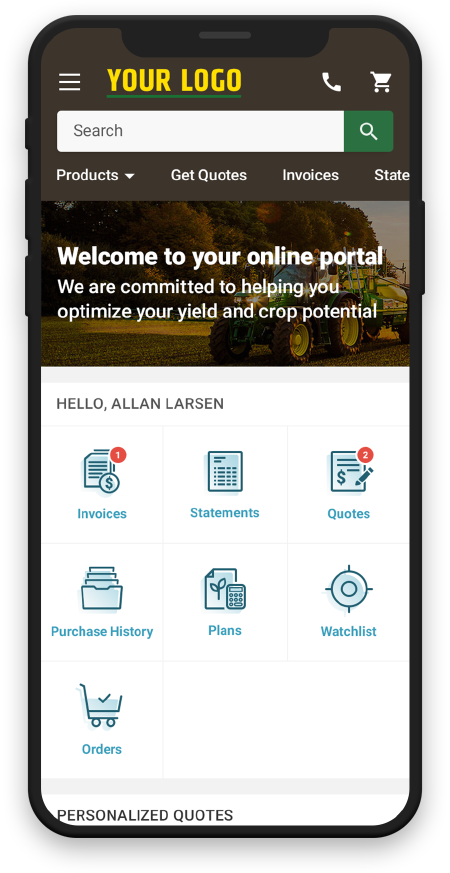 Reichert says while there has been growth in "transactional" customers for crop inputs online, the number is steady around 10%. He is leading the company to seize the opportunity as he says 90% of farmers prefer to work with their local retailer. 
He says grower portals not only give farmers a way to do business with retailers they are seeking, the portals also address any the threat of third-party ecommerce and go-it-alone industry incumbents.
"Retailers need omnichannel solutions. We sync with their ERP systems, and we avoid them having to use expensive third-party development shops." 
Reichert cites the growth seen by Nutrien as further proof for how technology-enhanced purchases by farmers has accelerated. 
"Everything has accelerated by two years right now. In Nutrien's most recent quarterly earnings report, they set a revised target of $1 billion in sales on their Customer Portal for 2020, a goal they had previously stated for 2023," Reichert says. 
For the upcoming change in their business, AgVend has already started migrating its retail partners to Grower Portals, and it says it will support all transactions on the Marketplace through September.