There is limited downside price potential for corn, says Stephen Nicholson, Rabo AgriFinance senior analyst for grains and oilseeds.  ( AgWeb )
The 2019 corn crop is one for the history books. It marks the slowest U.S. corn planting and emergence pace on record. As of June 16, 92% of the U.S. corn crop was planted. The five-year average for this slot on the calendar is 100% complete.
Due to the unprecedented planting delays through June and likely prevent plant claims, USDA just updated its corn acreage and yield estimates for 2019. As of June 11, USDA shaved off 3 million corn acres, making the 2019 estimate 89.8 million. In addition, USDA lowered the national average corn yield to 166 bu./acre—a 10 bu. per acre drop from its original estimate. To round out the changes, USDA also dropped harvested acres from 85.4 million to 82.4 million.
These three numbers will be key moving forward, says Stephen Nicholson, Rabo AgriFinance senior analyst for grains and oilseeds. 
"Most years, we worry about yield," he says. "This year, we're going to argue about planted acres, harvested acres and yield. The likely lower than previously expected corn production and the potential for a tighter U.S. and global corn balance sheet has already sent prices higher and has increased volatility."
To see how revisions in each of these categories would impact corn prices, Nicholson looked back at two relevant and related years: 1993 (the Great Flood) and 2013 (the previous high for corn prevent plant acres). He created scenarios based on comparing production those years with USDA's current estimates.
(click to enlarge)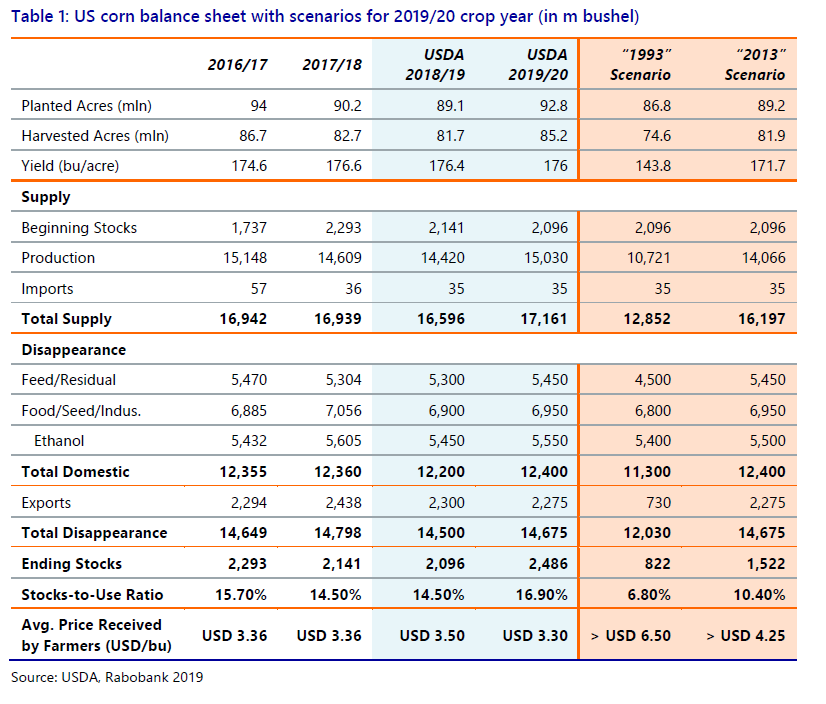 "There are differences between 2019 weather and 1993, our worst-case scenario," he says. "Corn Belt rainfall from October through April 1993 was 3.16" or 23.5% above normal, compared to 5.23" (+38.9%) above normal for the same 2018/19 period. The heaviest rains in 1993 came in June and July, which caused a major yield decline."
The 1993 scenario points to a lower stocks-to-use ratio (6.8%) and much higher prices, since the national average yield and harvested acres were dramatically lower than average levels. If the same issues play out this year, Nicholson says, the average national farmgate price could be above $6.50 per bu.
The 2013 scenario also tightens the balance sheet but only modestly increases prices. This scenario uses the record prevent plant acres of 2013 (3.6 million), conventional planted-to-harvested ratio, a four-year low yield of 171.7 bu./acre and the USDA's 2019/20 demand projections. The result is a stocks-to-use ratio of 10.4% and an average national average farmgate price above $4.25 per bu.
"The bottom line is prices for corn will go up," Nicholson says. "There is limited downside price potential. Upside price risk is significant, with less planted acres, especially if yields are negatively impacted."
This is a supply-lead rally, he notes, and supply-lead rallies tend to be up fast and down fast.
"If you can make money and lock in margin, that's more important than where the high is this year," he says. "The market has given you opportunity to lock in margin. If prices go to $5 or $6, then let's sell for next year."
Learn more about trends in agriculture from the RaboResearch team at Rabo AgriFinance.